Touro College School of Health Sciences Recognizes Nine Distinguished Students with Maimonides Awards
Future Health Care Practitioners Noted for Outstanding Achievements
Date: October 03, 2018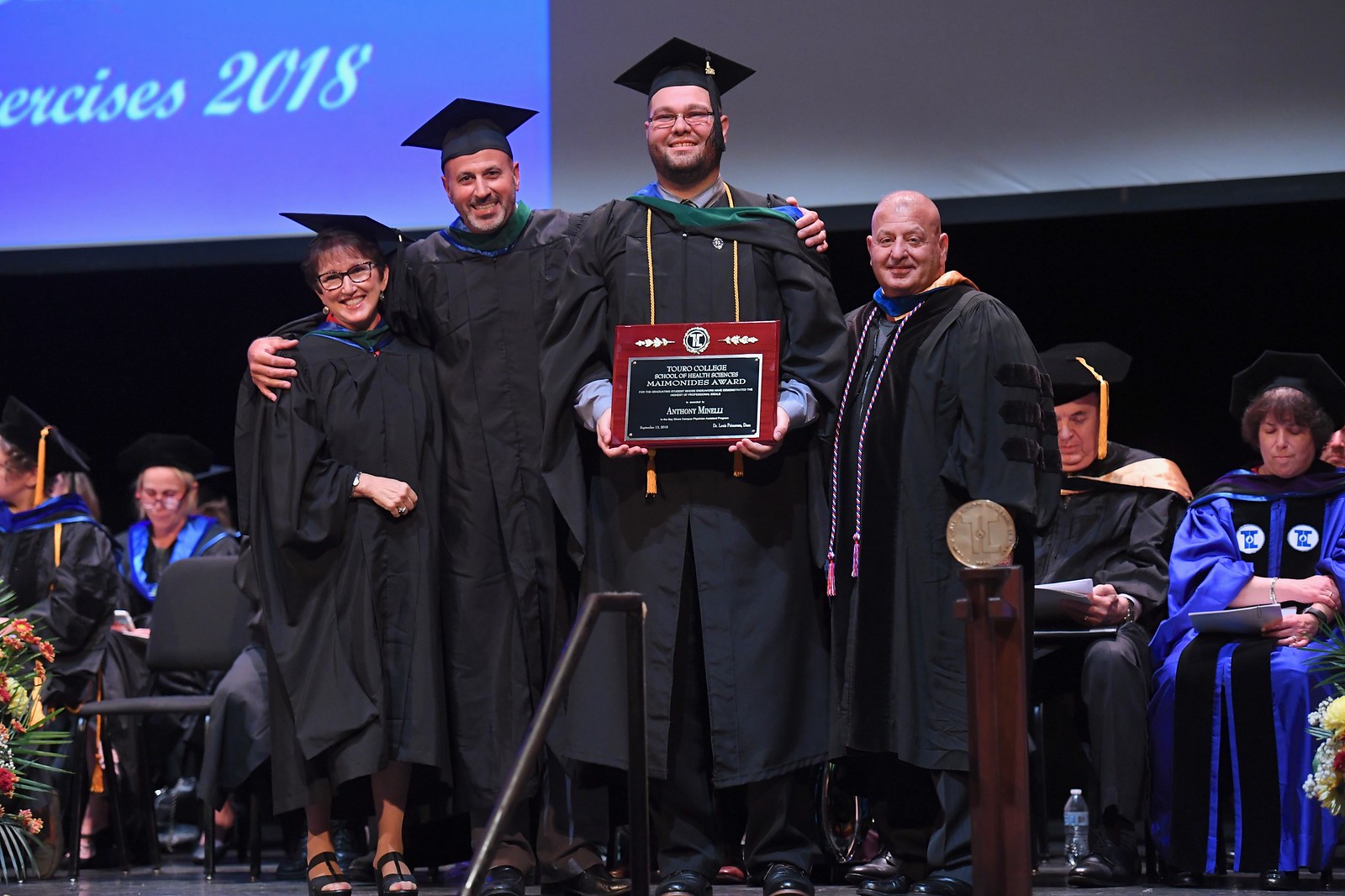 Anthony Minelli
Nine students representing sixteen health sciences programs were presented with the prestigious Maimonides Awards at the annual Touro College School of Health Sciences commencement ceremony, held last week. One outstanding student from each professional program whose accomplishments exemplify the highest professional ideals of a practitioner of the health sciences are chosen each year.
"One of the most critical goals of the Touro School of Health Sciences is to develop health care practitioners that are extremely competent, sensitive, ethical and have the strong desire to help diverse people in need. The winners of this year's Maimonides Awards epitomize those values. We are very proud of these young professionals and are excited to see the major contributions to society that are sure to be made through their work and extraordinary character," said Dr. Louis Primavera, Dean of the Touro College School of Health Sciences.
Anthony Minelli, a graduate of the Physician Assistant Program in Bay Shore and a recipient of the Maimonides award residing in Suffolk County, enrolled in Touro after receiving his Bachelor of Science degree with a concentration in emergency and critical care at Stony Brook University.
"The Physician Assistant (PA) program at the School has embraced the rapidly changing health care space. I have learned about the importance of team dynamics while learning what I need to know to be highly successful in diagnosing and treating patients. In addition, the School has taught me the true meaning of leadership, pushing students just like me to become the future of medicine," said Minelli.
The other Maimonides Award recipients were: OT Program: Danielle Losonci and Jean Notholt; Physical Therapy Program: Kaitlyn Miller and Yuval Yaari; Speech Language Pathology Program: Gittel Markowitz.; Physician Assistant Program: Ryan Garrow and Brittney Amato and Nursing Program: Diane Yee.
"I am very grateful to receive this Maimonides Award. More than anything, it showcases what someone can achieve when being surrounded by phenomenal educators and classmates that always helped, challenged and motivated me along the way to continue learning and stay passionate about what truly matters: helping patients," said Yaari.
About the Touro College and University System
Touro is a system of non-profit institutions of higher and professional education. Touro College was chartered in 1970 primarily to enrich the Jewish heritage, and to serve the larger American and global community. Approximately 19,000 students are currently enrolled in its various schools and divisions. Touro College has 30 campuses and locations in New York, California, Nevada, Berlin, Jerusalem and Moscow. New York Medical College; Touro University California and Touro University Nevada; Touro University Worldwide and its Touro College Los Angeles division; as well as Hebrew Theological College in Skokie, Ill. are separately accredited institutions within the Touro College and University System. For further information on Touro College, please go to www.touro.edu/news