Touro College Commencement 2016-Record Growth Affirms Touro's Place as Leader in Health Sciences Education
Date: September 27, 2016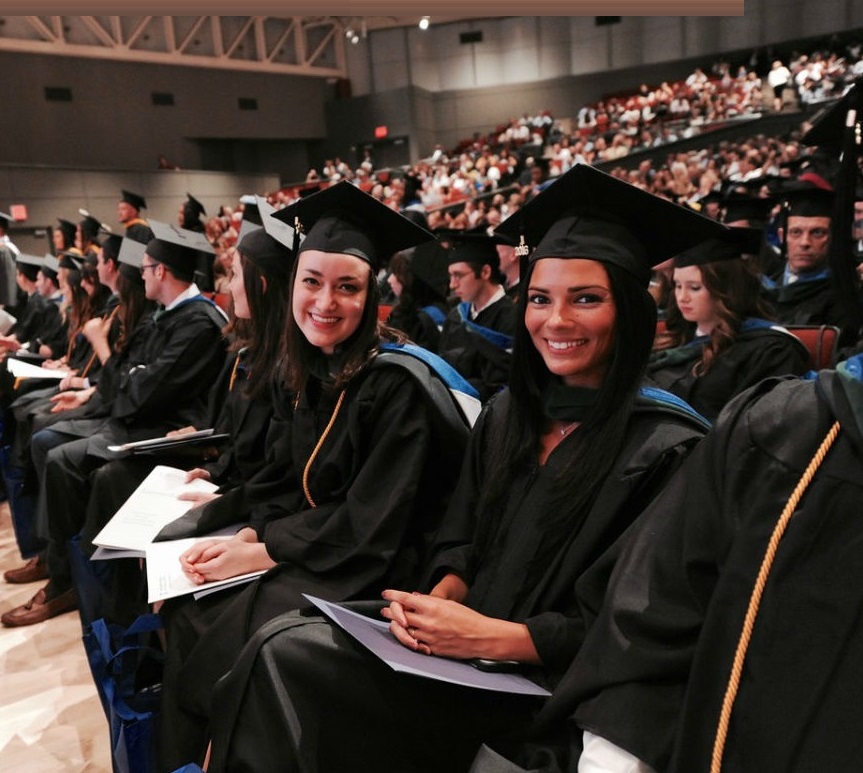 Tova Kutner and Stephanie Luca at SHS commencement ceremony
New York, N.Y. –Touro College School of Health Sciences (SHS) celebrated with faculty, family, and friends during a jubilant commencement ceremony on a sunny late-summer afternoon at the Tilles Center for the Performing Arts in Brookville, L.I. on Sept. 13.
Four hundred and eighty-three degree (483) candidates, the most students the school has graduated, were honored for their hard work in earning their bachelor's, master's, associate's, and doctoral degrees from the SHS's six fields of study. The Physician Assistant (PA) Program awarded 187 degrees, followed by Physical Therapy (PT) with 84; Occupational Therapy (OT), 60; OT Assistant, 27; Speech Language Pathology (SLP), 51; Nursing, 50; Biology, 15; Psychology, 7; and Health Science, 2.
This year, the school's Nursing Program introduced a four-year Bachelor of Science degree, which 21 graduates received at the exercises. Other programs, such as Physician Assistant and Physical Therapy, continue to expand their clinical rounds affiliations with prominent healthcare institutions such as NYU Medical Center and Hospital for Special Surgery.
Keynote speaker Dr. Phyllis Quinlan, a renowned consultant for the nursing profession and an expert in progressive restorative and wellness therapies, talked about the emotional impact of 'compassion fatigue.'
"It is the rare soul that can mobilize his or her empathy and compassionate nature into the action we call caregiving; and even fewer who take it on as his life's work," said Dr. Quinlan. "Serving your fellow man, woman, or child is the highest form of generosity I know, and you have all chosen this path."
Dr. Quinlan offered three steps that addressed the importance of caring for the caregiver in the nursing profession: creating a place for stillness in daily life, allowing others to care for you, and developing emotional intelligence. When healthcare providers subscribe to these self-care reminders, Dr. Quinlan said, "they stay connected to the beautiful mission that you have accepted."
Maimonides Award Winners
Each year, the School of Health Sciences presents the Maimonides Awards to students in each of the School's programs who demonstrate the highest professional ideals of a health sciences practitioner.
The 2016 Maimonides Award recipients were:
Hancha Rivka Felberman of Brooklyn, N.Y., Nursing Program; Kailene Abt of Huntington, N.Y., OT Program at Bay Shore; Diana Lashinsky of West Islip, OT Program at Manhattan; Neal Viets of Wantagh, N.Y., DPT Program at Bay Shore; Steve Vouyiouklis of Brooklyn, N.Y., DPT Program in Manhattan; Michele Caietta of Wantagh, N.Y., PA Program at Bay Shore; Ruth Pierre-Louis of Valley Stream, N.Y., PA Program at in Manhattan; Amy Altman of Wantagh, N.Y., PA Program at Winthrop University Hospital; and Rina Barkhordarzadeh of Brooklyn, N.Y., SLP Program.
Accolades & Appreciation
Dr. Louis Primavera, Dean of the School of Health Sciences, presented faculty awards for Teaching Excellence to Prof. Mary Flanagan, Associate Director of the PA program; Dr. Ted Marks, Assistant Professor of the DPT program; Dr. Tara Casimano, Associate Director of the OT program; and Dr. Rosalie Unterman, Clinical Director of the SLP program. A special Leadership Award was presented to John Rongo, Program Director of the PA program.
In earlier ceremonies, graduates were presented with awards for academic, clinical, and research excellence in Physical Therapy, Occupational Therapy, and Speech-Language Pathology.
A Competitive Edge
Programs at Touro's SHS are among the most competitive in the nation, offering academic and clinical education in a broad range of allied health professions and medical sciences. Pass rates on professional entrance exams are in the top percentiles (i.e. PA, 99 percent; PT Manhattan, 100 percent; DPT Bay Shore, 90 percent) and alumni employment rate for SHS alumni averages nearly 100 percent.
In addition, in a 2016 U.S. News survey on The Best Healthcare Jobs, Physician Assistant ranked #4 with a median salary of $95,820; Physical Therapist ranked #12 with a median salary of $82,390; Registered Nurse ranked #16 with a median salary of $66,640; Occupational Therapist ranked #17 with a median salary of $78,810; and Speech-Language Pathology ranked #19 with a median salary of $71,550.
A Tribute to Touro's 9/11 Heroes
In commemoration of fifteen years since the 9/11 tragedy, Dr. Louis Primavera, Dean of the SHS, presented awards to first responders and others from the Touro community who aided the victims of the terror attack in New York City on Sept. 11, 2001. Dr. Joseph Tommasino-Chair of the PA program; Colonel Geoffrey Slack-Director of Veterans Affairs; and James Smagala, a PA student and retired firefighter, accepted the awards recognizing their selfless acts of heroism in the immediate aftermath of 9/11.
Dr. Primavera, thanked SHS faculty and administrators "for doing an incredible job," and for supporting each other throughout the academic term, adding, "Touro is about family."
About the Touro College and University System
Touro is a system of non-profit institutions of higher and professional education. Touro College was chartered in 1970 primarily to enrich the Jewish heritage, and to serve the larger American and global community. Approximately 18,000 students are currently enrolled in its various schools and divisions. Touro College has 30 campuses and locations in New York, California, Nevada, Berlin, Jerusalem, and Moscow. New York Medical College; Touro University California and its Nevada branch campus; Touro University Worldwide and its Touro College Los Angeles division; as well as Hebrew Theological College in Skokie, Ill. are separately accredited institutions within the Touro College and University System. For further information on Touro College, please go to: http://www.touro.edu/news/