Touro College to Offer L.I. Students Entry to Health Sciences Programs
School of Health Sciences Accepting Select High School Honors Candidates Choosing Professions as Physical and Occupational Therapists and Physician Assistants
Date: November 09, 2016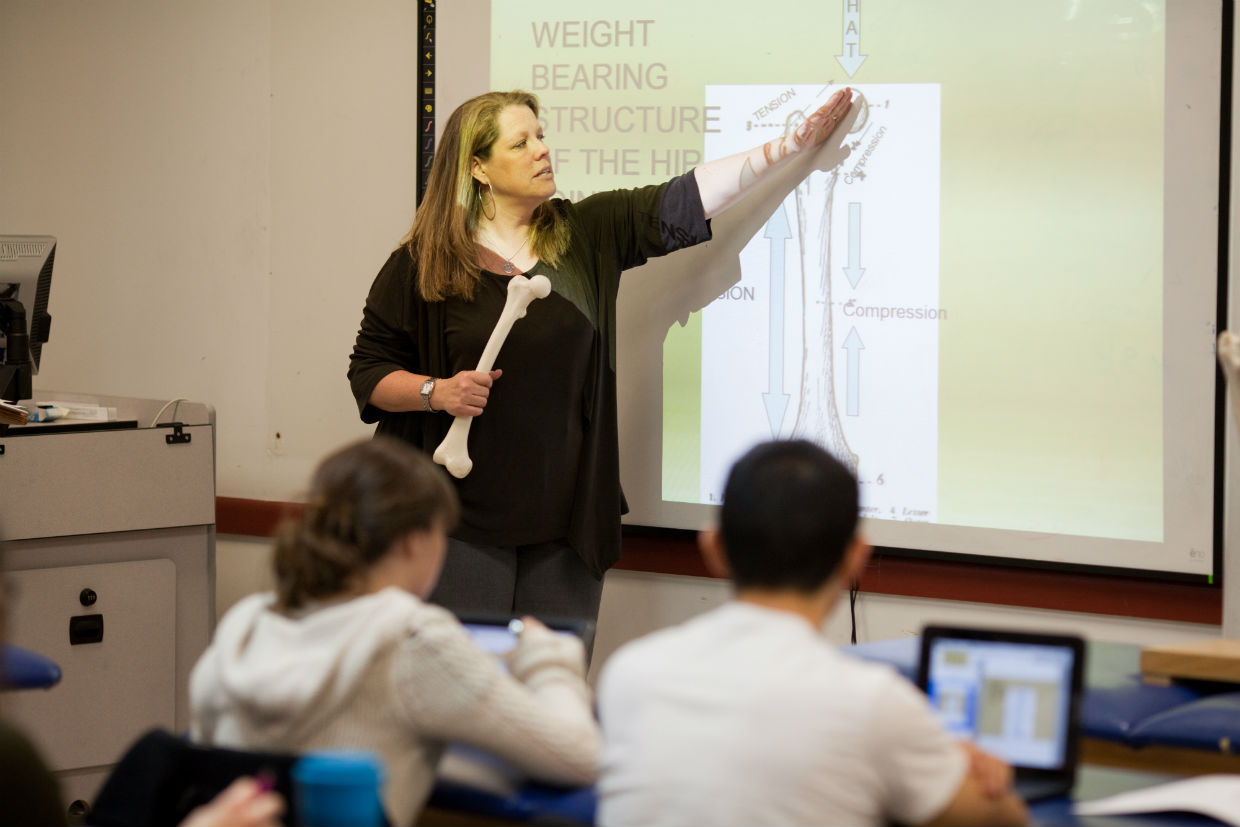 Touro College Prof. Jill Horbacewicz, Chair/Director of the Physical Therapy department, teaching a class.
New York, N.Y. –High school honor students across Long Island who choose to become physical therapists, occupational therapists, or physician assistants can get a head start on their college careers through a new Integrated Honors Track at Touro College School of Health Sciences (SHS) in Bay Shore.
The program was created for those seniors who have demonstrated outstanding academic achievement in the sciences and a commitment to pursuing an education in the PT, OT, or PA professions.
"The Integrated Honors track is a fantastic opportunity for high-achieving students to progress seamlessly into their chosen future," said Art Sullivan, Interim Coordinator of the Integrated Health Sciences Honors Track and Assistant Chair for Undergraduate Studies.
Healthcare professions continue to be among the most desirable careers in the U.S. In a 2016 U.S. News survey on The Best Healthcare Jobs, Physician Assistant ranked #4 with a median salary of $95,820; Physical Therapist ranked #12 with a median salary of $82,390; and Occupational Therapist ranked #17 with a median salary of $78,810. In recent years, Touro's pass rates for graduates in those departments have ranged from 90-100 percent.
Dr. Louis Primavera, Dean for the SHS, noted the Integrated Honors Track helps young students secure their place in very prestigious healthcare programs. "We are able to provide these students with a pathway to their future careers, and to these professions- a select group of talented candidates."
Applications are available in high school guidance offices throughout Suffolk and Eastern Nassau counties, and through college recruiters. Touro's admissions officers will review applications beginning in November. Interested seniors should apply early; Touro accepts applications on a rolling admissions policy and courses fill up quickly.
For more information, contact Art Sullivan at 631-665-1600 ext. 6279 or email, arthur.sullivan2@touro.edu or visit: Touro Health Sciences Honors Track.
About the Touro College and University System
Touro is a system of non-profit institutions of higher and professional education. Touro College was chartered in 1970 primarily to enrich the Jewish heritage, and to serve the larger American and global community. Approximately 18,000 students are currently enrolled in its various schools and divisions. Touro College has 29 branch campuses, locations, and instructional sites in the New York area, as well as branch campuses and programs in Berlin, Jerusalem, and Moscow. New York Medical College; Touro University California and its Nevada branch campus; Touro University Worldwide and its Touro College Los Angeles division; as well as Hebrew Theological College in Skokie, Ill. are separately accredited institutions within the Touro College and University System. For further information on Touro College, please go to: http://www.touro.edu/news/