Rivka Felberman of Crown Heights Receives Prestigious Maimonides Award
The Science Behind Compassionate Care Inspires Touro College Graduate to Pursue Rewarding Career in Nursing
Date: December 09, 2016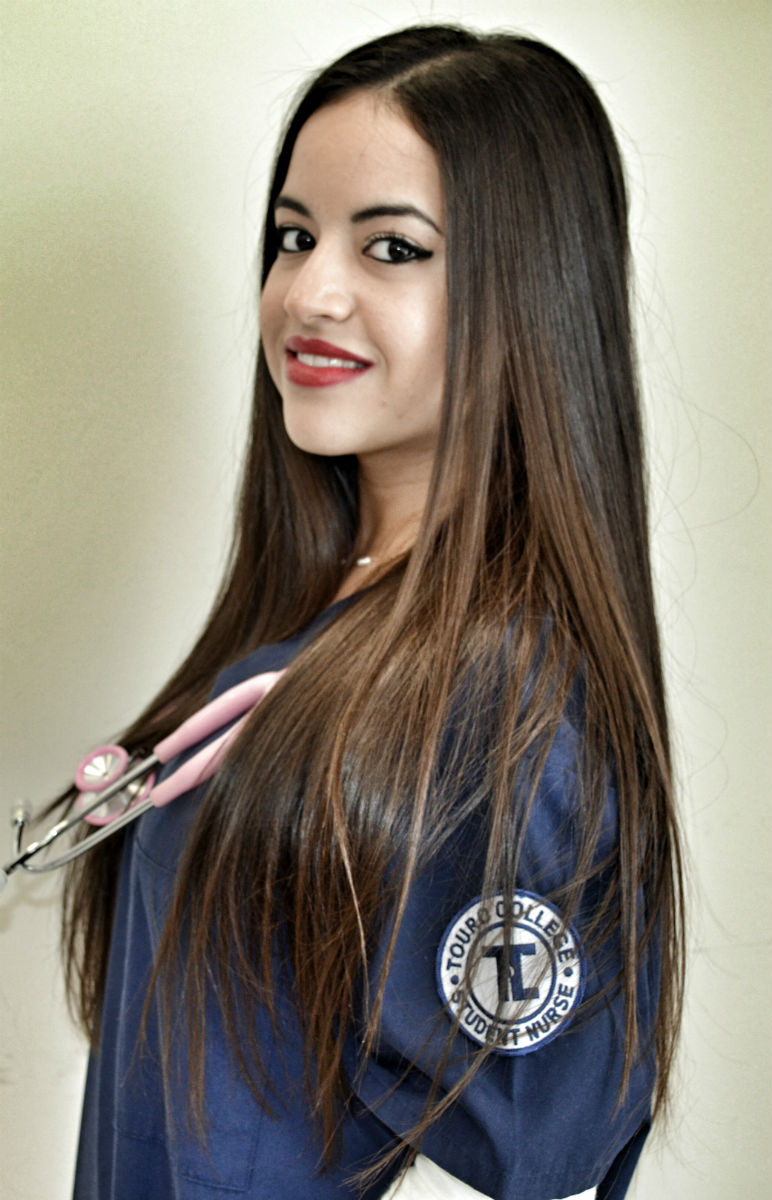 Rivka Felberman
New York, N.Y. – Rivka Felberman is a young woman in her early 20's who is wise beyond her years. She recently graduated with a B.S. in Nursing at Touro College School of Health Sciences (SHS) and was the recipient of the prestigious Maimonides Award for demonstrating the highest professional ideals by a health care practitioner.
And if those ideals include providing compassionate care, Felberman's got it covered.
"One of my patients was going to pass very soon and the medications weren't working," said Felberman, a resident of Crown Heights, who was one of nine graduates selected to receive the award. "He was very depressed. We talked about how he could spend the last few weeks. I told him to focus on anything he enjoys and what will bring him happiness while he's here, because it is about the moment," she said. "Nobody knows what's going to happen."
The second of seven children, Felberman was always interested in medicine and science, but had not considered nursing. When she learned that the profession involves "matters of the heart and mind as well as the sciences," she said, "I knew I wanted to be there. It just felt so right."
Before college, Felberman had attended seminary through a Touro scholarship and wanting to continue her college career in a Jewish environment, she continued with Touro. She was among the first class to graduate with a degree from the nursing program's new Bachelor of Science program. "It's definitely a very challenging school experience, and the government exam is very hard to pass. But it is 100 percent attainable if you want it enough," she said.
Felberman landed a job at the Bedford Center for Nursing and Rehabilitation in Williamsburg , a sub-acute nursing and rehabilitation center where she is assigned to the ventilator unit, an area that she said is "very, very intense and very serious, but it is a rewarding and meaningful job."
Prof. Marcia Jones-George, Felberman's faculty advisor, who worked with her at Coney Island Hospital for one of her clinical rotations, said Felberman was deserving of the Maimonides Award. "She is an exceptional student who gave her all to whatever assignment she got in class or at the clinical sites," said Prof. Jones-George. "Rivka took on her patient care assignment with eagerness and approached her patient with compassion, advocacy and always questioning what she saw, thereby building a strong clinical base. The end result is that Rivka blossomed into a great nurse who approached all assignments with confidence and a willingness to do the best for her patients."
Felberman, in turn, is grateful for the education she received from her nursing school professors "They have gone way above and beyond to help each student reach his/her full potential and shine."
Programs at Touro's SHS are among the most competitive in the nation, offering academic and clinical education in a broad range of allied health professions and medical sciences. Alumni employment rate for SHS alumni averages nearly 100 percent, and in a 2016 U.S. News survey, registered nurse ranked among the top 25 healthcare jobs in America.
Whether she is immersed in beginning or end-of-life caregiving, Felberman is mindful of the 'circle-of-life,' milestones she must respond to in her job. "I feel that I am changing lives every day," she said.
About the Touro College and University System
Touro is a system of non-profit institutions of higher and professional education. Touro College was chartered in 1970 primarily to enrich the Jewish heritage, and to serve the larger American and global community. Approximately 18,000 students are currently enrolled in its various schools and divisions. Touro College has 29 branch campuses, locations, and instructional sites in the New York area, as well as branch campuses and programs in Berlin, Jerusalem, and Moscow. New York Medical College; Touro University California and its Nevada branch campus; Touro University Worldwide and its Touro College Los Angeles division; as well as Hebrew Theological College in Skokie, Ill. are separately accredited institutions within the Touro College and University System. For further information on Touro College, please go to: www.touro.edu/news