Touro College School of Health Sciences Hosts Health Fair and CarFIT Screenings
Date: May 06, 2016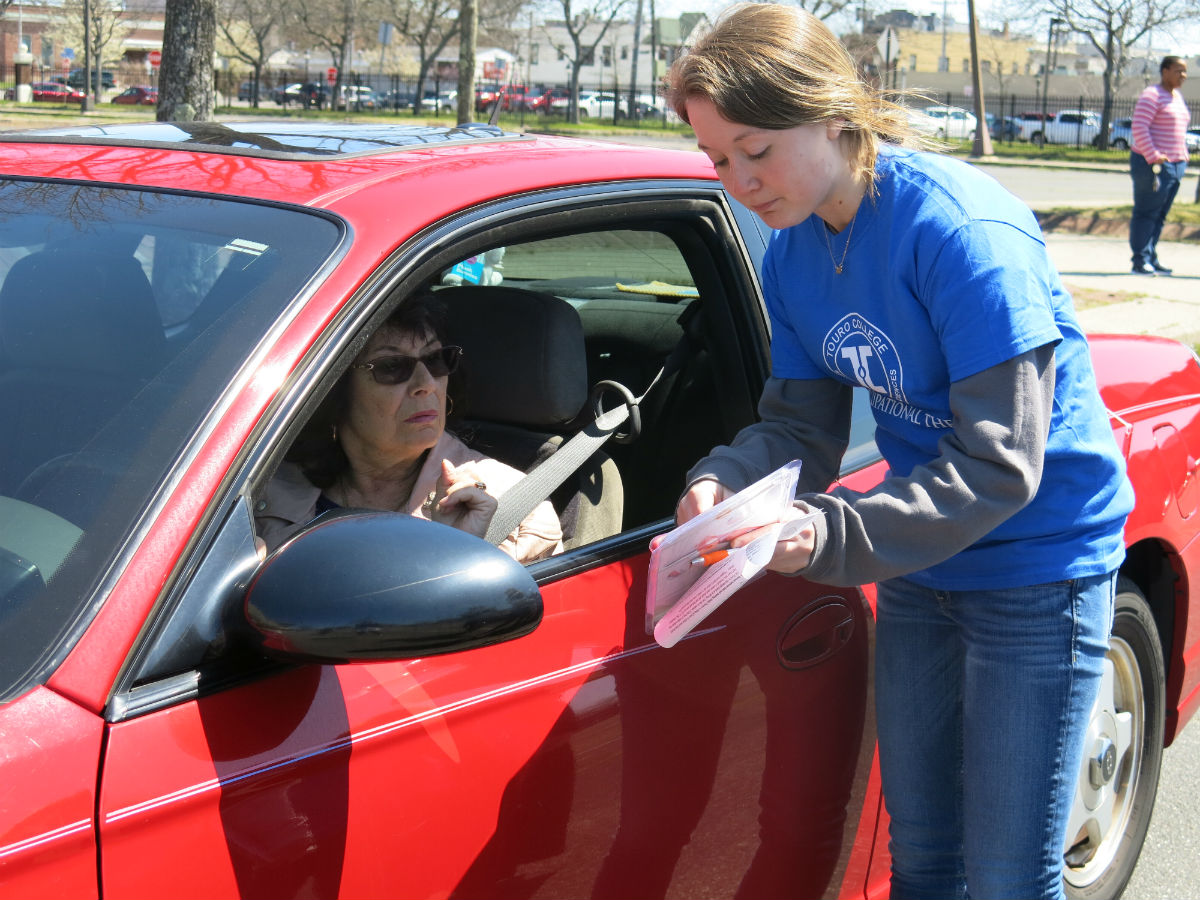 New York, N.Y. – Students, faculty, and administrators from Touro College School of Health Sciences (SHS) welcomed members of the community to its third annual Spring Forward into Health free health fair at the School's Bay Shore campus.
Guests participated in a wide range of health awareness activities provided by the School's Physical Therapy, Occupational Therapy, Undergraduate Science, and Physician Assistant departments.
The afternoon kicked off with CarFIT −an educational program sponsored by AAA, AARP, AOTA (Association of Occupational Therapists) and Touro's Occupational Therapy Department− that offers older adults the opportunity to check how well their personal vehicles fit them to ensure safety and comfort.
The School's Physical Therapy, Occupational Therapy, and Physician Assistant departments provided balance and fall-prevention screenings and fitness classes. Nutrition experts from the Undergraduate program and the Cornell Cooperative Extension demonstrated average fat and sugar consumption.
Also on hand were knowledgeable volunteers from the American Heart Association, and New Wave water filtration systems. Representatives from the U.S. Army discussed health sciences careers in the military.
Jill Zucker, Director of Student Affairs, said the Health Fair has grown larger every year. While many guests enjoy the music, dancing, raffles, and healthy refreshments, Zucker pointed out the fundamental objective of the health fair. "Big or small, the one constant has been that our students get hands-on, educational, and meaningful experience with our community while providing them with health services in a casual, enjoyable setting."
For more information about Touro College School of Health Sciences, visit: www.touro.edu/shs.
About the Touro College and University System
Touro is a system of non-profit institutions of higher and professional education. Touro College was chartered in 1970 primarily to enrich the Jewish heritage, and to serve the larger American and global community. Approximately 18,000 students are currently enrolled in its various schools and divisions. Touro College has 29 branch campuses, locations and instructional sites in the New York area, as well as branch campuses and programs in Berlin, Jerusalem and Moscow. New York Medical College; Touro University California and its Nevada branch campus; Touro University Worldwide and its Touro College Los Angeles division; as well as Hebrew Theological College in Skokie, Ill. are separately accredited institutions within the Touro College and University System. For further information on Touro College, please go to: www.touro.edu/news