A Surgeon's Second Set of Hands
SHS PA-Bay Shore Graduate Thomas Burns Talks About the Role of a Physician Assistant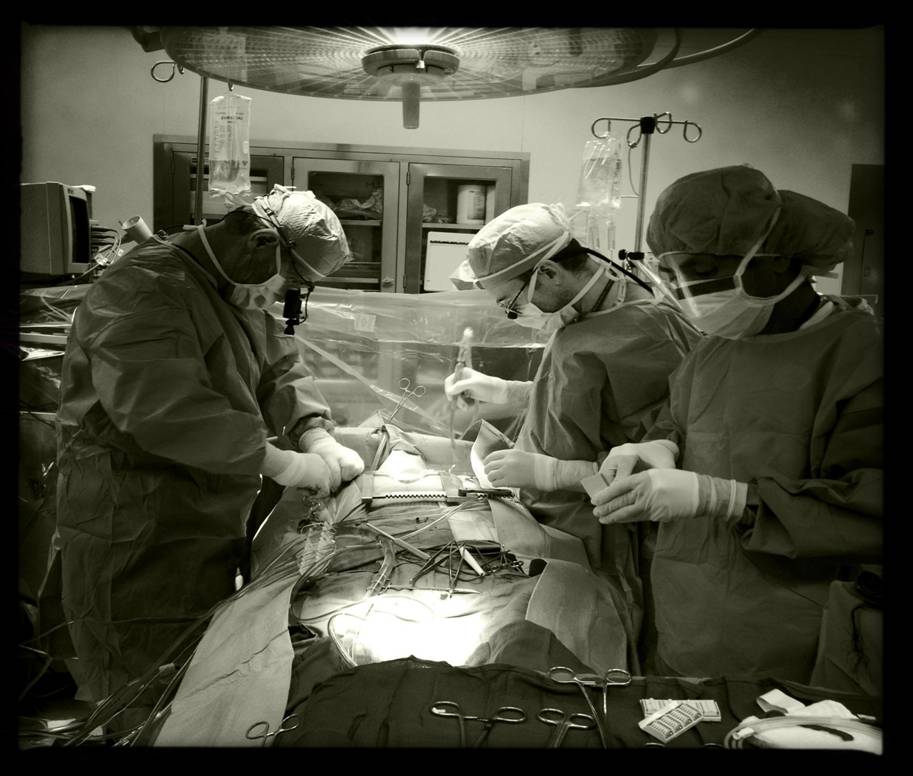 PA Thomas Burns, right background, assists in an open-heart surgery.
In an operating room, a physician assistant (PA) is a second set of hands for a surgeon, according to Supervising Physician Assistant Thomas Burns of South Side Hospital.
"We work with the surgeons in the ICU—the PA is highly autonomous both medically and procedurally," said Burns, a graduate of Touro's School of Health Sciences (SHS) Physician Assistant program in Bay Shore. "In the ICU we're managing critically ill patients and performing invasive procedures. In the operating room we are an extension of the surgeon."
Burns initially thought about going to medical school, but a classmate recommended PA school while Burns was in his junior year at St. Joseph's College.
"I looked into the profession and it was just much more appealing," he said. "I wanted to go into a surgical specialty and this was the shortest course. I didn't want to be in my thirties and still be a novice."
Since graduating in 2003 from the Bay Shore campus, Burns has never looked back.
"The Bay Shore program was a great experience— excellent professors and excellent classmates," he said. "It was hard at times, but we all got through."
Shortly after graduation, Burns was hired by Long Island Jewish Hospital. When the hospital acquired South Side Hospital they assigned Burns to the new location, blocks away from his alma mater in Bay Shore.
"We have the respect of the nurses, patients and physicians," he said about the role. "We play a vital role in coordination and the implementation of healthcare in a hospital. We're a physicians' eyes and ears; we maintain their record with the patient and we help nurses take care of the patients. It's the whole package."
In his capacity as supervising physician assistant, Burns mentors a staff of 15 PAs while fulfilling an assortment of other roles including scheduling, training and education, quality reviews, performance evaluation and hiring and recruitment. He's also a full-time member of the clinical staff, which includes managing the ICU, first-assisting in the operating room in cardiac and thoracic cases and conduit harvesting (removing veins from the legs and arms) for bypass surgery.
He suggests that people considering PA school should shadow a PA in the field they're most interested in.
"One of the perks of being a PA is that you can do any specialty," he said. "Get exposure so you know what you can handle."