Division of Graduate Studies, Commencement 2016
'Dream about the Possibilities'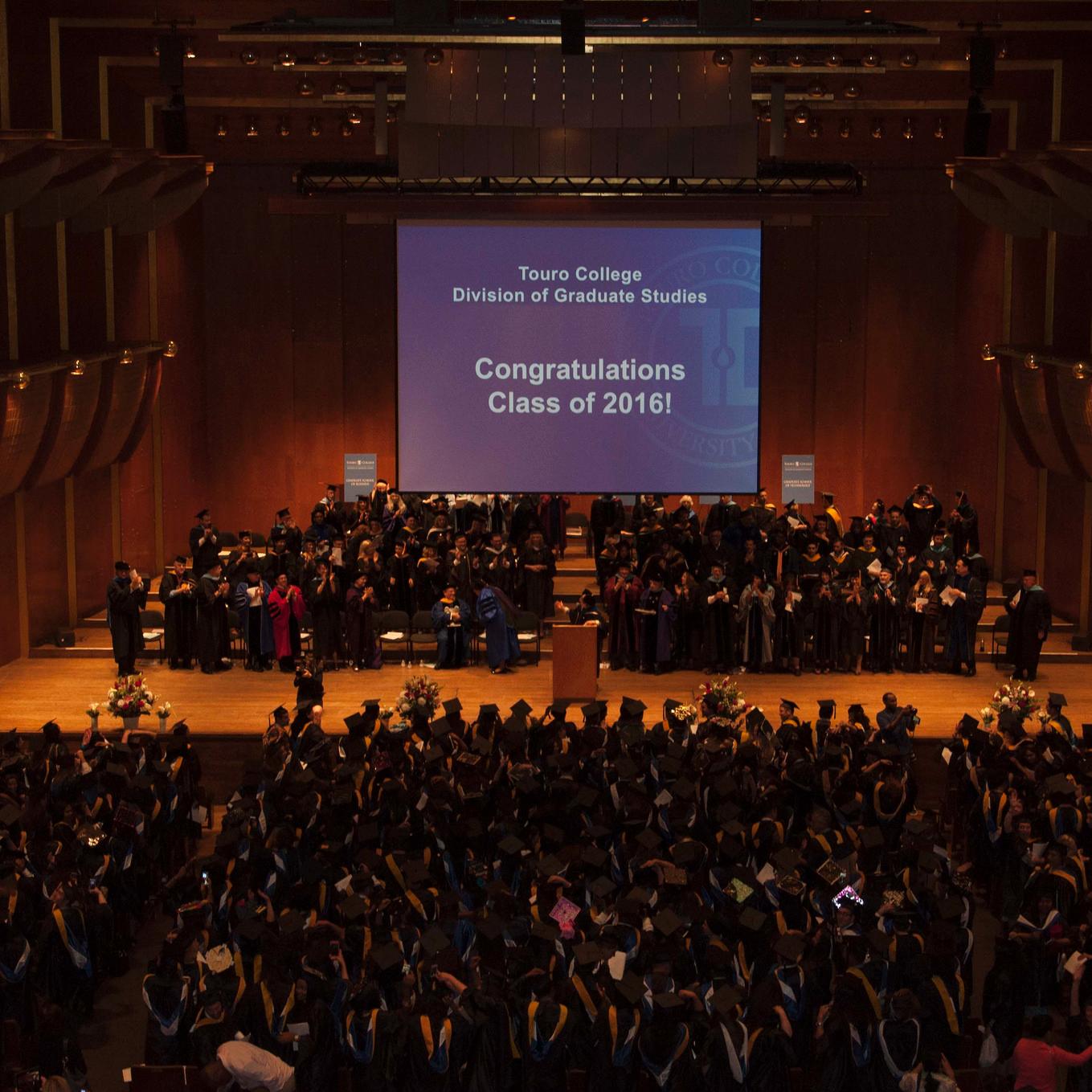 Division of Graduate Studies commencement 2016.
More than 1,000 master's degree recipients were honored at the Touro College Division of Graduate Studies (DGS) Commencement Ceremony at Lincoln Center in New York City on June 16.
David Raab, Executive Vice President of Touro College, delivered greetings from TC President Dr. Alan Kadish to members of the audience and the degree recipients from the six Graduate Schools: Education, Social Work, Business, Technology, Jewish Studies, and Health Sciences (Dept. of Behavioral Science).
In her commencement speech, Provost Patricia E. Salkin, Dean of the Jacob D. Fuchsberg Law Center, said it is important how graduates choose to use their education-- whether it is helping children with learning differences, advocating for social justice, investing in sustainable development, improving design, fostering community service, or drawing inspiration and knowledge from faith. She urged graduates to avoid being "momentarians," a term used by Touro Law alumnus and former White House executive Brad Blakeman, for people who "live in the present at the expense of the future."
"Don't just think, but dream about a future," said Dean Salkin, noting President John F. Kennedy's legacy as a visionary leader who helped put a man on the moon. "Do not become a 'momentarian,'" she said, "dream about the possibilities and then take action."
Student speakers from each of the Graduate Schools expressed their unique perspectives using the wisdom gained from working in their field and a renewed focus on deepening their education:
Quoting from the Talmud, Rabbi Baruch Fogel, who pursued a graduate degree at the School of Jewish Studies, talked about the give and take that enriches and informs the academic process. "I have learned much from my teachers, more from my colleagues, and the most from my students," he said, adding "the interplay of teachers influencing students and students influencing teachers is the hallmark of education."
Claribel Riss, who earned her second master's degree from the School of Education, said, "When you feel like giving up, don't. Teachers are a special breed of people. We are, at times, nurses, handymen, counselors, siblings, aunts, uncles, and in some cases even parents. We help students become problem solvers and overcome their obstacles."
The other graduate student speakers were Tania Dsouza of the School of Technology, Solomon Wolofsky of the School of Business, Alina Kheyson, of the School of Social Work, and Linn Norlander, of the School of Health Sciences (Department of Behavioral Studies).
Dr. Nadja Graff, Vice President of the DGS, presided over the conferral of the degrees and noted that commencement is a time to "clearly see and appreciate the power and impact of Touro College, as well as the heart of Touro College."
"Touro is a bastion of opportunity," said Dr. Graff, "to change a life, to nurture achievement, to prepare for a profession, and to instill values− one student at a time."
For more information on Touro College Division of Graduate Studies, visit: https://www.touro.edu/academics/