DPT Class of 2017 Celebrate White Coat Ceremonies
Physical Therapy students at Manhattan and Bay Shore campuses don white coats to mark the beginning of their clinical practices.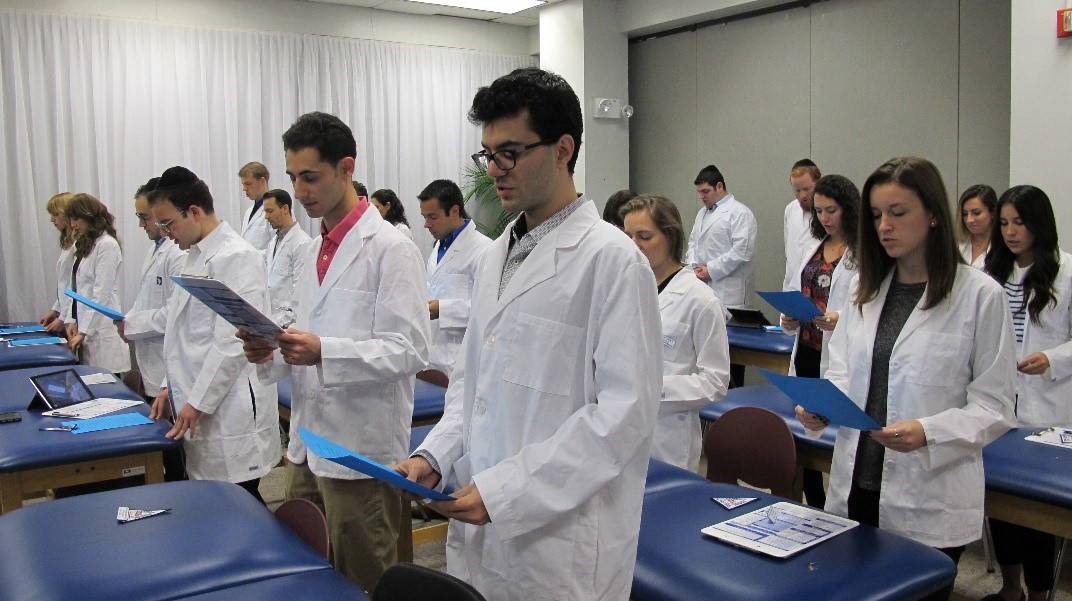 Students from the Manhattan campus recite the Physical Therapy Professional Pledge at their White Coat Ceremony.
This past October, The Touro College School of Health Sciences' Doctor of Physical Therapy (DPT) program held two annual white coat ceremonies at both its Manhattan and Bay Shore campuses to mark the students' transition from the classroom to the clinic.
The white coat, a symbol of students' commitment to professionalism and humanistic values in the field of healthcare, signifies the beginning of students' clinical experiences after spending three semesters in the classroom. During their respective ceremonies, twenty nine students from the Manhattan campus and thirty one students from the Bay Shore campus recited the Physical Therapy Professional Pledge as a public affirmation of their commitment to ethical and honorable behavior and willingness to assume such obligations.
Student Avi Friedman, from the Manhattan campus, remarked that the ceremony was an "emboldening" experience.
"As we each donned our coats, it was a stark contrast to the memory of our first day in college, and I marveled at the distance we had traveled intellectually, professionally, and personally, in such a short time," he said.
In her speech to students, PT Department Chair Dr. Jill Horbacewicz emphasized the need to take their future responsibilities seriously. "As Doctors of Physical Therapy, you will have the ability to touch the lives of those around you—both literally and figuratively," she said. "Even if you work in a place where physical therapists do not wear white coats, you will still be wearing the coat of professionalism and excellence when you are treating your patients, restoring their function, and improving their quality of life."
For DPT-Manhattan candidate Laura Schubert, the most meaningful moment of the ceremony was reciting the oath of physical therapy with her classmates.
"While donning the white coat for the first time made me proud of all of the clinical knowledge that we had mastered over the past year, the words of the oath reminded me of the responsibility we now held to the people and communities we would encounter as we enter the field as students, and ultimately doctors of physical therapy," she said.