Metronomes, WiiFit, and Prosthetics
DPT directors at SHS in Bay Shore research whether something as simple as a metronome, or a Wii Fit, can help improve the functioning of those with limb loss.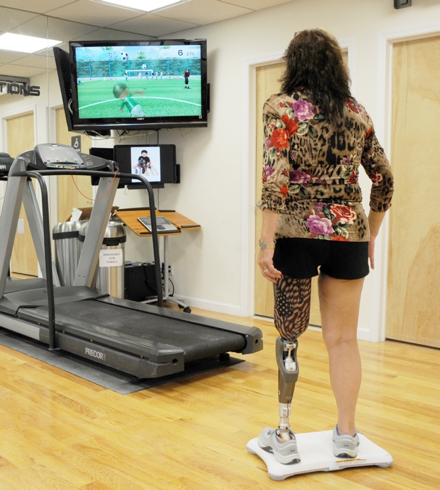 An individual with limb loss using the WiiFit to help improve her gait.
Drs. Frances Corio, P.T., PhD, OCS and Robert Troiano, DPT, CHT started out with a question: Could something as common as a musical metronome, which helps set a balanced pace for musicians, help individuals with limb loss walk more steadily and symmetrically? While they thought it could, they wanted to test this hypothesis scientifically.
Using a small sample size of individuals who had been using a prosthetic for at least six months due to above-knee or below-knee amputation, the investigators split the group into three. They gave metronomes to the experimental group, instructing them to set the rate to match a comfortable, self-selected walking speed. The individuals were asked to use the metronome to set the pace while they walked—at least fifteen minutes a day, for six weeks. With the technical assistance of a GAITRite device, Drs. Corio and Troiano found that those who used the personal metronomes showed greater symmetry in their gait than the two control groups, who walked without the metronome's assistance.
***
Longtime researchers in the fields of orthopedics and prosthetics, Drs. Frances Corio, Director of the Post Professional DPT program and the PT Orthopedic Residency Program in Bay Shore; and Robert Troiano, Associate Director of the DPT Program, co-teach the course on prosthetics and orthotics at the School of Health Sciences' Physical Therapy program. Both experts are familiar with the challenges of those facing limb loss: Dr. Corio entered this field of research while working as a senior physical therapist in the Hospital for Joint Disease and Medical Center, and Dr. Troiano (SHS '89), who wears a prosthetic himself, worked as a PT in several New York clinics before joining SHS faculty. When he and Dr. Corio decided to work together, Dr. Troiano brought his own expertise and input to the conversation.
Their innovative work looking at several different instruments to help improve the daily functioning of amputees began several years ago, with Dr. Corio's publication of her dissertation "Effects of spinal stabilization exercises on the temporal spatial parameters of gait in individuals with lower extremity limb loss" in the Journal of Prosthetics & Orthotics.
"We started doing different projects after that," explains Dr. Corio. "We both knew we were interested in this subject, and the most important part—we both had lots of connections whom we could use as subjects for our studies." The duo's study on the Wii Fit, "The Effects of the Wii Fit System on Balance in Individuals with Lower Limb Loss" tested the effects of the virtual reality system on balance in those with lower extremity limb loss during an eight-week exercise program. The duo began presenting the results of their Wii Fit and metronome studies, along with other similar studies, at national conferences, including the National Meeting of the American Physical Therapy Association in Maryland and Florida, and the Combined Sections Meeting of the American Physical Therapy Association in Nevada, California, and Louisiana.
The duo's studies show how some easy exercises—or low-cost, accessible devices—can solve big problems like back pain, asymmetrical gait, or imbalanced stride.
"In a global sense, they're all treatment techniques that help those with prosthetics improve their functioning," says Dr. Corio. She references the spinal stabilization study as an example. "Once properly instructed, these people could use the spinal stabilization exercises at home, not just to improve their walking/balance ability, but also as a preventative measure against back pain, which is—as studies show—a common byproduct of using a prosthetic for a long period of time."
The metronome, they saw, made walking easier for amputees. "Studies show that activity which is not symmetrical costs the user more energy to produce," explains Dr. Troiano. "We're trying to lower energy expenditure, and we found that a metronome, which costs between $10-$30, offers a low cost, and fun way, to achieve just that, by simply strapping it on to your belt to help count the beats when you walk." The Wii Fit, on the other hand, makes balance easier for individuals with limb loss. "The biggest challenge to a new prosthetics user is not having good balance," said Dr. Troiano. "While alternatives do exist—like the NeuroCom Balance Master System—the Wii Fit is a very inexpensive clinical tool that can improve this."
What makes Drs. Corio and Troiano unique is that the pair has conducted every study on limb loss with real human subjects, rather than surveys. "One of the most difficult parts of performing clinical trials in sensitive cases like limb loss is finding the people who want to be used as patients in these kinds of studies," explained Dr. Troiano. "It's a challenging issues for these patients; it's not like they sprained a leg, you know. In addition to it being very physically challenging, it's very emotionally straining to adjust to this new reality. Contacting the VA for subjects required lots of red tape, and after ten years of using our personal connections, they start to dry up a little." Now, most of the co-investigators' subjects are clients of prosthetics companies they are associated with, while others are from support groups for those with limb loss.
Students help recruit subjects, too—among assisting with other research tasks like literature reviews and data collection. "Students love the topic, because it's a combination of something mechanical (computer entry, etc.) and hands-on," says Dr. Troiano.
In the future, the Drs. Corio and Troiano look forward to conducting more studies that focus on the less clinical side of prosthetics and orthotics. "We wonder, how do other universities teach about prosthetics and orthotics? We want to take a look at the field from a more internal perspective."