Physician Assistants Celebrate Program Completion at White Coat Ceremony
Graduates don white coats in excitement and anticipation for their future careers ahead.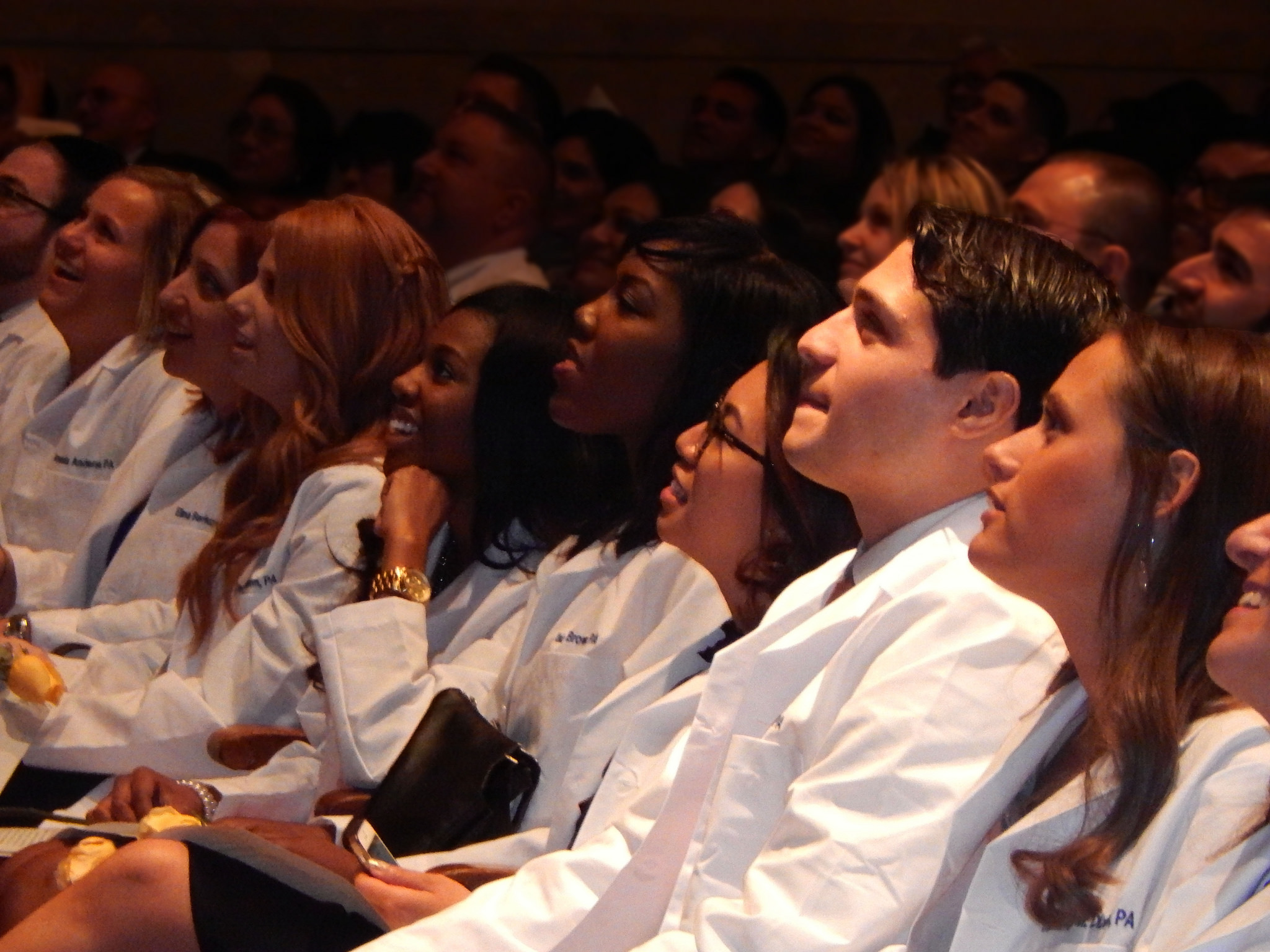 White-coated Raphael Lebovits, carrying his toddler in his arms, strides across the grand hall with his wife. ("If not for her, I wouldn't be here today," he mentions as an aside, shaking his head). He stops to thank a professor for all her hard work over the years, and introduces his child.
On April 30, 2015, he and forty-two other students celebrated their completion from Touro's Manhattan Physician Assistant (PA) Program at a White Coat Ceremony, a ceremonious event that marks a health science student's transition from formal schooling into the PA practice.
For the first time, Touro's annual White Coat Ceremony was held at the New York Academy of Medicine. Seats were packed as parents cheered for their children, spouses, or parents as they went on stage to don the white coats that officially welcomed them into the health profession.
In her introductory remarks, program director Kristin Thomson praised the graduating class for all their hard work and determination "since they first walked through our doors in 2012."
"This class has adapted and succeeded at every task thrown their way in their preparation to become the best health care practitioners possible. Wherever they went, they made the most of their learning experiences, met many clinical contacts, and built relationships with each other and with faculty."
The keynote speaker of the evening was award-winning PA veteran William Kohlhepp, DHSc, PA-C, a longtime scholar who has been active in national professional organizations since the 1970s and is currently treasurer of the PA Education Association. Dr. Kohlhepp delivered a passionate presentation on professionalism, excellence, and community service. "I ask you to think about the values of the profession, perhaps thinking of them as being woven in the fabric of that white coat," he said.
Faculty members presented the didactic and clinical awards for students and graduates; and, as is tradition, students recited the Physician Assistant Professional Oath led by graduating student John DeLuca. Carly Sedwick, who received the Outstanding Leadership Award, addressed her fellow graduates and highlighted memorable moments they had experienced from all three years of the program.
"Throughout our academic careers, we've completed 127 credits, 114 exams (that I can count on the calendar), 2 OSCEs, 90 drug cards, and much more. We pushed each other, we rooted for each other, and we wanted success for the person sitting next to us just as badly as we wanted it for ourselves."
The evening ended with an entertaining slideshow of class memories which drew quite a number of cheers and laughs.
Many graduates are already anticipating their next steps. Kristin Langford, for example, is "thrilled" to have been accepted to NYU's Internal Medicine and Hematology-Oncology department. Kimberly Dixon, who says she loves kids, plans to work in Pediatric-Cardiology in a neonatology unit. Yosef Seewald has been accepted to dermatology at IMA Research; Rebecca Goldberg is a Lenox-Hill hopeful; and Julia Goldenberg, accompanied by her two young daughters, intends to enter emergency medicine.
After he thanks the professor, Lebovits shares that he's been offered a full-time PA position beginning in the fall, working for a primary care physician expanding her practice.
He's happy it's primary care, he says. "The beauty of becoming a PA is that we're well-versed in every area of medicine, and the year we graduate from school is the point in our lives when we know the most material. So I really wanted to get a position in primary care or internal medicine, something very broad-based, because that would help solidify all the knowledge I just learned."
Congratulations, class of 2015!
2015 Awards
Outstanding Didactic Achievement: Ilana Blum-Wolbrom, Kimberly Dixon, Joseph Falank, Rebecca Goldberg, Carly Sedwick, Matthew Stamm
Outstanding Clinical Achievement: Jineth Abella, Rebecca Goldberg, Kristin Langford, Carly Sedwick, Mika Wexler, Artur Yusupov
Didactic Faculty member: Nathan Boucher
Director's Award: Matthew Stamm
Phi Alpha Society (top 15% of class, GPA of 3.5 and higher): Ilana Blum-Wolbrom, Kimberly Dixon, Joseph Falank, Rebecca Goldberg, Chana Kulefsky-Marx, Carly Sedwick, Matthew Stamm
Highest Didactic Achievement Award: Cheryl Segal
Highest Clinical Achievement Award, Valedictorian: Kimberly Dixon
Salutatorians: Chana Kulefsky-Marx and Carly Sedwick
Outstanding Preceptorship: Dr. Hertzel Sure