School of Health Sciences Honors Physician Assistants, Class of 2016
Manhattan Graduates Honored in Ceremonial Presentation of White Coats and Awards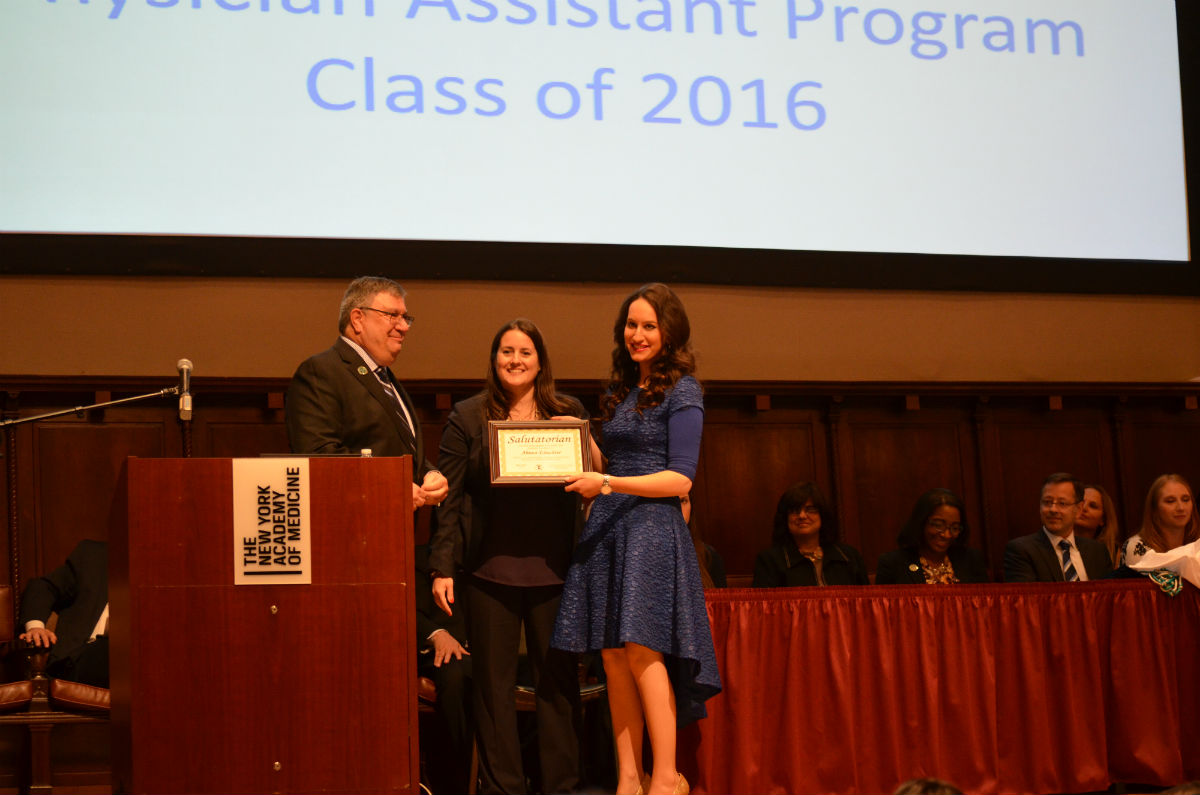 Ahuva Schachter receiving Salutatorian Award at Physician Assistant Awards Ceremony
Graduates of the School of Health Sciences Physician Assistant (PA) Program at the Manhattan campus of Touro College were honored recently at an awards ceremony at the New York Academy of Medicine in New York City. Special achievements were recognized, and the ceremonial presentation of monogrammed white coats highlighted the celebration on May 5.
Professor Kristin Thomson, Director of the Manhattan Campus PA Program, congratulated the 56 men and women for completing the program's rigorous academic and clinical training. "One can choose to go back toward safety or forward toward growth. But growth must be chosen again and again," said Prof. Thomson, quoting the psychologist Abraham Maslow who is famous for his 'hierarchy of needs' theory of psychology.
Dr. Louis Primavera, Dean of the School of Health Sciences, also congratulated the class on their formidable accomplishments. "You have bright futures. We know you have worked hard and we know you will do a great job," he said.
Touro Executive Vice President Moshe Krupka asked the audience to rise and show their appreciation for "these outstanding individuals." He paid tribute to the graduates and their families, who he recognized for "sacrificing so much so that these students could succeed."
Dr. Joseph Tommasino, Assistant Dean and Chair of the PA program, was also in attendance.
Keynote speaker, Ramanathan Raju, President and CEO of New York City Health & Hospitals, declared healthcare in this country, "a human right," that must be championed "until there is equity in healthcare for everyone in this country."
Dr. Raju said the recent Ebola epidemic in West Africa and the 2010 earthquake in Haiti were turning points in the delivery of emergency medical care and said graduates would be faced with decisions and life-changing experiences during their rounds that could lead to a specialty within their PA professions. "You will be on a journey full of opportunities to contribute to the welfare of the community," he said.
He challenged the graduates to be part of "the healthcare revolution," and noted the significance of the white coat they will wear as practicing clinicians. "The white coat is recognized as the international symbol of healing. With it comes the responsibility that accompanies the profession of healing people.
"Make us proud, make your families proud, make the profession proud," Dr. Raju said, and "never, ever, ever give up."
In her award-winning student essay to be published in the Journal of the American Academy of Physician Assistants, PA graduate Kathleen Di Simone wrote, "You hear about sacrifice, missing weddings, birthdays and how you are entering an academic boot camp. You learn you could have done more, worked harder. As disappointing as that realization can be, it will one day help you save someone's life."
Acknowledging the PA's role in the growing trend of interprofessional healthcare, class president Ruth Pierre-Louis said, "Do not expect to succeed in PA school if you are a loner. No one can do this on his own. You have to stick together."
Career Path
By all accounts, graduates entering the PA profession will enter a robust job market in their field. In a 2016 report in U.S. News, physician assistant ranked #4 on a list of best healthcare jobs based on criteria including salary, work-life balance, and employment rate. In addition, from 2012 to 2022, the U.S. Bureau of Labor Statistics projects that the PA field will have grown at a rate of 38.4 percent, adding 33,300 new jobs for PA's. In May, there were more than 1,100 openings for PA's in the New York Metro area alone as listed on the job site, GlassDoor. The increase in the demand for PA's has been fueled in part by the Affordable Care Act which has enabled more patients to undergo medical care in a team-based approach in which PAs participate.
For more information about the Manhattan PA program at Touro College School of Health Sciences, visit: touro.edu/shs.