Spending a Summer at Northwell Health
SHS Undergrad Preps for Med School with Exclusive Program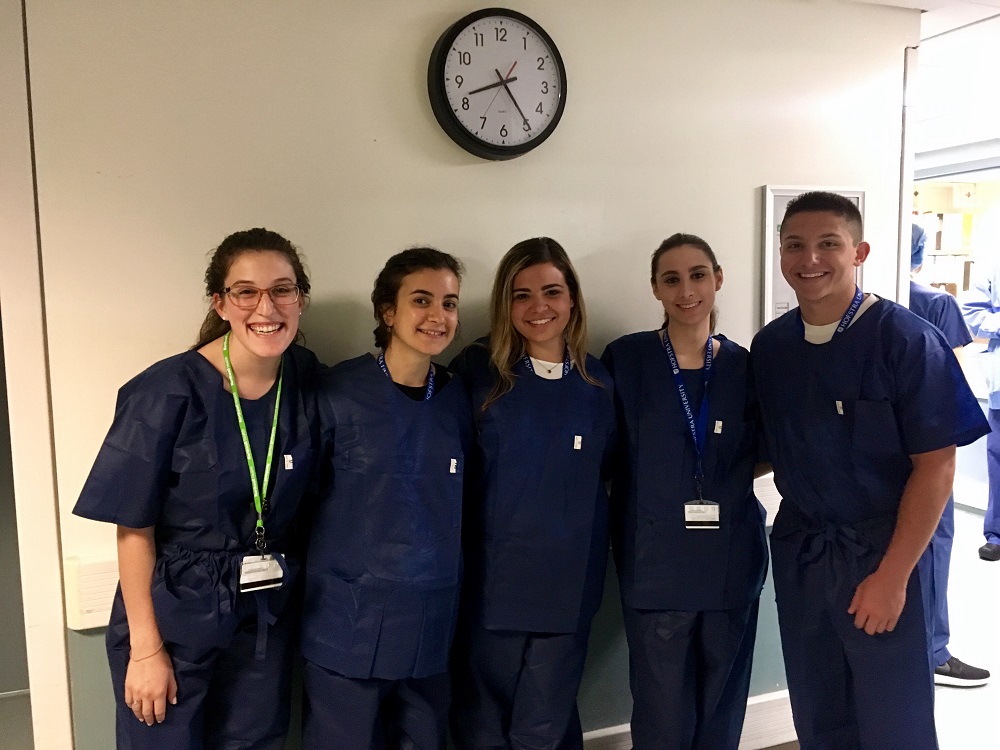 SHS undergrad Emily Lisanti (center) spent part of her summer in Northwell Health's Summer Pre-Medicine Program for College Students.
School of Health Sciences (SHS) undergraduate student Emily Lisanti received a first-hand and in-depth look at the medical field as one of only 16 undergraduate students chosen to participate in Northwell Health Summer Pre-Medicine Program for College Students.
"I wanted to do something that would allow me to experience what life would be like in a hospital," said Lisanti, who is a pre-med student at SHS and planning to apply to medical school when she graduates. (She took part in a medical mission to Peru and Ecuador.
As part of the program, Lisanti spent half the day at Hofstra University covering topics that are taught in medical school, and the other half of the day rotating through different departments in the various hospitals that Northwell runs. (One TouroCOM student spent her summer working at Northwell's primary research facility.)
"We basically spent a month in the hospital," explained Lisanti. "In the morning, we'd have rotations and during our lunch break, doctors would talk to us about why they entered the medical field. The other half of the day we'd either be in rotations or listening to a lecture about the medical field and admissions into medical school."
Two classes at SHS that she said were incredibly helpful during her experience: Pathophysiology co-taught by Dr. John Sullivan and Dr. Kertowidjojo and Cognition and Memory taught by Professor Arthur Sullivan.
"Almost everything I learned in Pathophysiology came up when I was in the hospital," said Lisanti. "The terminology that the professors used along with their description of symptoms and diseases really helped me through the hospital experience. The class was definitely a challenge, but I couldn't be more thankful for what I learned there."
"Professor Sullivan's class gave me an understanding of Cognitive Behavioral Therapy so I could ask the psychiatrist educated questions about treatment options," continued Lisanti. "We also learned how to identify psychiatric disorders, an ability that was really helpful in the hospital."
Lisanti cycled through departments including the intensive care unit, pediatrics, radiology, pathology, and the emergency room. The students also visited Northwell's specialty hospital Cohen Children's Medical Center and Katz Women's Hospital.
"We shadowed doctors," said Lisanti. "We got to see them with their patients and accompanied them on their rounds."
As part of the program, Lisanti witnessed two surgeries: an anterior cervical disc fusion and a hip replacement. The students also visited a cadaver lab and spent a day at a simulation lab where they were given four simulated patients suffering from different types of chest pains.
For Lisanti, whose prior medical experience was in pediatrics, the internship was "eye-opening."
"This gave me the opportunity to see other specialties in medicine and see what appealed to me," she said. "The experience allowed me to really think about which area of medicine I'm most passionate about. I really enjoyed what the emergency room was like and I fell in love with psychiatry."