"Touro Prepared Us"
SHS PA-Manhattan Team Wins First Place in Northeast Medical Bowl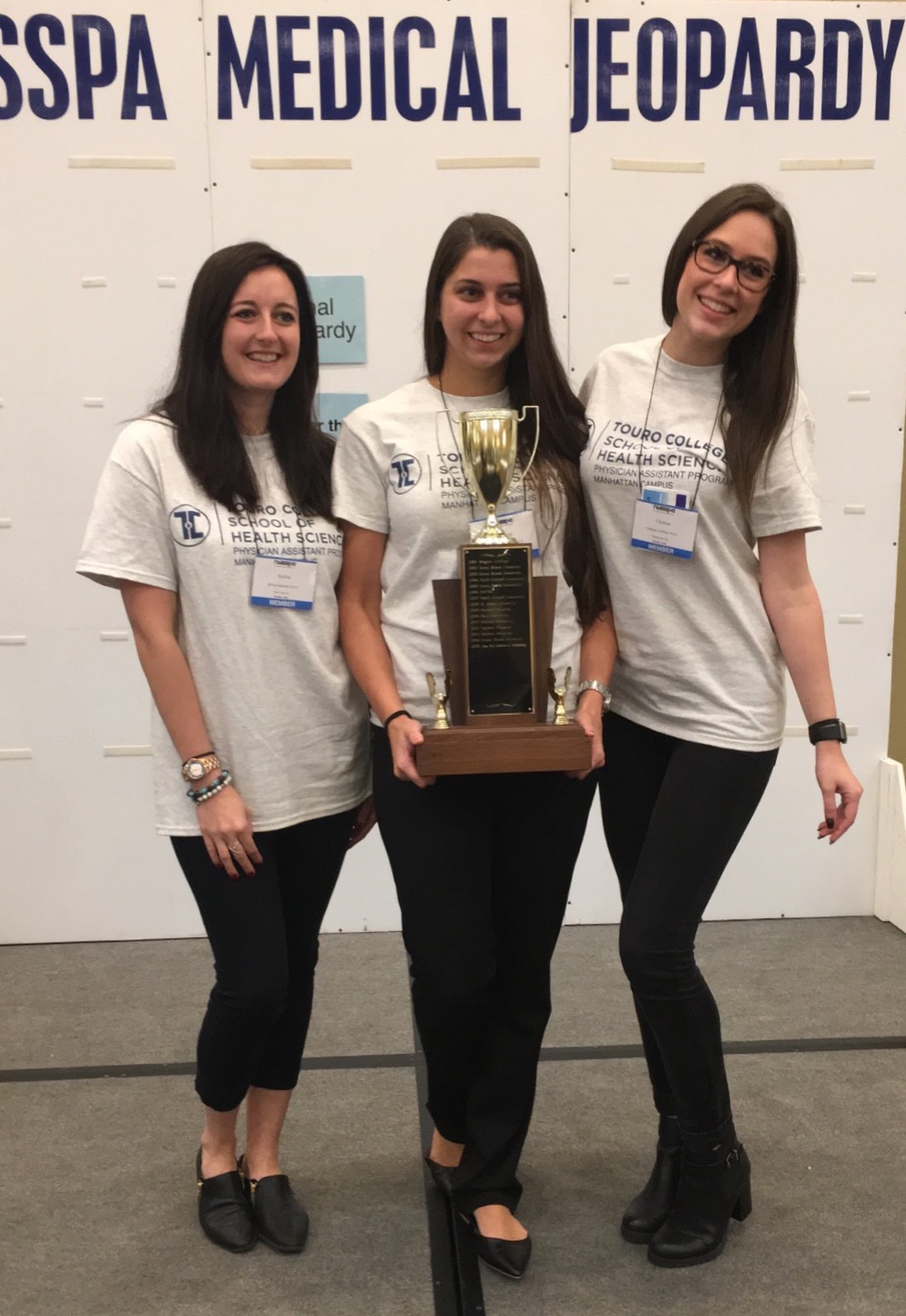 Students Sylvia Grabicki, Laryssa Llanio, and Chelsea Gifford holding their trophy from the Medical Challenge Bowl.
Make sure to answer the following statements in question form:
This is the diagnostic imaging study you order if someone presents with bitemporal hemianopsia.
This is the most common time of the year that patients will have myxedema coma.
You might not know the answer to these medical questions (or rather the questions to these medical answers), but students at Touro College School of Health Sciences (SHS) Physician Assistant (PA) Program in Manhattan do. Students at the program fielded a team for the Medical Challenge Bowl competition during the New York State Society of Physician Assistant convention in October. Student Chelsea Gifford, class of 2018, explained that the team didn't go in with particularly high expectations.
"We weren't quite sure what to expect, but we didn't put too much pressure on ourselves," said Gifford. "A lot of the teams had notebooks and were studying intently. We were just laughing and having a good time."
"We were just doing it to have fun," added Laryssa Llanio. "We knew we had a good foundation and Touro prepared us for it."
Medical Challenge Bowl takes the form of the popular Jeopardy television show with all the categories tied to the medical field. The Touro team —composed of students Gifford, Llanio, and Sylvia Grabicki with alternates Brittany Amato and Kulsoom Mushtaq— faced off against 12 other PA programs in New York. Round after round, the Touro team buzzed in answers about heart failure, diabetes and medications that cause kidney stones.
"It's Jeopardy for nerds," laughed Gifford.
When the results came in, the Touro team took first place.
In May, SHS flew the team down to Las Vegas for the annual Association of American Physician Assistant convention for the national Medical Challenge Bowl.
"We went for the whole conference," said Gifford. "We were able to sit in on lectures and network with other PA's."
On the second-to-last day of the convention, the team took part in the national competition. (Though they didn't compete against each other, the team was placed next to the PA team from Touro Nevada). The SHS team sailed through the early rounds until they were retired in the semifinals, taking ninth place out of 96 teams.
Llanio graduated the program in June and will start as an emergency medicine PA in Clara Maass Medical Center in New Jersey in September.
"It was a nice send-off," she reflected.
Gifford will be a part of next year's team.
"We're shooting for number one," she said.