Touro Presents at 30th World Congress of Logopedics and Phoniatrics
Laurie Giamella, SLP Class of 2016, Credits Her Late Mentor Dr. Gisele Oliveira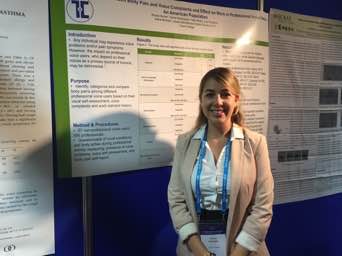 Laurie Giamella, Graduate of Touro SHS's Speech-Language Pathology program, delivers a poster presentation at the 30th World Congress of Logopedics and Phoniatrics.
A recent graduate of the Touro College School of Health Sciences (SHS) Speech Language Pathology (SLP) program, Laurie Giamella, presented at the 30th World Congress of the International Association of Logopedics and Phoniatrics in Ireland in August.
Giamella delivered a poster presentation at the conference, entitled "Body Pain in Professional Voice Users: Voice Complaints and Effect on Work." Giamella (SHS, Speech Language Pathology, Class of 2016) presented the research that she completed with four other students — Alyssa Decker, Tamar Benzaquen, Adina Burstein, Yael Almani and Lisa Riccotone — under the direction of the late Dr. Gisele Oliveira, a professor at SHS.
Under Dr. Oliveira, the five students surveyed 643 professionals in various occupations that require a constant use of voice. The students asked which area voice users felt pain in comparison to a smaller non-voice-using control group. The results were unequivocal.
"The areas that came back as having pain most often was the throat area," said Giamella. "Professional voice users have significantly more often felt pain than non-professional voice users."
The research was conducted and compiled in the fall of 2015 and was a corroboration of a similar research Dr. Oliveira performed in her native Brazil. Dr. Oliveira submitted the paper to the conference in March. She passed away a few weeks later after a battle with cancer.
Giamella felt she was continuing Dr. Oliveira's work.
"Dr. Oliveira had a major impact on my entire graduate career in Touro," Giamella explained. "She sparked my interest in studying voice for myself as well as my colleagues. She gave me this great passion that will never leave me for my career."
Giamella met with researchers from more than 57 countries, including many who had worked with Dr. Oliveira.
"We were able to relive some of our great memories [of her]."
Giamella currently works as a speech language pathologist for the Autism Spectrum Disorder (ASD) NEST program for the New York State Department of Education.