Ashley Houck, of Sayre, Receives Touro College Healthcare Award
School of Health Sciences Physical Therapy Graduate Draws on School's Comprehensive Clinical Training -and Experience as a Dancer- to Treat Patients
Date: October 28, 2017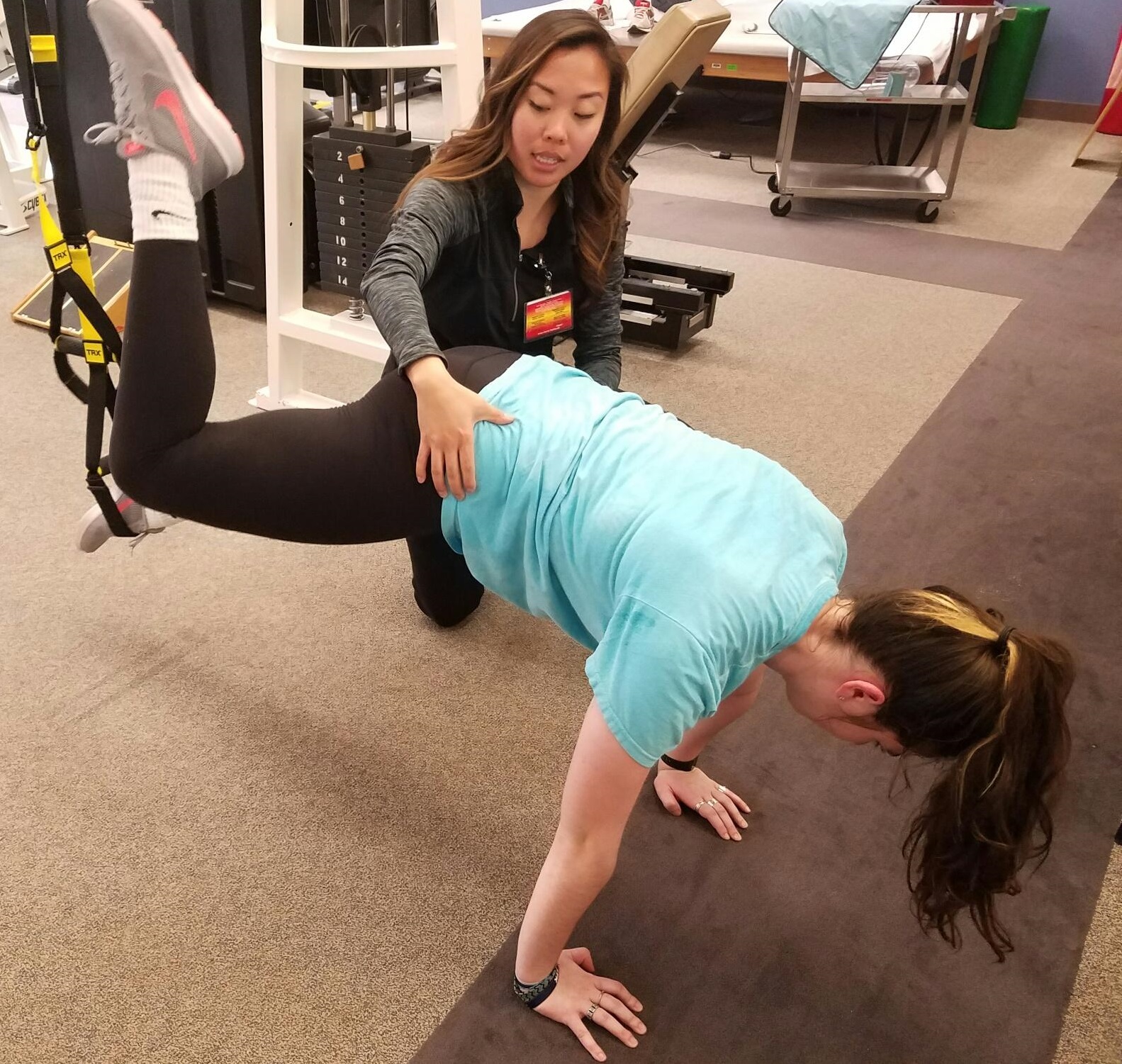 Dr. Ashley Houck and patient
Media Contact:
Deborah Anders
646-565-6178
New York, N.Y. – Ashley Houck, a graduate of Touro College School of Health Sciences in Bay Shore, N.Y., is a recipient of the School's prestigious Maimonides Award in Physical Therapy (PT) for demonstrating the highest professional ideals of a healthcare professional.
Houck, a life-long dancer who grew up in the northern Pennsylvania town of Sayre, majored in biology and minored in chemistry at the University of Pittsburgh. She also participated in the school's student-run dance program, an experience that would later give her a leg up on her profession as a physical therapist.
During her clinical rounds through Touro, Houck treated dance students at Case Western University in Ohio, and later, Broadway performers from the shows Waitress, School of Rock, Cats and Hamilton.
"The way they treat and use their bodies is a big part of their job," Houck said of the patients she saw at Neurosport Physical Therapy in New York City. "They're dancers, actors and vocalists who are overworked and very humble; you wouldn't even know they were performers. They really tried to maximize their time with us and were so grateful for the care."
Houck values the range and rigor of the clinical training she received during Touro's five-year DPT (Doctor of Physical Therapy) program. "You're not just sitting in a classroom, you are taking charge of your own learning," she said.
That learning included therapies unique to one of the hospitals where she worked, Geisinger HealthSouth Hospital in Pennsylvania, to treat patients in the subacute setting recovering from surgical procedures, CVAs (strokes), and a multitude of other health conditions. She also observed patients being treated for balance and vestibular (inner ear) disorders. "If it's a certain condition, it can be alleviated through an immediate quick maneuver of the patient's body," said Houck. Other treatments, like aquatic therapy, incorporated a pool whose floor would raise and lower. "It is helpful for the patients to have that extra buoyancy."
At Touro, Houck immersed herself in the Delegate Assembly, an organization that advocates for the PT profession and is part of the New York Physical Therapy Association. She also helped form a student-led dance group at Touro that conducted classes in yoga, ballet and even 'Bollywood' style line dancing.
Dr. Vanessa Reddin, Ashley's advisor, said Houck's receiving the Maimonides Award is well- deserved. "From the very beginning of the program, Ashley was an outstanding student. She was always present and available to help her fellow students as well as the faculty, and willing to go beyond what was asked of her. She truly exemplified the qualities of an excellent student and future physical therapist."
Houck tells incoming PT students to keep an open mind to different kinds of professions, be mindful of the importance of working together with colleagues and to take advantage of the opportunities that Touro has to offer.
For now, Houck is studying for her boards and working as an interim therapist at Neurosport.
Asked what the future holds for her, Houck said, "Perhaps I will be an orthopedic clinical specialist continuing to treat dancers and performing artists in addition to the general population, and I would like to stay involved in advocating for the profession. I really just hope to make a difference in the lives of the people I treat."
About the Touro College and University System
Touro is a system of non-profit institutions of higher and professional education. Touro College was chartered in 1970 primarily to enrich the Jewish heritage, and to serve the larger American and global community. Approximately 18,000 students are currently enrolled in its various schools and divisions. Touro College has 30 campuses and locations in New York, California, Nevada, Berlin, Jerusalem and Moscow. New York Medical College; Touro University California and Touro University Nevada; Touro University Worldwide and its Touro College Los Angeles division; as well as Hebrew Theological College in Skokie, Ill. are separately accredited institutions within the Touro College and University System. For further information on Touro College, please go to www.touro.edu/news