Health Science Undergrads Lend a Helping Hand
Globe-trotting health science students traveled to Peru to offer much-needed care to an underserved population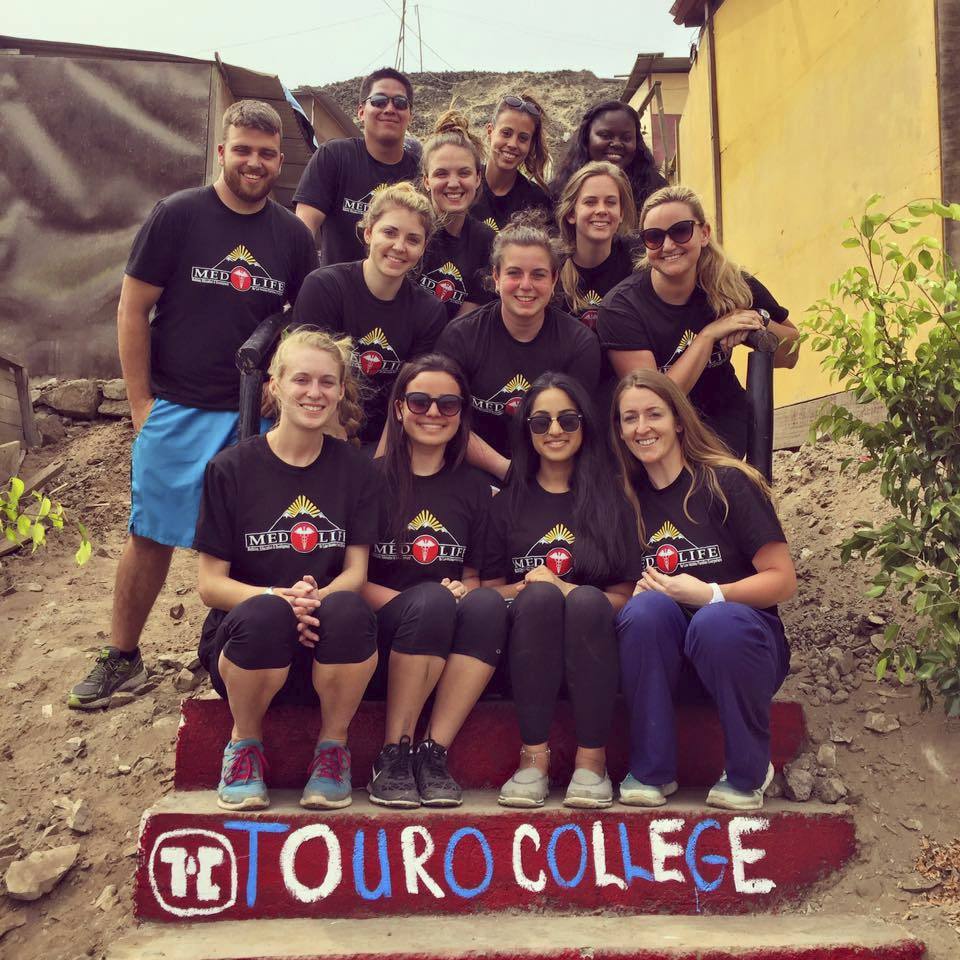 Touro students who traveled to Peru included Erin Froehlich, Kaitlyn Miller, Jade Geddrie, Colleen Kerins, Jenna Wisotsky, Kara Koch, Kevin Mawn, llyssa McLeod, Dara Adames, Sabrina Spiridigliozzi, Emily Lisanti, Sonia Sikand and Anthony Garcia.
Students from Touro College School of Health Sciences (SHS) embarked on a service trip to Lima, Peru in January to assist hundreds of community members in need of medical, dental, and obstetrics healthcare, as well as basic community infrastructure.
The trip was sponsored by an organization called MEDLIFE – Medicine, Education, and Development for Low-Income Families Everywhere and organized by Michal Klepadlo -who graduates this fall with a degree in biology- and Alisha Mascarenhas, an alum of the SHS biology program, as well as Christina Lagudi, a biology student.
The Touro group joined with students from approximately 29 other universities, including Cornell and Johns Hopkins, who altogether assisted in providing health services to 2,714 Peruvians.
Klepadlo said members of the community "traveled from near and far" to seek services in triage, health education, medical and dental care, pharmacies, and obstetrics -gynecology. Students were responsible for escorting patients to the various healthcare clinics, and recording vital information such as blood pressure, and medical history; distributing health information; handling medical instruments; and organizing prescriptions and medical forms.
At the OB/GYN station, female students assisted with breast cancer screenings and pap-smears. At the dental hygiene station Touro's students enthusiastically instructed children on how to use a toothbrush and toothpaste, and apply fluoride to the their teeth. Volunteers also assisted dentists with routine cleaning and cavity filling.
Klepadlo said the entire experience was "eye opening" for the volunteers and students of Touro to see healthcare in a different part of the world.
"Most of the patients in these villages had never seen or could not afford to see a healthcare professional. Some of the patients had lost a limb, or had dental problems. Children did not know how to brush their teeth, and had problems with respiratory and gastrointestinal tracts. These patients were able to see a doctor and receive a prescription to get free medication."
In addition to health and medical care, the MEDLIFE volunteers rolled up their sleeves and worked with a contractor to build two stairways leading to homes in the neighborhood, which are situated in the hills and lacked appropriate infrastructure for pedestrian travel. Members of the community had requested this project. "A simple staircase makes the trip from a person's home to their workplace, school, or water reservoir (there is no running water) much easier and safer," said Klepadlo.
Erin Froehlich, a SHS physical therapy student, said the Peru trip provided opportunity for professional development and personal growth. "I wanted to learn new skills in the medical world, and explore a new culture. The trip fulfilled all of those and more. It was an amazing experience. We really made a difference in the local communities," she said.
Fundraising, year round
Throughout the year, students at SHS raised money for other MEDLIFE projects that included eco-friendly toilets, a water transport system, access to electricity, a community center, and a first aid kit for the communities of Union Santa Fe and Urucancha in Lima. In Tanzania, student fundraisers helped purchase 30 BioSand filters that provided access to clean water to nearly 200 residents.
"I am deeply proud of Michal and all of the students who volunteered their time with MEDLIFE," said Dominick A. Fortugno, Ph.D., Chair, and Director of Undergraduate Studies who, along with Director of Student Affairs Jill Zucker, provided some input about fundraising and recruitment. "This experience illustrates their steadfast dedication to helping others and highlights the traits that will make them all incredible healthcare professionals."
Klepadlo, then 'paid forward' the compliment to the student volunteers. "I cannot stress how successful this trip was because of my classmates who were involved," he said. "To be able to travel across the globe, and create change in people's lives are experiences that we will all bring with us into our professional careers."
For more information about future MEDLIFE trips, email medlife.touro@gmail.com , or visit www.medlifeweb.org.