Offered Three Positions, PA Thomas Bily Accepted Them All
Touro Graduate Supervising Physician Assistant at North Shore University Hospital in the Department of Surgery Recounts His Journey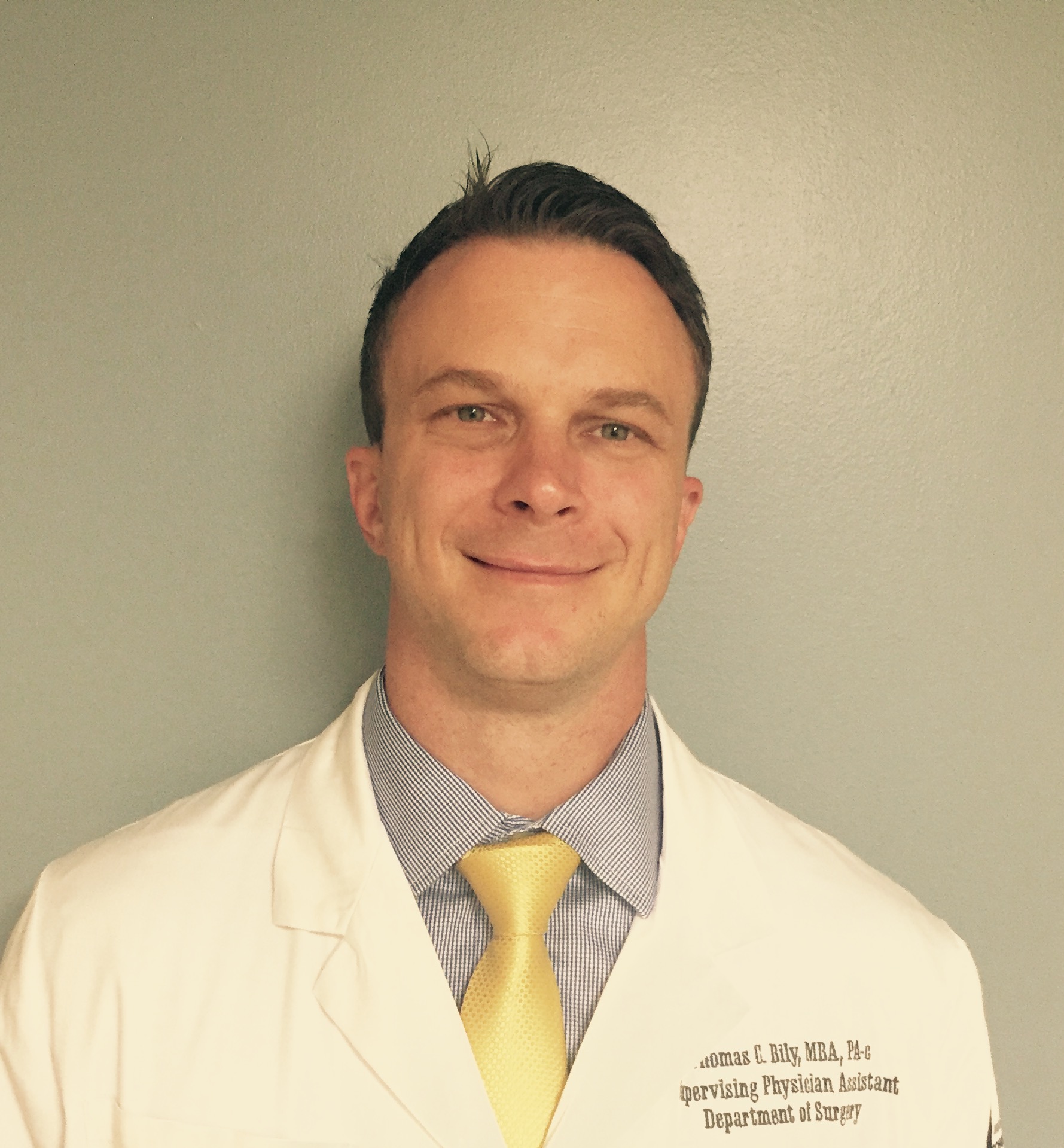 Physician Assistant Thomas Bily was offered three positions when he graduated from Touro's School of Health Sciences PA program.
When Thomas Bily was offered three different positions after graduating from Touro's School of Health Science Physician Assistant (PA) program in Bay Shore, he did what any talented graduate would do: he took all of them.
Thomas's career as a PA began full-time at Long Island Jewish Medical Center in the Department of Surgery and Critical Care; a part-time PA at a private cardiovascular practice in Manhasset and a per-diem PA in the Emergency Department at Winthrop University Hospital in Mineola.
"The good thing about being a PA is you can help people and practice in basically any field of medicine with very few exceptions," Thomas explained.
It was this unstoppable attitude that led him to his current role: Supervising Physician Assistant in the Department of Surgery at North Shore University Hospital. In this position, he oversees a staff of 30 PAs in a hospital with more than 800 beds.
"I promote the profession every day," stated Thomas. "It's a great profession and one of the top jobs in our country. You're helping people and that's so rewarding in and of itself."
Thomas didn't always know he wanted to be a PA though. The son of a mechanic and a receptionist, he heeded his parents' advice and attended a program to become an X-ray technician. He spent the next nine years as an X-ray and Cat Scan Technologist at Winthrop University Hospital. While he excelled at the job, he realized that becoming an X-ray technician wasn't the end of his journey. At 27, he enrolled in Touro's SHS PA program in Bay Shore. "I put everything I had in it," he recalled. "I went to school every day and studied all night, every night."
His hard work paid off. Touro's education mixed with his own hospital experience made Thomas an irresistible candidate for several hospitals. And what's more, he loved his new job.
"It was probably the best move of my life," he said about his decision to become a PA. "Being a PA offers everything a physician does in regards to patient care as well as providing a balance between my professional and personal life."
While he juggled his three positions, Thomas met his wife and fellow Touro SHS Occupational Therapy graduate, Jennifer DeFeo . She encouraged him to pursue an MBA in health administration, which he did at Hofstra University. He was recruited by North Shore in 2012. The two have three daughters together.
In his current role at North Shore University Hospital, aside from managing his PAs, his responsibilities include practicing critical care medicine in the Surgical Intensive Care Unit, being involved in quality initiatives to improve patient outcomes, working with staff to improve clinical documentation and precepting and supervising students, including some who come from his alma mater.
His advice for PAs? Never be complacent.
"I want to see my staff work hard and get recognized for all the great patient care they provide," he counsels. " I want them to stay hungry and always look for opportunities for professional growth. It's my responsibility to identify each PA's individual goals and help guide them in achieving them."
Thomas says even after ten years in the field, his favorite part of the job remains the same. "The best part is providing patients with the best care to accomplish the best outcomes and patient experience
"The best part is providing patients with the best care to accomplish the best outcomes and patient experience possible." he said. "Every thank-you from a patient makes me want to work harder. I tell all the PAs I mentor, helping patients is the reason why we do what we do."