On Speaking Terms
Touro College's School of Health Sciences opens new speech and hearing center for students to practice their craft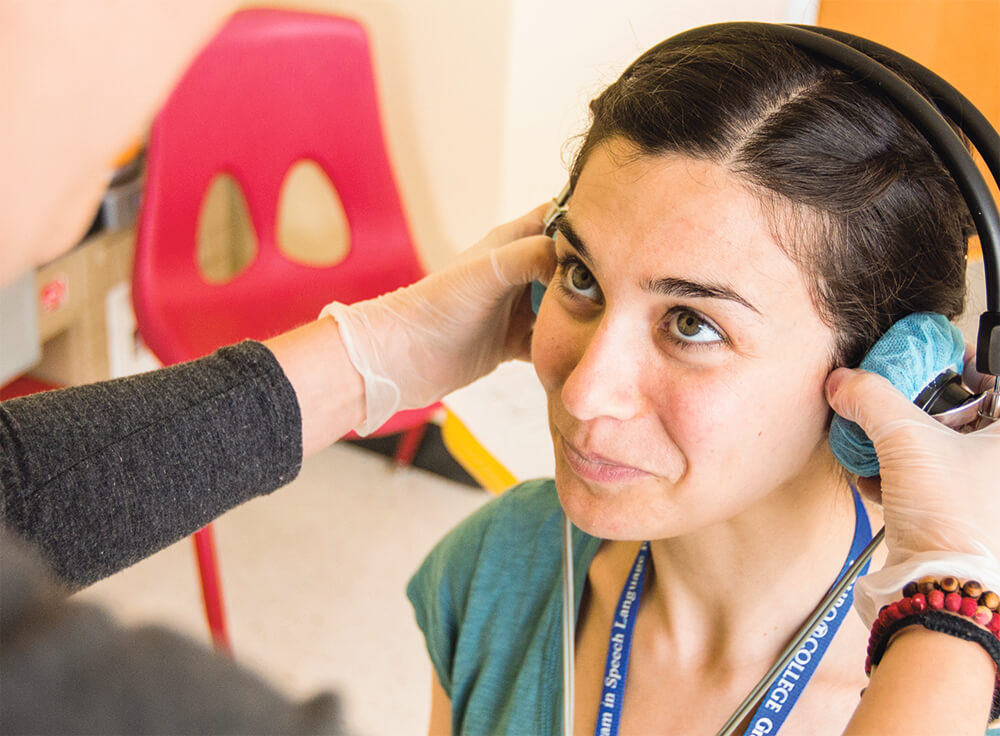 Students practice using sound monitoring equipment in the new speech and hearing center at Touro School of Health Sciences.
Ask someone to describe speech-language pathology and they'll probably tell you it's games with kids to help them to pronounce their "Rs" and "Ss". Not so. Today's speech-language pathologist, explains Hindy Lubinsky, M.S., director and chairperson for the Graduate Program in Speech-Language Pathology at the Touro College School of Health Sciences, helps people of all ages and backgrounds with a range of speech, language, swallowing and hearing disorders.
"Whether a patient stutters or has a hearing impairment, a cleft palate or a developmental delay, the speech-language pathologist must be able to provide compassionate, competent care across the lifespan," explains Professor Lubinsky. In addition, the aging baby boom population is increasing the need for trained specialists to assist patients with difficulties centered around hearing, speaking and swallowing due to stroke, dementia and other age-related conditions.
NEW TOURO COLLEGE SPEECH AND HEARING CENTER
Students enrolled in the Speech-Language Pathology graduate degree program at Touro's School of Health Sciences learn to identify speech, language and hearing issues in a variety of settings and create concrete goals for therapy and intervention. Degree studies include both an academic portion as well as clinical at the Touro College speech and hearing center, where both children and adults are treated. Within this clinical environment, students work one-on-one with patients while supervised by licensed therapists, and learn first-hand to identify issues and develop treatment plans.
The new center holds eight therapy rooms with observation capability so a parent or family member can watch their child's sessions via computer. Faculty can also observe students and supply feedback to them. The clinic utilizes the most up-to-date equipment including voice output instruments that allow patients to see their voices graphed on a screen and adjust pitch and loudness accordingly. Hearing testing, auditory processing testing, fitting patients for hearing aids and other services are also offered by an experienced Licensed Audiologist.
VIRTUAL SIMULATION
One important aspect of student training occurs through computer-simulated, interactive, web-based programs presenting real-life cases featuring a range of challenges such as a head injury, autism, hearing impairment, and others. The scenarios are based on information from actual speech and language therapy cases spanning a broad range of ages and complications. The software encourages users to discover through practice the best ways to interact with patients and others. It also offers the option of consulting with professional colleagues.
"Virtual simulations are intended to build knowledge, skill and professional judgment. Used in conjunction with real-life clinical experience, this helps develop our students to grow into successful, competent clinicians," explains Rosalie Unterman, Ph.D., associate professor and clinical director in the Graduate Program in Speech-Language Pathology.
"Many students have gone through the Touro program and excelled professionally," explains Professor Lubinsky. At speech-language pathology conferences it's not unusual to bump into an alum who is now involved with top experts in the field. In addition, many of the program alumni return to Touro to share their learning and experience as supervisors of current program students. "During their time at our school, we stress the importance of giving back to the community. It's gratifying to see so many of our graduates eager to come back and share their knowledge," says Professor Lubinsky.