Touro Grad is New Jersey's PA of the Year
John Albanese, Class of 2011, Works in Level Two Trauma Center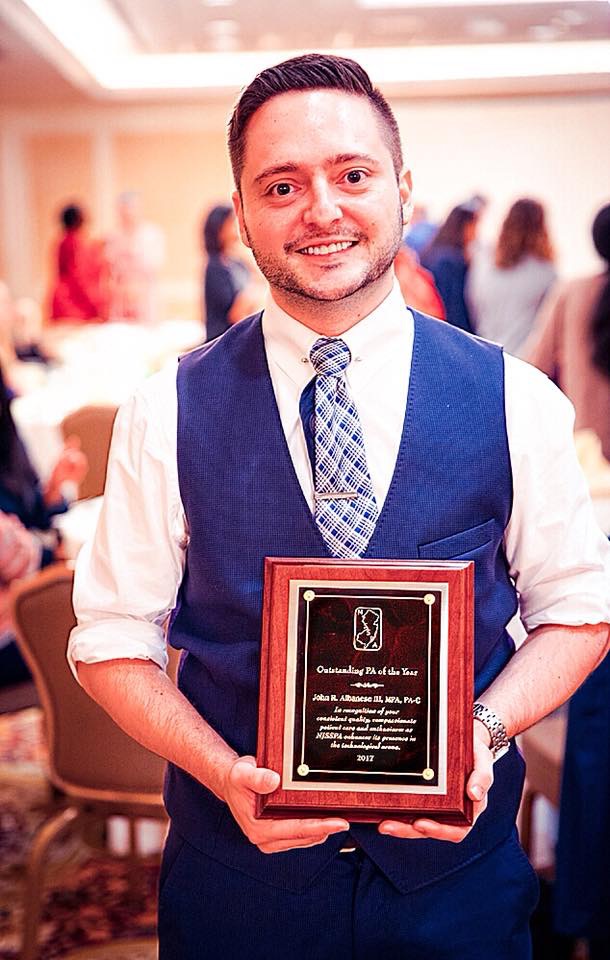 PA John Albanese, an alumnus of SHS Bay Shore, was named NJ's PA of the Year.
A Touro School of Health Sciences alumnus was named New Jersey State Physician Assistant of the Year. PA John Albanese, who graduated in 2011 from the Bay Shore program, credited Touro with his success.
"I thanked all of the professors and leaders at Touro during my speech," recalled Albanese. "Their dedication to the profession instilled a standard of excellence in me."
Albanese, who grew up in New Jersey and attended Alvernia University, was originally a computer science major. As a volunteer EMT, one of his first calls in college was treating a woman who suffered a cardiac arrest. When Albanese arrived in the hospital with the patient, he was surprised by how knowledgeable the attending physician was. Then he found out that the attending physician, was, in fact, a PA.
"I could hear how much knowledge he had," said Albanese. "Everyone looked up to him."
The next day, Albanese changed his major to biology in the pursuit of becoming a physician assistant. He started the Pre-PA and Medical Society at the college and logged an impressive 3000 hospital and volunteer hours. After researching various programs, Albanese chose Touro.
"I got into my first pick," he recalled.
"PA school was one of the most challenging adventures I've ever had," said Albanese. "At times I thought I was going to fail, but it taught me how valuable something can be especially when it is hard to attain, and it has certainly been worth it."
Albanese also enjoyed the fact that many of his professors were practicing PA's.
"I got to see the human side of the profession," Albanese explained. "They taught us from their lives as physician assistants and that resonated deeply with me. I can name every single professor I had and say something I learned from each of them."
After graduating the PA Bay Shore program, Albanese quickly landed a position at Hackensack University Medical Center and began working in the ER.
"Half the PA's were from Touro," Albanese recalled.
From the ER, Albanese moved to the trauma and critical care department while also working per diem as a member of the Code Blue team, a group of medical professionals that respond hospital-wide to emergencies.
"If the alarm is sounded, we run. We did active resuscitation, intubation, placement of central lines—anything to ensure our patients maintain stability."
As a PA in the trauma unit, Albanese saw cases ranging from broken arms to gunshot wounds. (The hospital is a Level Two Trauma Center.) After earning various accolades in that unit, he remained active in internal medicine and ultimately he decided to return to the ER Department. With more time on his hands, he realized he could aid his profession. Albanese became active in the New Jersey State Association of Physician Assistants. Using his computer skills, Albanese redesigned the group's website and developed a job portal for PAs. He also worked on creating new revenues for the organization and became active lobbying on behalf of PAs.
When the society nominated a PA of the year, the result was unanimous for Albanese.
"John is energetic and hard-working," said Diane Dawe, president of the New Jersey State Society of Physician Assistant Society. "He's wonderful and one of the most dynamic PAs in the state."
"It certainly feels like an affirmation that I'm on the right track," Albanese said about the award. "It serves as a reminder that everything I learned during my journey to becoming a PA continues to serve me well."