"We Feel a Commitment to Share Evidence-Based Information"
DPT students become Wikipedia editors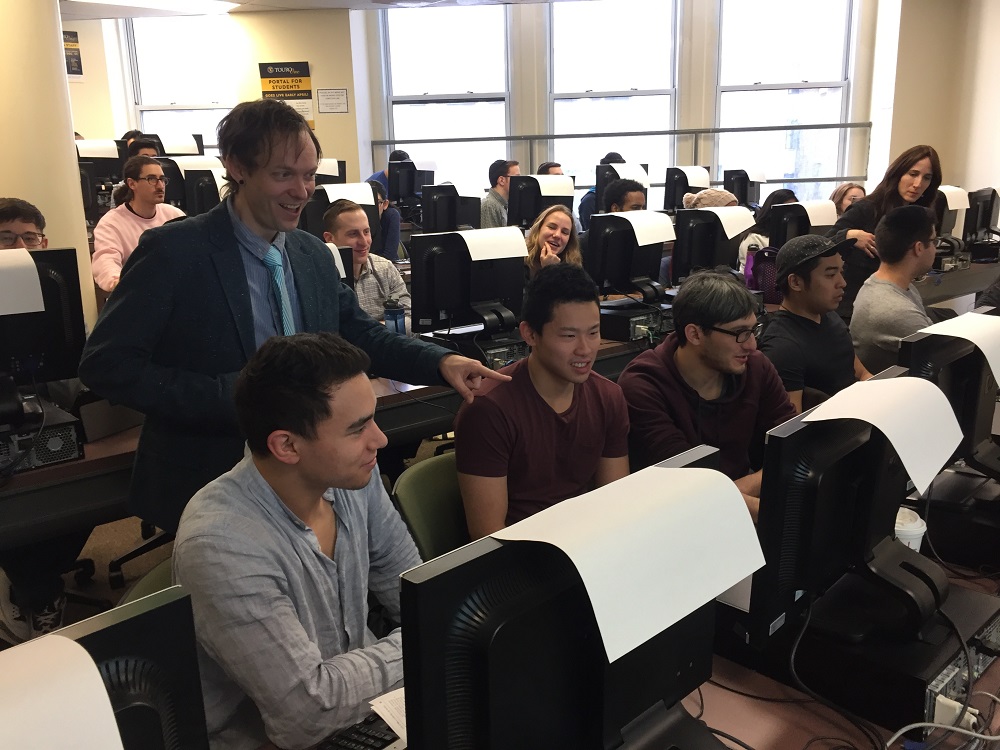 For the third year in a row, students in SHS DPT program edited medical Wikipedia entries with Lane Rasberry, Wikipedien in Residence at Consumer Reports.
For the third year in a row, Doctor of Physical Therapy (DPT) students at Touro's School of Health Sciences (SHS) made Wikipedia a safer, more accurate source of medical information.
As part of Dr. Shira Weiner's first-year healthcare education class, students spend weeks researching a PT-related topic and then edit the specific Wikipedia articles during an all-morning edit-a-thon led by Lane Rasberry, Wikipedien in Residence at Consumer Reports. This year, the edit-a-thon took place on Feb. 4.
Touro-edited articles have been read more than 2.3 million times according to Rasberry. This year's class was run in conjunction with TouroCOM Harlem and received a grant from the New York State Health Foundation and Consumer Reports for its focus on medical writing.
"The point of this exercise is to allow PT students to share their wealth of health knowledge with the public," said Dr. Weiner. "As a department, we feel a commitment to share evidence-based information and this is an incredible chance to do it."
DPT students Yisroel Friedman, Millie Schweitzer and Vincent Sparaco edited an article about fall prevention.
"Interventions in one country didn't carry over to another," Friedman explained about the subject of their editing. "In a systematic review of the literature, we found that the success of certain exercises, like Tai Chi, was dependent on cultural values."
"At first, I was scared about editing Wikipedia, but we have a good education on how to do research," said Schweitzer. "We're making the world better, one Wikipedia entry at a time."
"Editing Wikipedia is not something I expected to do," admitted Sparaco. "But our class focuses on research and writing as well as how to educate our future patients about their medical conditions. Editing Wikipedia brings all these things together."
Rasberry said that the Touro students are "one of the best classes" he has.
"Dr. Weiner has her students research and compile notes in advance," he said. "They're posting the research they already have. Good preparation makes for good events."
DPT student Jeslin Thomas found the editing a bit more difficult than expected, though her main problem was a zealous Wikipedia editor who kept on deleting her addition to the site's entry on plagiocephaly, flat head syndrome. After a back-and-forth with the other editor on the article's talk page, Thomas's edit was back, and stayed.
"[The editor] kept on saying it was spam, but I explained to her that we were citing a research paper," said Thomas. "We wanted to redirect people to show them that physical therapy is a useful tool for this condition."
Dakota Chin and Zachary Sipzner edited an article about concussions and wrote that prescribed rest might not be as beneficial as believed.
"Doing some light exercise and finding out what your exercise threshold is might be better according to the research we reviewed," said Sipzner.
Two students high-fived when their corrections were accepted. Dr. Weiner spoke to a student about an article's misuse of the word "causation" instead of "correlation."
During the edit-a-thon, Rasberry spoke about the different qualifications for Wikipedia articles. The students mainly worked on entries with a 'C' rating, those entries that lacked multiple sections and had inadequate sourcing. As the class ended, two students showcased their edits. Citing a study completed by Touro alumni, student Anthony Barnes added a training section to a Wikipedia entry about disabled athletes. Student Lewis Lupowitz added several sentences to an entry about chronic obstructive pulmonary disease and the benefits of physical therapy to increase lung capacity.
Rasberry mentioned that he planned to visit La Guardia Community College's nursing program later in the day. With La Guardia's large immigrant population, Rasberry said he hoped to have those students translate the Touro-edited articles into other languages, ensuring that the articles would reach an even larger audience.