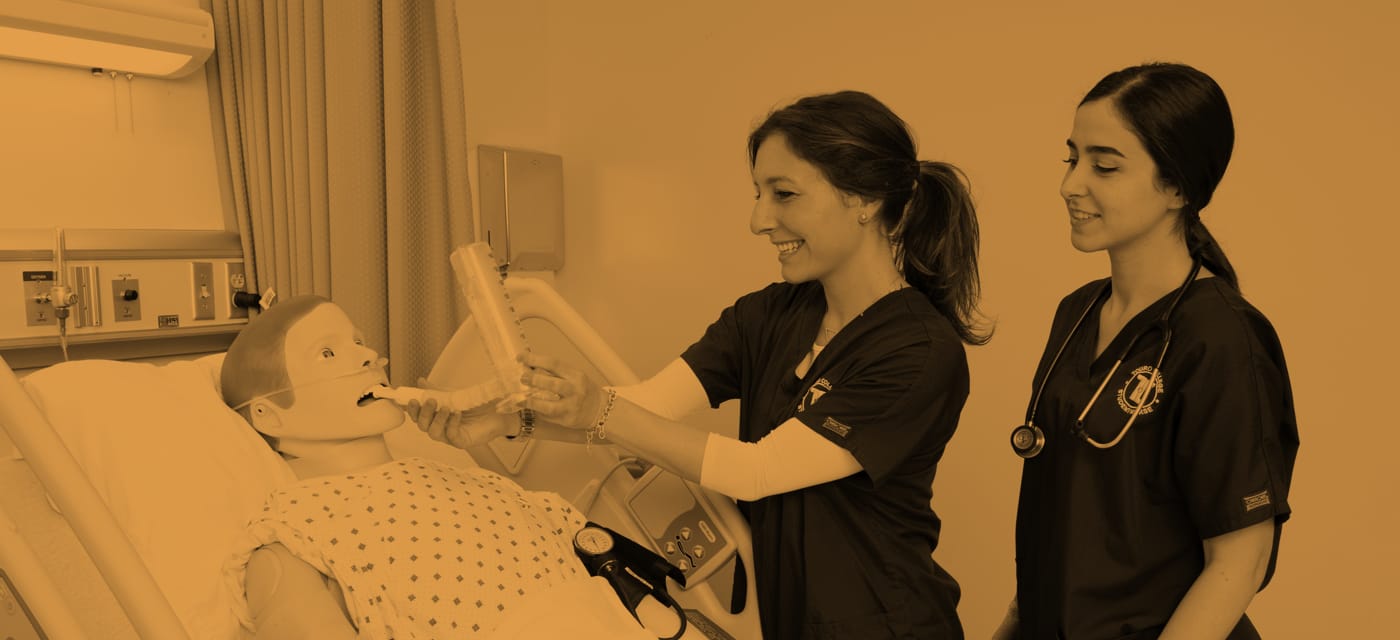 Nursing
Admissions | Nursing
We admit students once a year; in September.
Applications are accepted from October through March for annual September start dates. All completed applications submitted by March 1st will be reviewed first. All students who have applications completed after March 1st will be considered on a rolling basis until the admitting class is full. We recommend completing your application early. Seats are limited, admission is competitive, and decisions are made on a rolling basis.
Admission Cycle Status
We are admitting students now for September 2020.
If a current School of Health Sciences nursing student fails out of the nursing program, regardless of track, they cannot reapply to any other track within the nursing program.
Admission Application Packet
The application process and admissions requirements differ slightly for the BS program and the RN-BS program.
Please note, all letters of recommendation and official transcripts should be mailed to:
Touro College
Office of Admissions
1700 Union Boulevard
Bay Shore, New York 11706
BS
RN-BS

A completed application accompanied by the application fee for the method you are using to apply (preferably the Touro application)

A completed Touro application, with the $50 application fee

Official high school transcript OR a GED certificate and score sheet

Official transcript(s) indicating completion of diploma or associate's level nursing program*

Official transcript(s) of any college-level work completed

Personal statement

Personal Statement

Two letters of recommendation

Two letters of recommendation

Unencumbered New York State license and current registration as a registered nurse in the state of New York or eligibility for licensure endorsement

NLN-PAX (National League for Nursing Pre Entrance Exam for RN) scores sent directly from the NLN.

Seats fill up quickly for this exam, so sign up as soon as possible. You must have your application submitted to our program prior to registering for the exam. If you are unable to register for the exam at the above link, please call the NLN at 1-800-732-8656.

College Testing Policy: Applicant may test one time every six months. No applicant will be reconsidered if an exam is taken sooner. Your original NLN Pax Score will count towards your application to the program. Applicant can retest at the six-month mark and reapply if they have already received their admissions decision. Applicant may not use any type of calculator during an exam and all cell phones, tablets, and electronic devices must be turned off. No smart watches are permitted while testing.

*The RN-BS Program is structured so that a minimum of 24 credits of liberal arts courses are needed in transfer from an Associate's degree program. Students with fewer than 24 transfer credits in liberal arts will be required to take additional liberal arts courses during the program.
Admission Criteria
Recommended Coursework
The following high school or college-level coursework is recommended for admission to the nursing program:
1 year of Math
1 year of Biology
1 year of Chemistry
Evaluation
Applicants to all programs are evaluated based on information in the application and accompanying materials. Of primary importance in determining an applicant's suitability for admission are the high school and/or college academic record and NLN-PAX (National League for Nursing Pre-Entrance Exam) scores.
Minimum required college GPA of 2.75
For those without college coursework, a minimum required high school cumulative average of 85%
Required minimum NLN-PAX composite score of 120
Applicant's character, personality, and contribution to school and community life are also factors considered for admission
Admission to the program is highly competitive and on a selective basis. Meeting minimum requirements does not guarantee admission.
Placement Exams
Admitted students are required to take placement exams in English Composition and Mathematics prior to the start of their first semester.
Nursing Transfer Credit Policy
For all science courses in the nursing program, a student must have completed the course within five (5) years of their September admission. All science courses must have a grade of "B" or better to transfer in, whether taken at an outside institution or at Touro College. All science courses must have the same number of credits as the Touro College requirement for these courses. For all other liberal arts courses, the nursing program adheres to the Touro College Transfer Credit Policy.
Confidentiality
As per Federal regulations, the status of an applicant in the admissions process can be discussed only with the applicant. The program cannot respond to requests for information from concerned family, friends, associates, or other interested parties.
Admission Contact Information
For more information, contact:
School of Health Sciences
1700 Union Boulevard
Bay Shore, NY 11706
866-TOURO-4-U or 631-665-1600 ext. 6505
enrollhealth@touro.edu