A Hidden Problem
Touro Professor Discusses Hearing Loss at Senior Center
January 27, 2017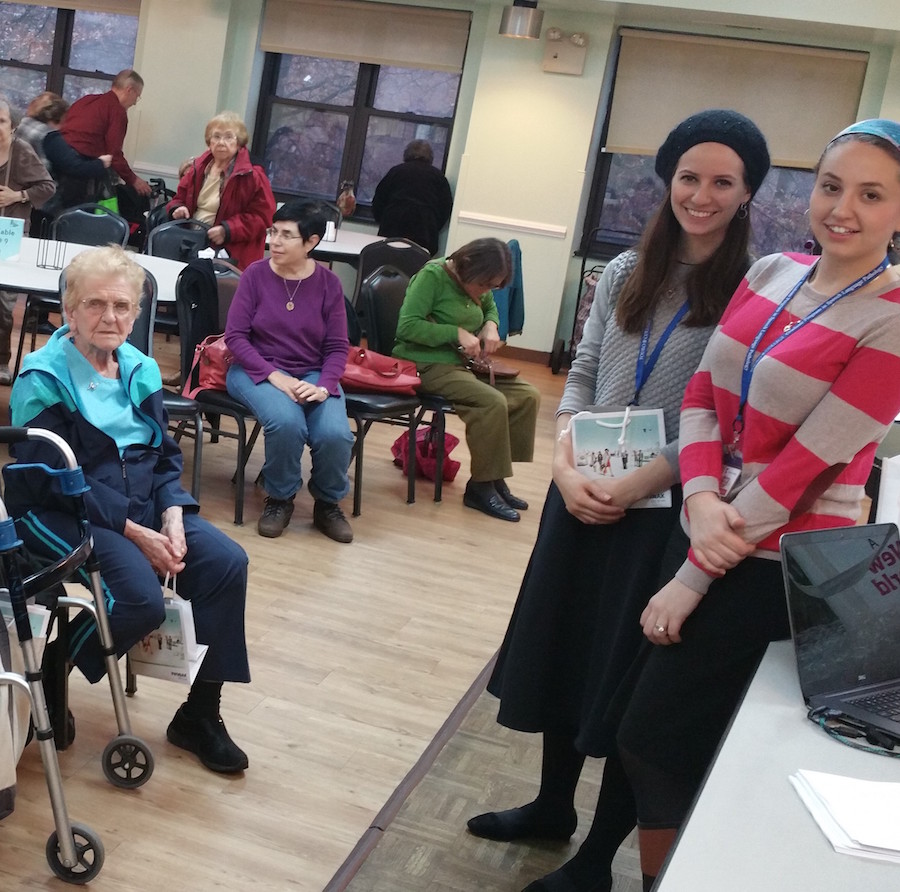 A Touro professor of audiology and her two students provided a local senior center with an informative and engaging presentation about hearing loss.
In November, Dr. Karen Schwartz, audiologist and associate professor at Touro's School of Health Science Graduate Program in Speech-Language Pathology, arranged for the visit to the Council Center for Senior Citizens, a senior center located near the Brooklyn campus. She was accompanied by two of her students, Kayla Brown and Sara Kaufman, who are in their second year of the program.
"I wanted my students to gain added experience working with an adult hearing impaired population— especially the senior population," she explained. "As the fastest growing population in America, it is imperative that students understand the communication and listening needs of the elderly. It is also a wonderful way for the elderly to share their wealth of information and life experience with our students."
Dr. Schwartz, who has done extensive work with the elderly population, explained: "Hearing loss is the third most common condition among the aging, following arthritis and heart disease. Although invisible—there are no obvious physical signs—hearing loss has a very real impact on the quality of everyday life, causing loneliness, isolation and dependence."
According to the National Council for the Aging, untreated hearing loss has serious emotional and social consequences for the elderly, including depression, anxiety and paranoia. Hearing loss affects more than nine million Americans over the age of 65.
In the hour-long presentation attended by 40 members of the center, Dr. Schwartz discussed topics related to hearing loss, including the causes of hearing loss, how hearing loss is measured, and better ways to communicate for those suffering from hearing loss.
The presentation included tips to improve hearing comprehension, such as establishing favorable listening environments that have good lighting and minimal noise, and knowing the topic of a conversation so a person's brain can fill in words that they don't hear. "Once we know the topic of a conversation, our brain intuits the words we're missing," Dr. Schwartz explained. If clarification is needed, those suffering from hearing loss shouldn't say a general "huh," but instead ask a specific question about the part of the conversation that was not clearly heard.
Schwartz also discussed the struggles individuals face in admitting to hearing loss as well as the social and psychological consequences of wearing hearing aids.
Many seniors spoke about the frustration of communication breakdown that often occurs because of their imprecise hearing. This discussion allowed students to gain a better appreciation of the day-to-day challenges of hearing loss.
Second-year student Sarah Kaufman noted that "Participating in this presentation opened my eyes to the fact that the elder population isn't a stereotype or intimidating." Her classmate Kayla Brown agreed, adding, "I usually work with children so it was nice to see the other end of the spectrum. It was a great experience."
Nancy Timmons, program coordinator for the senior center, was very enthusiastic about how well-received the presentation was. "Karen and her students were wonderful. The members enjoyed it and received a lot of good information. Karen was a joy to work with. Our members were engrossed in the discussion." Timmons invited Dr. Schwartz to return to the center for additional presentations and to offer hearing screenings.