A Passion for Pediatric Physical Therapy
School of Health Sciences Alumnus Rebecca Sklaren Helps Children Overcome Challenges
October 26, 2023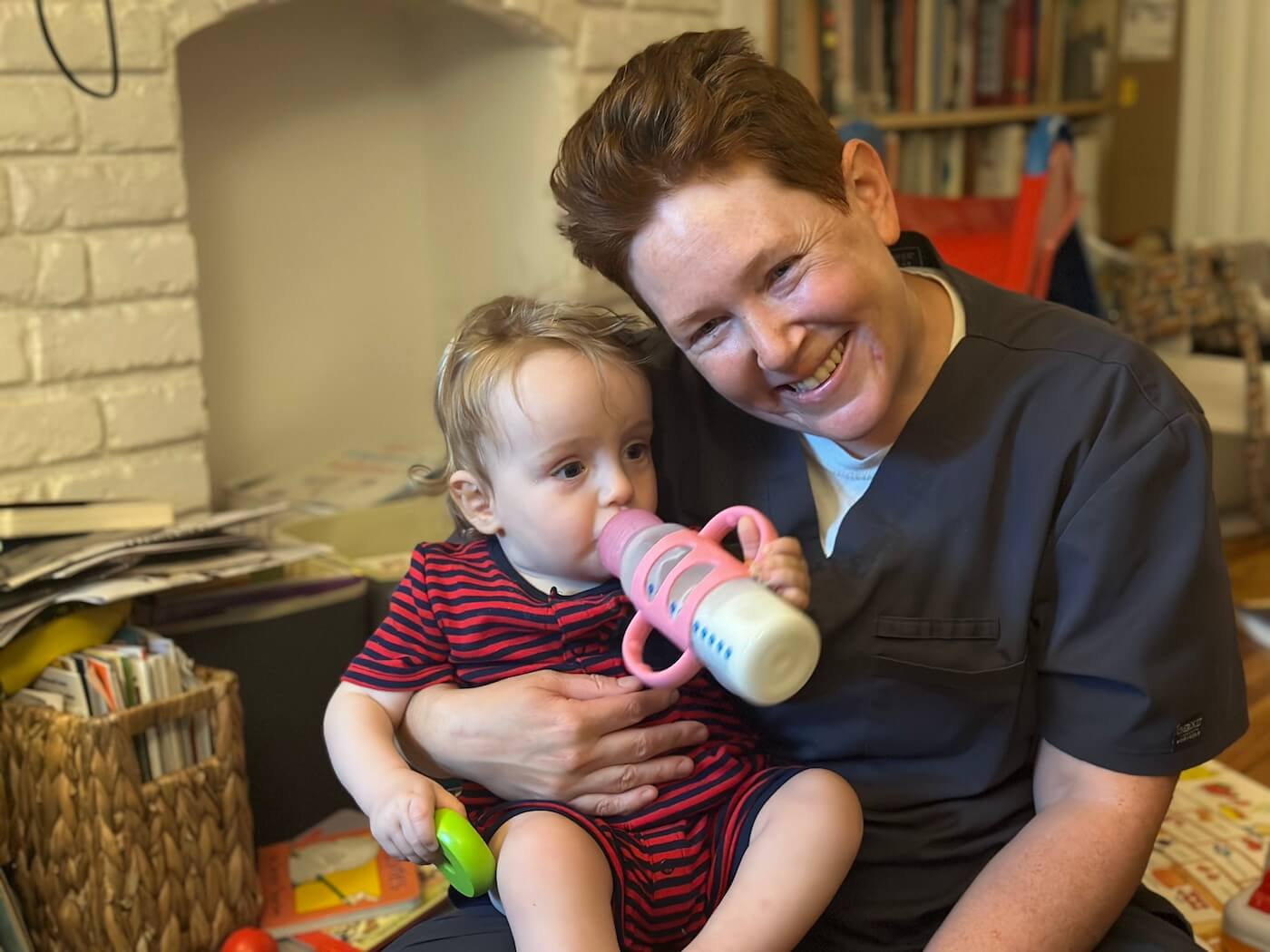 Rebecca Sklaren with one of her pediatric physical therapy patients.
Whether she's handling a screaming toddler who isn't interested in learning how to crawl or dealing with a child with severe mental disabilities, physical therapist Rebecca Sklaren gives off an air of unbridled competence. If there's an issue: she will solve it.
She credits her time as a student in Touro's School of Health Sciences Doctor of Physical Therapy program and a wide variety of physical therapy experience she had after graduation for her expertise.
"I love being a physical therapist," explained Sklaren. "I love working with kids and wouldn't want to do anything else."
It was a long road to physical therapy for Sklaren. Always fascinated by the human body, after graduating from SUNY Purchase, Sklaren initially worked as a massage therapist. After several years, Sklaren realized she needed a change.
"My wife is one of those people who really loves her job," said Sklaren. "Before I met her, I thought that your job was just something you do to make money and don't hate. She inspired me to find an occupation that I could be happy in. It was a long road, but it was absolutely worth it."
The idea of becoming a physical therapist was a natural one for Sklaren. While returning to college for her prerequisites, Sklaren worked at her family's locksmith business. She applied to Touro's School of Health Sciences Doctor of Physical Therapy program in 2014. Going back to school had its own challenges. "I was one of the oldest students in the class, but it was absolutely worth it," said Sklaren. "My professors would spend time outside classes to help me."
Close friendships with her peers also enabled her to thrive.
"I'd help them with the soft tissue work because of my background in massage and they'd help me with the more difficult academic areas," she recalled.
With a natural interest in working with children, Sklaren gravitated to SHS's award-winning professor Dr. Yocheved Bensinger-Brody.
"She made pediatrics magic," said Sklaren. "I've always loved kids. When I take off my shoes and sit on the floor with them, I feel like a kid again."
After graduating in 2018, Sklaren worked in a hippotherapy clinic and with St. Mary's Home Care, an agency that specializes in medically fragile children. "It's incredibly important for a lot of these children with tubes and various equipment to receive care in their home," she said. The next year, she transitioned to a school for children with the same conditions called iBrain. She began working right as the Covid-19 pandemic began.
"We were one of the first schools to open up," reflected Sklaren. "We were all trying to figure out what to do and what regulations we should follow since no one else was open then. On top of that, many of our kids were severely immunocompromised."
After three years, Sklaren joined Therapists2go which provides home-based pediatric physical therapy. Her decision to switch jobs was also caused by a personal milestone. Recently, she and her wife became parents.
"I'm never too far from home," explained Sklaren. "I can see my daughter during lunch or take her to a doctor's appointment if she has one. It's nice to have that kind of flexibility."
Being a parent has also affected how she views pediatric physical therapy.
"While I always had empathy, being a fellow parents really gives you even more empathy," expressed Sklaren. "I can feel what it would be like if my child was in their specific situation. It's an extra level of being able to put myself in their shoes. If I try something with a kid at work and it doesn't work, I can go home and see how my kiddo reacts."
She is still in touch with Dr. Bensinger-Brody.
"When I have a difficult job I give her a call," said Sklaren. "I talk over cases with her: I tell her what treatment I'm thinking about, and I ask her if I'm missing something. Being an older student means we're not that far apart in age. At every step of my career, she's been there for me."
Sklaren summed up her career so far.
"I love kids at whatever age they are at—amazing teenagers in the iBrain program or a five-month-old learning to roll," she concluded. "Being a physical therapist is spectacular."