A World of Experience at Touro
World-Traveling Surfer and Rescue Worker Lands at Touro College's Physician Assistant Program
February 20, 2013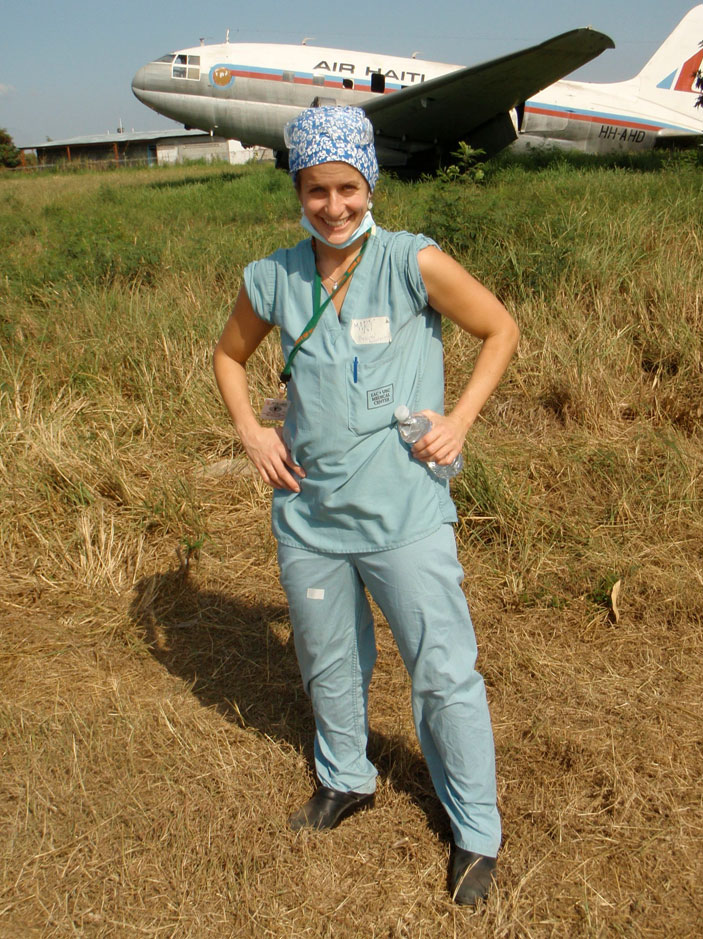 The new clinical coordinator for Touro College's School of Health Sciences Physician Assistant program has been around the world – literally.
A petite woman with long sandy-colored hair and lots of spunk, Mary Showstark sits behind her desk in a basement office at the Touro College School of Health Sciences, her computer desktop graced with a dazzling background photograph taken in Tahiti. The photo depicts a dozen would-be surfers on boats and jet skis on the shelf of the massive 60-foot wave during a storm swell, calmly waiting under the wall of water for what appear to the untrained eye to be their imminent demise.
"It looks like it is going to crash over you, but you basically just soar over it," Showstark explained. "However, there are a lot of accidents because there is only a three-foot room for error."
Showstark worked with Australian doctors in Teauhpoo, Tahiti, where she was a member of the medical staff for the Association of Professional Surfers in August 2011.
Showstark showed a photo of one of the female surfers who sliced open her face on one of the "smaller days," meaning when the waves were not as high. She had to respond to calls for broken ankles, broken legs, as well as a lot of reef rash cases and staph infections from water and coral reefs. Sometimes, patients were transported on wheelbarrows for lack of wheel chairs. Many, said Showstark, went back in the water after being stitched up, though they were advised against it.
Showstark was driven by a steadfast goal she set for herself in her early twenties. "I wanted to travel to all 7 continents by the time I turned 30," she said. With a nose for adventure and a knack for medicine, she met her goal.
After graduating with a master's degree from the University of Florida's Physician Assistant program in 2004, Showstark began her career running a Level 1 trauma center in Shands for two years before selling all her things and packing up what was left for a year-long trip around the world. In Australia she met with the Ministry of Health in New South Whales about recognizing PA's to practice there; working in South Africa, she contemplated transferring her license. But soon it was off to Hawaii, where she worked in Maui as part of a trauma surgery team, before returning to the mainland USA to join the trauma surgery team at the University of Southern California in Los Angeles. Showstark was on call in the emergency room during the Metrolink commuter train collision with a Union Pacific freight locomotive on September 12, 2008 in Chatsworth, California, where 25 people were killed and 135 injured after the trains plowed into each other while the engineer was texting. "I still can't one-hundred-percent talk about that day. All I can say is that the days became weeks," Showstark recalls of that intense week in the field.
After the devastating earthquake in February 2010, Showstark traveled to Haiti to help with MediShare. One was allowed 60 lbs to carry on one's back, and that included medical supplies as well as personal belongings.
"You just do whatever you can in a time of disaster," she said. Unfortunately, amputations on people who were rescued from underneath rubble made up the bulk of her surgeries there. Resourcefulness was the key to survival at the Port-au-Prince relief site, where she did her first Bogota bag surgery, consisting of cut-up IV bags used as a plastic enclosure to hold a patient's abdomen in place.
"We try to keep as sterile conditions as you can. But you run out of things," Showstark said.
Looking for an intellectual challenge and a city that can keep up with her, Showstark came from California to New York and began working as a clinical coordinator at Touro College's School of Health Sciences in April 2012. She likes the academic setting, which allows her to impart her knowledge and share her experiences with those about to enter the field. Remembering how her clinical coordinator influenced her and helped shape her future when she was in school, Showstark hopes that she can impact her students in a similar way, helping them find their path.
"My clinical coordinator really shaped what I did for the past eight years in trauma surgery. That was awesome," she said.
"I always wanted to do two things: work in medicine and become a pro surfer… my skills as a physician assistant have really grown. I haven't improved much in my surfing. I'm still on a paddle board. Well, one of the two worked out," Showstark said with a chuckle.