Alumni Spotlight: Klarisse Mathis
Touro Alum and Physician Assistant (PA) Manhattan Provides High Quality Patient Care to a Diverse Population
June 17, 2019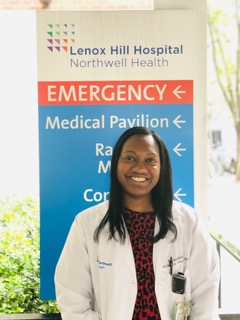 Recent Touro College School of Health Sciences graduate Klarisse Mathis always knew she wanted to work in the medical field but craved a job with more flexibility than a doctor's schedule allows. After realizing that becoming a PA would enable her to treat and work closely with patients while also performing different specialties, she knew this career path was an ideal fit for her.
Mathis discusses why she chose Touro, the essential skills learned in her college classroom that she is leveraging in her current role at Lenox Hill Hospital and more.
Q: Why did you pursue your master's degree at Touro?
A: My mother and I were my grandfather's primary caregivers. When I was looking at graduate schools it was important for me to stay close to home. After getting accepted by the Manhattan PA program, I realized that the patient care skills I learned while assisting my grandfather would be easily transferable in this career. I chose Touro because of the non-traditional schedule it offers as classes are held Sunday-Thursday and on weeknights. This enabled me to help my grandfather during the day if needed, while still attending classes.
Q: Where do you work currently and what skills do you use regularly that you learned in the college classroom?
A: I work at Lenox Hill Hospital in Manhattan's Upper East Side in orthopedics. While attending The George Washington University, I shadowed PAs at Children's National Hospital as part of my internship and loved it. When I graduated, I needed a job with direct patient care hours. The first job that I could secure with little experience was a Physical Therapy Aide. Most of the patients that I worked with had had orthopedic surgeries including torn ACLs, total joint replacements and arthroscopies. It was through this experience that I was able to see firsthand how orthopedic patients were rehabilitated post-operatively. When I went on rotations, I did my elective in orthopedics and it felt like home. I understood the fundamentals related to the role and I loved working with my hands doing casting, splinting, and being in the operating room. I liked it so much that I did another advanced elective in orthopedics. To be able to see instant gratification with dislocations or to watch people who couldn't walk regain their mobility made me want to pursue a career in this field.
Some of the skills learned in the Touro classroom that I utilize constantly are taking the proper history from a patient, the correct way to perform physical exams and make diagnoses and how to present individual patient cases to attending physicians. It was during my time at Touro that I completed clinical rotations, where I learned key surgical skills in the operating rooms such as suturing, surgical knots, prepping and draping. Also, Touro helped further enhance my patience and compassion towards people. It's one thing to learn how to treat patients from college textbooks but it's another to roll up your sleeves and interact with real people. I gained invaluable on-the-ground experience during these rotations and also learned how to deal with people from all different backgrounds.
Q: What are some of the critical skills needed to excel as a PA?
A: Communication skills, the ability to multi-task, and confidence are critical in the daily life of a PA, all of which you will continue to develop on the front lines after seeing patients. Additionally, it's vital to be agile in this role as you never know what is going to be thrown at you. Things are constantly changing in medicine and constant learning is essential.
In fact, many people still don't even know what a PA does and will say, "I want to wait to be treated by the doctor." Educating them on what a PA is ensures that they realize we are fully capable to accommodate their needs. A PA is a medical professional who can diagnose illnesses, order and interpret diagnostic tests, develop treatment plans, perform procedures and prescribe medications. PAs and MDs are all on the same team, but just have different roles. Some of their differences include the years of training. As a PA, which is typically two to three years after completing their bachelor's degree as opposed to an MD who needs to complete eight to ten years of school in addition to a residency. PAs are also trained to work in multiple specialties and can transition with ease, whereas MDs are usually trained in one area.
Q: Describe a situation that you encountered during your career that you knew exactly how to handle after your PA training.
A: As the only African-American woman who graduated in my class, I realized the need to step out of my comfort zone, be more outgoing and social. This experience opened my eyes greatly to different cultures and helped me fine-tune the ways in which I approach people, while still being respectful of their religion and beliefs. While I could have kept to myself during my time at Touro, instead I chose to be open and work closely with my fellow classmates.
When my grandfather passed away during finals, I had to take an exam in the morning and then attend his wake at night. When I arrived, I was touched that many of my classmates had chipped in for a wreath to honor his memory. They took that extra step to show their support because of the mutual understanding and respect we had for each other. It didn't matter where we were from or what language we spoke, all that mattered is that we shared the trait of compassion. It is important to me as a PA to always find that common ground, so I can help anyone in need.