Alumni Spotlight: Sean Getty
Touro Alum and Now Successful Occupational Therapist Emphasizes Importance of Mentorship via Newly Developed Platform
June 26, 2019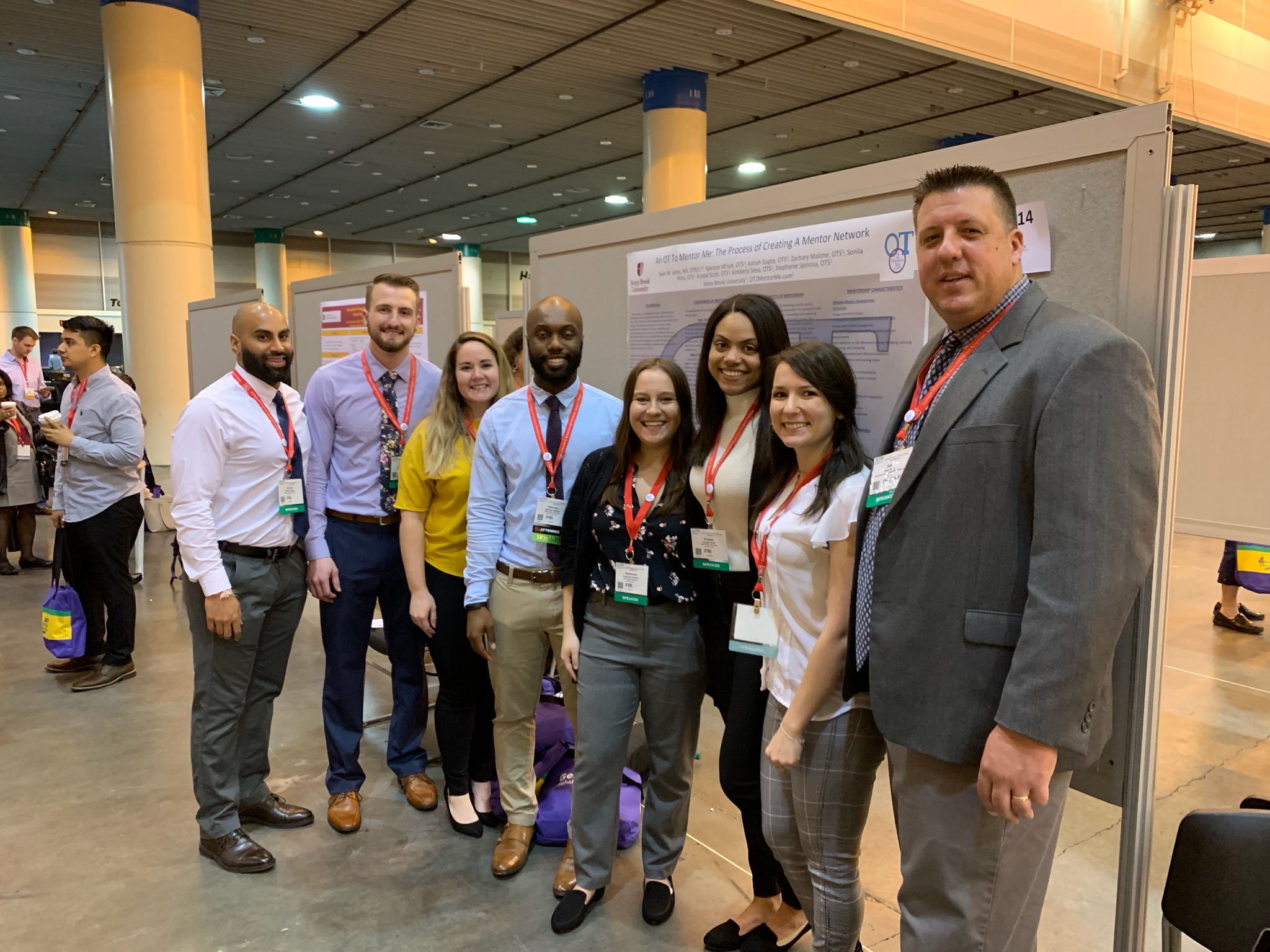 After graduating Touro College School of Health Sciences with an M.S. in Occupational Therapy (OT), alum Sean Getty began working at Stony Brook University as a Site Coordinator and Clinical Assistant Professor. In his spare time, he and third year OT students teamed up to develop OT2MentorMe.com, a website dedicated to pairing mentors and mentees to facilitate the critical relationship therapists need to succeed.
We spoke with Getty about why he chose Touro to pursue his higher education degree and the importance of mentorship, specifically in the OT field.
Q: Why did you choose Touro?
A: After I graduated from Stony Brook University with a B.S degree in Biology, I realized I wanted to learn in an educational environment that had much smaller class sizes when studying for my master's degree. Although I enjoyed being a student at Stony Brook, the classes had hundreds of people as opposed to Touro, where it was more focused on the individual student rather than a big group setting. Here, I was able to form a deeper bond with my professors as they had the ability to give me one-on-one attention and offer lots of guidance.
Q: Why are you passionate about OT and what prompted you to follow this career path?
A: It's a profession that many people are unfamiliar with, yet it has the potential to dramatically improve people's lives. While other healthcare professionals assist people in a variety of settings, OT looks at the person as a whole to find out what is meaningful and important to them. OTs spend a lot of time figuring out how they can help each patient achieve his personal goals. There is nothing more fulfilling to me than helping someone accomplish what he or she feels is important, and that is just one reason why I was drawn to the become an occupational therapist.
Q: What are some of your responsibilities as Site Coordinator and Clinical Assistant Professor at Stony Brook University?
A: In my current role, I oversee all the day to day operations at Stony Brook's Southampton campus on Long Island. I'm an OT Educator and Neuroscience Manager, leading the University's mental health and substance abuse programming and providing mentorship to students. Although I am currently employed as a professor of occupational therapy and miss my clinical work, I am able to use the skills that I gained at Touro and in my professional experience in supervising OT students on their clinical rotations.
Q: What skills have you learned at Touro that you leverage in your current position?
A: Overall, my Touro education provided me with a strong base for the mental health curriculum, helped me improve my research skills greatly and enabled me to become a well-rounded therapist. The leadership skills that I obtained by being part of the student OT association and occupational therapy honor society assisted me in gaining the skills vital for management positions I've had throughout my career. The faculty served as models for the approach that I currently use with my students, showing respect and encouraging individual growth for each student. In addition, serving as a teaching assistant within the occupational therapy program helped me develop my passion for teaching.
Q: Why do you believe mentorship is vital in OT?
A: Mentorship in occupational therapy is the key to shaping the future of our profession. Although educational institutions do an excellent job of providing students with the knowledge necessary to practice, mentoring assists the individual in shaping who they are and learning how to cope emotionally with the compassion fatigue associated with this field. Being an occupational therapist requires someone to invest a great deal of themselves into their client and mentorship helps individuals learn strategies for better life balance. Mentorship is also fundamental for the sharing of knowledge from one generation of therapists to the next. This knowledge is not limited to clinical practice, but extends to management strategies, ethics and a variety of other areas.
Q: Describe what OT2MentorMe.com is and how it can potentially improve mentorship in the OT space?
A: Each year, I present at national conferences and often get asked the question "how can I get a mentor?" While occupational therapy has a national mentorship program in place, not everyone in the field who requires mentorship have the opportunity to engage in the group.
OT2MentorMe.com is a Match.com of sorts, except our user are looking for OT mentors, not for love. In essence, it works by using qualitative information that's entered into a matching program utilizing analytics to create the right relationship. OTs across all specialties can use this platform, whether it's a clinician with many years of experience, women seeking to reenter the workforce after taking a few years off to start their family, or people looking to switch their areas of expertise. Additionally, the platform provides vital resources on how to be an effective mentor and mentee that can be leveraged now and in the future.