"Be Someone's Advocate"
School of Health Sciences-Manhattan Graduates 42 New Physician Assistants
May 30, 2019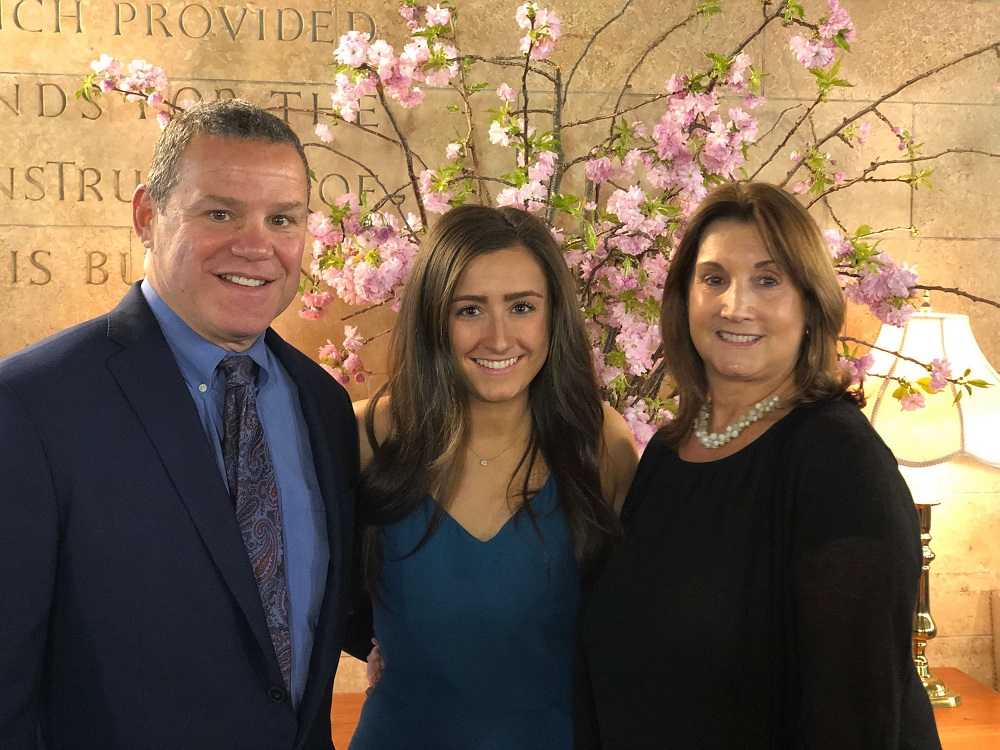 Rabbi Moses Krupka had delivered many invocations before as executive vice president of Touro College and while all of them were meaningful, the invocation he delivered at the start of Touro's School of Health Sciences-Manhattan Physician Assistant White Coat Ceremony on May 9 was especially powerful. Among the 42 graduates of the Class of 2019 was Rabbi Krupka's daughter, Elka Epstein.
"We look in the eyes of our children," said Rabbi Krupka. "We dream their dreams. We bestow upon them blessing that they should accomplish their goals in good health and happiness… As we look at these graduates and all they've accomplished, let us bestow our blessings on them, from the bottom of our hearts, now and for the rest of their lives."
Instead of the traditional benediction Rabbi Krupka offers during ceremonies, he asked the audience to repeat after him the blessing parents typically say to their children after welcoming in the Sabbath.
"May the Almighty protect you. May the Almighty's presence shine upon you. May the Almighty be close to you, grant you peace and success, now and forever."
Rabbi Krupka's sentiment was shared by all the family members in attendance. "Touro did great by our daughter," said Madeline DellaTorre, whose daughter Alexa graduated from the program and is set to begin work in the oncology ward of New York Presbyterian Weill Cornell Medical Center. "We're incredibly proud of her."
The White Coat Ceremony marks the students' culmination of the PA program. After graduates successfully complete the Physician Assistant National Certification Examination (PANCE) they will move on to work as physician assistants in hospitals, clinics and doctors' offices across the US.
"The day has finally arrived," said SHS PA-Manhattan Program Director Paula Pashkoff, MS, PA-C, who officially opened the ceremony. "The culmination of 32 months of hard work and dedication, laughter and tears, ebb and flow." However, she added, the day also marked "only the beginning of your life as a clinician."
"Treat all patients with respect," she said. "Remember you are treating people, not diseases."
Touro College Provost Patricia Salkin spoke of what the students' new white coats represent. "When you wear this coat, you must always conduct yourself with the highest standard of honesty and you must always carry yourself with integrity," said Salkin. "Your future patients will look to you to keep them safe, safe from pain, safe from disease and safe to enjoy their lives."
SHS Dean Louis Primavera, Ph.D., mentioned that his own primary care provider is a PA. "Do well, be successful and most importantly, do good. Help people, relieve pain and help families in difficult situations. I know you will."
Keynote speaker Victor Politi, M.D., the former president and CEO of Nassau University Medical Center, spoke about his own experiences working with physician assistants from Touro's programs. "Touro students really shine. They have a maturity you don't see in other PA's…"
Dr. Politi concluded his speech with a quote from the legendary physician William Osler, "A good practitioner treats the disease but a great practitioner will treat the patient."
The ceremony concluded with many award presentations to students for academic excellence. Justine Kohler was named valedictorian of the class (along with receiving several other academic awards) and preceptor Micah Katz, MHS, PA-C, was named Preceptor of the Year.
"PA school was very long but very worth it," reminisced student Chloe Goldfarb.
"I can't wait to get out there," said student Brian Chan, who said he was inspired to enter the health profession by the example of two of his aunts who work in the medical field. Both aunts attended the ceremony.
The daughter of two physicians, Samia Choudhury said she chose to become a PA because of a PA's ability to work in several fields. "You're also part of a team," she added.
"Rotations gave us a taste of what it's like to work in the medical field," said graduating student Samari Khalife. "We're ready."
The final speech of the event belonged to graduating student Holly Schiebl who spoke of how close the class became. "We're not only classmates, we've grown into a family," said Shiebl.
"Remember why you chose this profession," she concluded. "Be someone's advocate."