Becoming Expert Researchers
Doctor of Physical Therapy Students Give Final Presentations
May 16, 2017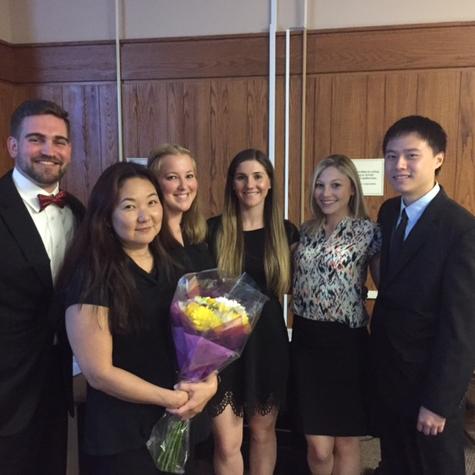 In the course of their research, one group of physical therapy students at Touro College School of Health Sciences (SHS) Doctorate of Physical Therapy Program (DPT) made a startling discovery about their field after surveying over 200 New York State physical therapy students.
They found that while physical therapy students report they all learn in the classroom that they should assess blood pressure during the course of physical therapy sessions, ten percent of the students surveyed reported they did not have access to equipment to monitor blood pressure during their clinical affiliations in outpatient clinic settings.
"That's a scary absence," explained SHS Manhattan campus DPT candidate Sara Lea Berg, noting the elevated risk of heart disease that many physical therapy patients might have. "We all need to pay attention to this. We can change the status quo and help change the shortcomings of our field."
Berg's group, along with eleven other groups, presented on a myriad of physical therapy research topics on May 2 (Manhattan campus) and May 4 (Bayshore campus). Studies ranged from an examination of the development of values in physical therapy students to the relationship between range-of-ankle motion and the rate of falls in older adults and whether playing music increases the pace and distance in healthy individuals exercising on treadmills.
The presentations were polished and swift as students moved seamlessly through mountains of data with crisp explanations and the occasional humorous Powerpoint slide. Many students had practiced parts of their presentations at Touro College's Research Day on April 26 (LINK).
As part of the clinical doctorate program, students work in groups with a faculty member to perform a research study, a two-year endeavor. They then present their findings at Research Forum Day at the culmination of the DPT program. Students present to their peers and professors and then open the floor to questions and the occasional grilling about methodological concerns.
Dr. June Kume, who led the group of students examining the effect of music tempo on running performance, called the presentations "excellent."
"Our students were extremely committed," she said. "We worked with them closely for the last two years."
DPT Bayshore campus student Deborah Thomas, whose group performed an exploratory study about the safety preparedness of novice physical therapists, said that her research teammates became her close friends.
"I don't know if I would've made it through without them," she said.
For one group working with Dr. Jill Horbacewicz, students in the physical therapy program were the object of study as the group examined the changes students reported in their values as they progressed through their years of schooling.
"We found the values that the profession of physical therapy values, like compassion and caring and altruism, typically align with the personal values of students who choose to become physical therapists," said Manhattan campus DPT student Sara Abramsky.
That group also noticed that values such as accountability and altruism increase as students progress in the program. DPT student Suzanne Feigenbaum pointed out that DPT school teaches students not only about muscles and bones, but also about the values one needs to embody to be a PT professional.
Research also offered possible improvements for successfully navigating the rigors of physical therapy school itself. A group in Bayshore examined whether meditation might lessen the reported anxiety and stress of physical therapy students during school.
"We found a decreased level of anxiety in those that participated in the mindfulness program," said Bayshore campus DPT student Stephanie Schara. "It would be useful to have it as part of the curriculum."
Depending on their research, students faced a number of challenges. One group seeking to test the effects of a metronome on improving gait symmetry for individuals with lower limb loss spoke about their difficulty in tracking down participants for the study. In another group, Manhattan campus DPT student Peter Benjamin said his group was surprised when some of their ankle range of motion data seemed excessively large beyond the normal ranges. "We attributed it to human error," he said. "It taught us to be more careful about our measurements and how we recorded them."
"I'm very proud of my students," said SHS Professor Dr. Ralph Garcia, "They went from being fearful of research to becoming quite comfortable with it."
Experts perhaps?
He laughed. "Not yet, but they're getting there."