Connecting the Dots
Research Consortium Pioneers Intervention for Schizophrenic Patients
September 08, 2014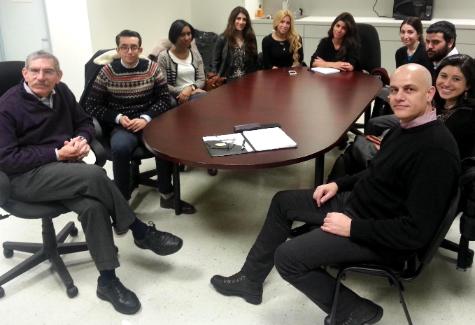 Imagine that a cat is walking across the street. To the average observer, the cat's physical characteristics are familiar: smooth fur, four legs, a delicate nose. But to a schizophrenic patient who suffers from a perceptual organizational deficit, the feline might look more like a small lion.
In another example of a perceptual disorder, what might appear like a watch to one person could be unidentifiable to the schizophrenic patient, due to an inability to integrate the basic elements of the object, i.e. the shape of the face, or the strap, or the numbers. The disorder is not delusional in essence; patients are simply unable to automatically connect the disparate parts of an object or setting.
As one might imagine, these gaps in perception can greatly—and negatively—affect a patient's ability to function in the world. They challenge the way patients relate to others and can impair their independence. While there has been plenty of research on these types of perceptual disorders within schizophrenia, none has focused on whether or not there is hope for improvement within the disorder—until now.
Last fall, Richard Waxman, Ph.D., interim dean of the Touro Graduate School of Psychology, launched a new research consortium to investigate whether a cognitive rehabilitation would improve patients' perceptual organization abilities and, in turn, improve their overall level of functioning. Other participating institutions are Brooklyn College, which is part of the City University of New York; the Manhattan Psychiatric Center (MPC), a state hospital located on Ward's Island; Rutgers University; and Touro's own New York Medical College.
Dr. Waxman and his co-investigator, Daniel Kurylo, Ph.D., associate professor at Brooklyn College, designed a computer program that inpatients at MPC use to gauge their levels of perception. Patients are shown a series of lines and dots and are guided to identify horizontal and vertical lines, as well as shapes. Pencil and paper exercises are also used to teach patients how to integrate visually complex material. Patients at MPC participating in the computer-based intervention have been meeting with research assistants three times a week for four months. There is a metric built into the computer program so that patients can see how they are improving.
Rebecca King, a master's student in Touro's Mental Health Counseling program, has been working at MPC since last fall and has seen marked advances. "Some [patients] start on level zero and stay there for three sessions, while others move to higher levels—17 or 20," she says. "The patients become really happy when they can see an improvement."
The idea for the rehabilitation can be traced back three years to a conversation Dr. Waxman had with Dr. Kurylo, with whom he has collaborated before. Dr. Waxman, whose background is in neuropsychology, was thinking about the concept of neuroplasticity, as it applies to improving brain functioning. Cognitive rehabilitation is generally applied to cognitive disorders, but more recently, Dr. Waxman says, it has become an acceptable treatment for psychotic patients, too. Given the lack of treatment available for those with perceptual disorders in schizophrenia, the pair decided to create the rehabilitation intervention.
In order to combine resources and create a top-notch study, Dr. Waxman and Dr. Kurylo began to develop the consortium. The same computer-based intervention is expected to start at Rutgers in the fall of 2014, headed by Dr. Steven Silverstein, a leading schizophrenia researcher and director of research as well as director of the Division of Schizophrenia Research at Rutgers University Behavioral Health Care.
Dr. Waxman says of the consortium thus far, "It's been a great experience. Everyone complements one another."
Not only is the research poised to make an important contribution to the field of schizophrenia research and rehabilitation, but it also has provided a unique opportunity for students to gain valuable clinical experience. The participating students are from Touro's Graduate School of Psychology, Lander College for Men, Lander College for Women – The Anna Ruth and Mark Hasten School and Brooklyn College.
"It is very valuable for students to have this type of research experience," says Dr. Waxman. "For many, this is the first time that they have seen patients and have been able to learn firsthand about pathologies they've studied in the classroom. They can also ask important questions, such as, 'Is this what I want to do?' and 'Is this a population I want to work with?' "
In King's case, she plans on applying for her doctorate, so having this research in her portfolio will give her a greater advantage. Ultimately King, who grew up in Crown Heights and East Flatbush, would like to open a non-profit in a lowincome community with mental health and education services, in hopes of removing the stigma of receiving mental health services within the African American community.
King sees her experience at MPC fitting in with her longer-term goals. "In the beginning, I was nervous, not having had much experience being around inpatients with these types of diagnoses," she says. "As time passed, I learned how to adapt. This amazing experience will help me later on in my career—it's important to be able to communicate with every type of person."
The research itself fits into a growing trend within the Touro Graduate School of Psychology. "We've been trying to increase the volume of research," says Dr. Waxman. "Not only have there been substantial projects, but we have also brought on faculty with significant design and statistical expertise to facilitate projects."
Though the data is not yet complete, Dr. Waxman and his colleagues expect to see the preliminary results by the end of the summer and have plans to continue the research for at least one more year. If the findings are as promising as expected, the team will apply for funding from the National Institute of Mental Health. Dr. Waxman says, "If this does impact patients' lives, having a more generalized effect on their level of functioning would be very exciting."
This article appeared in the Spring 2014 issue of Touro Links, the graduate division magazine of Touro College.