DPT Students Experience Symptoms of Elderly Patients
Touro College Physical Therapy Create Simulation Suit to Better Understand Their Future Aging Clients
January 05, 2021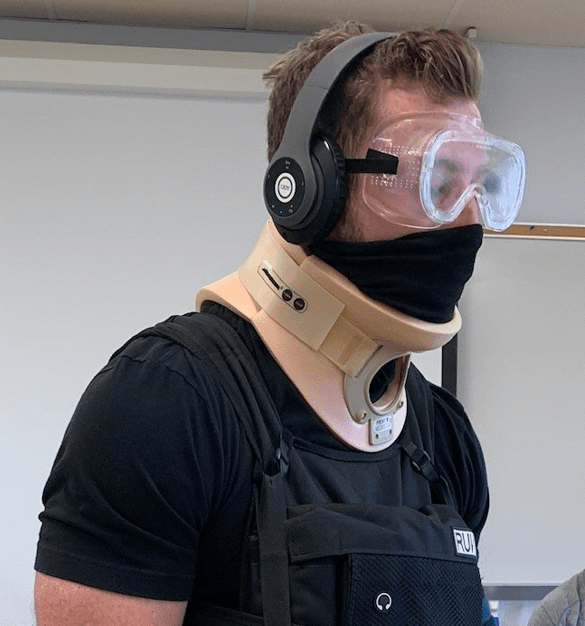 A physical therapy student at Touro College School of Health Sciences tries on a geriatric simulation suit to better understand the health conditions that elderly patients face.
Students in Touro College School of Health Sciences Doctor of Physical Therapy Program are taught to try and understand movement, and dysfunctional movement, with an understanding for how it impacts the patient. That can be challenging with elderly patients. This year, a group of students decided to fix that: they designed a geriatric simulation suit to allow them to experience some of the restrictions older patients face.
The idea behind the suit came from an enterprising faculty member of the DPT program, Daniel J. Lee, PT, DPT, PhD, GCS. Wanting to give his students a better understanding of what it's like to be a senior citizen and to understand the challenges they face, Dr. Lee looked into buying a geriatric simulation suit. He quickly realized that buying a suit was prohibitively expensive: the cheapest ones retailed for several thousand dollars, far beyond the budget of many physical therapy programs.
"A proper geriatric suit is designed to replicate what a typically aging older adult feels—including conditions like arthritis, postural issues, sight issues, balance issues and general weaknesses," said Dr. Lee. "Having a student go through a series of physical activities wearing the suit allows them to experience difficulty in movement. It is our hope that this will improve and enhance empathy among younger health science students. Those suits were out of our price range, but I had this realization that I could build a suit with my students for less than $300."
As part of the DPT curriculum students are obligated to partake in a two-year research project. Last year, Dr. Lee added the geriatric suit to the list of available research projects students could join. As part of the project, students were required to design an inexpensive geriatric suit and then test it to see if using it built empathy.
Six students began work on the suit with Dr. Lee in the fall of 2019. They spent hours coming up with DIY solutions to simulate common conditions elderly patients face. The group used orthopedic devices to limit movements; a cervical collar to restrict neck motions; straps to force a stooped posture and minimize spine motion; foam inserts in boots to modify balance and latex gloves to hamper fine-motor skills. As a final touch, the group bought goggles and smeared Vaseline over them to replicate cataracts.
Frank Crisci, a third-year student in the DPT program, said that creating the suit tied in to why he wanted to become a physical therapist in the first place.
"One of the reasons why I decided to become a physical therapist was that physical therapy allows you to use your creativity," explained Crisci. "When we were presented with our research options, I really liked the creative aspect of designing a suit and being able to start from scratch and put together functional impairments. It was a great learning experience to see how we get everything going for a research project—from constructing the suit to developing baselines and figuring out what tests to use to determine if empathy increased."
The project had special resonance for third-year student Kaylee Tamura who decided she wanted to be a physical therapist in high school while helping her grandmother recover from a stroke.
"It's important to have empathy and understand what a person might be dealing with," said Tumara. "When you see patients, they're in a vulnerable state and they're struggling. You have to make them feel better and I think it's especially important for older adult patients that we have an idea of what they're going through and how difficult simple tasks can be."
Once the suit was properly assembled, the group developed an obstacle course filled with tasks like putting books on shelves, turning around in a circle, and going up stairs. Members of the group did the obstacle course twice, once in the suit and once out of it and had their reactions measured with the Jefferson Scale of Empathy, a widely used empathy test. Results indicated that using the suit increased subjects' empathy. (Though as proper researchers, the students noted that there was an implicit bias in their reaction since they designed the suit.)
The initial plans for the research project included a larger group sample and a control group, but those plans were postponed because of the coronavirus. Dr. Lee plans to continue the research next year with a new group of students. He also plans to publicize the design.
"I hope that physical therapy students gain an appreciation of what a large proportion of our patients experience on a daily basis," concluded Dr. Lee. "Ultimately, I want them to develop their sense of empathy so that when they're working with elderly patients in the future, they can reach back to this experience and say, 'I remember what it was like to go upstairs when my knees wouldn't bend. I can appreciate how depressing it felt. I know what it's like and I understand what you're going through. Together we will get you where you need to go.'"