Helping His Team
A Love of Newcastle United FC Led Gil Pereirinha to Physical Therapy
July 13, 2023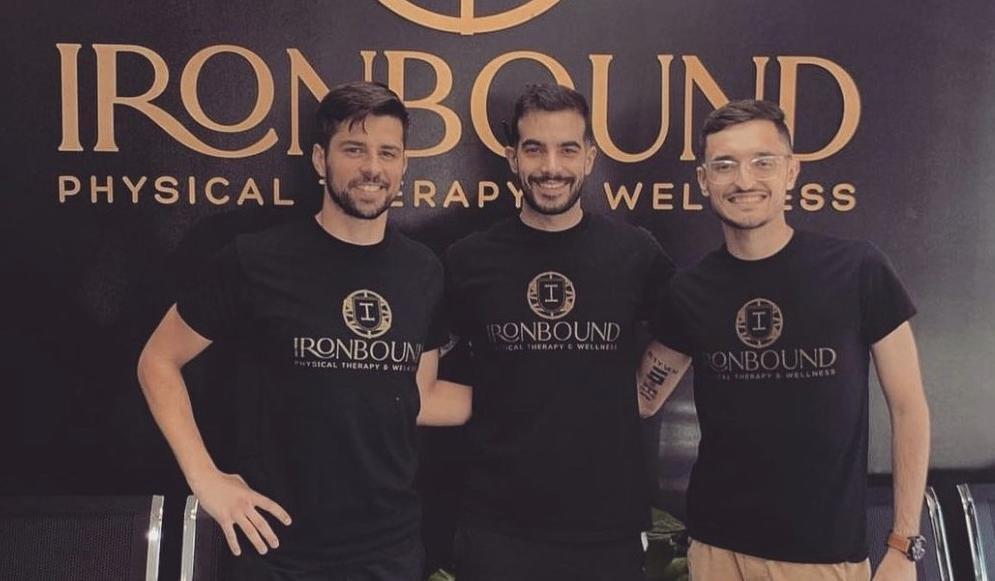 After graduating from Touro's School of Health Sciences DPT program, Gilberto "Gil" Pereirinha (right) began working at Ironbound Physical Therapy and Wellness. The clinic is owned by two Touro alumni, Drs. Alex Brito (left) and Alex Oliveira (center).
As a high school student and devoted fan of Newcastle United Football Club, Gilberto "Gil" Pereirinha watched one year as his team's season went down in flames in a raft of player injuries. But what was bad news for Newcastle United, was good news for Pereirinha: he discovered his calling.
"I realized that I'm never going to be a good enough soccer player to play for Newcastle, but maybe I can help the team," Pereirinha told himself. "Why not physical therapy? I can help the players recover and have them lead Newcastle to the championships."
With that in mind, Pereirinha attended Seton Hall University with the aim of a career in physical therapy. He studied psychology where he learned positive motivation techniques that he planned to use in his career. "Research has shown that if you provide patients with positive reinforcements, they recover faster and they're less likely to re-aggravate their injuries," said Pereirinha.
After graduating in 2019, Pereirinha applied to two physical therapy schools: Marshall University and Touro's School of Health Sciences (SHS). His top school was Marshall, and though he was accepted, he changed his mind after attending an open house for Touro's School of Health Sciences Doctor of Physical Therapy program.
"I saw how tight-knit the professors were with their students," explained Pereirinha. "The professors had a one-on-one relationship with their students. I fell in love with Touro and knew that it was the school for me. I wanted a school that helped foster learning where the professors not only view you as a student, but as their future colleague."
Pereirinha loved his time at Touro and when he graduated, he decided to stay in the Touro fold by taking a position at Ironbound Physical Therapy and Wellness, a clinic in New Jersey run by two Touro alumni, Drs. Alex Brito and Alex Oliveira. Ironbound is also where Pereirinha had his first clinical rotation. "I wasn't confident when I first had my rotation here," reflected Pereirinha. "As a Touro grad, Dr. Brito knew what level I was on, and he broke things down for me. It was like I didn't leave Touro."
In his work at the clinic, Pereirinha treats a wide range of injuries; his patients include both post-stroke patients and Division 1 athletes.
"For my post-stroke patients, it's difficult since typically you have six months to a year post-stroke to regain function," said Pereirinha. "I usually see them after that and it's difficult for them to maintain a positive mindset since they're not regaining function, they're maintaining function. We must keep them moving since if they stop working, then their body will stop."
Pereirinha fosters this positive mindset with what he calls his "Gil's Wise Words," motivational statements from different sources he puts on the company's Instagram page. He didn't notice the powerful effect he was having until he took a break and patients complained.
"I didn't realize it was so big until people started asking and said they needed this motivation," said Pereirinha. Currently, his favorite motto is from Nintendo's Fire Emblem Three Houses video game: "Ups and downs don't bother me. I'll get there."
Pereirinha is also taking steps to fulfill his dream of working for Newcastle United. He works as a physical therapist for a pro-sport soccer club and works with the two USL 2 division soccer teams that Ironbound is in contract with. He recently applied to several physical therapy positions in soccer clubs across the UK. "One of them was Newcastle United," laughed Pereirinha. "Obviously, I'm not going to get the job since I don't have enough experience, but it doesn't hurt to apply and I'm getting my UK work visa to apply to other positions."
With all his patients, and especially his soccer players, Pereirinha relies on the lessons he learned from Touro. "I look at the whole body when I treat a patient," said Pereirinha. "It's not just the hamstring, or the knees, or the ankle, those are usually just the symptoms of the larger issues. I look at the whole athlete and treat the problem at its source."
Expect to see Newcastle United take the Premier League title one day with the team's physical therapist Gil Pereirinha cheering from the sidelines.