"It Takes Determination to Bring a Research Project to Completion"
Occupational Therapy Students Present Final Research Projects
July 31, 2018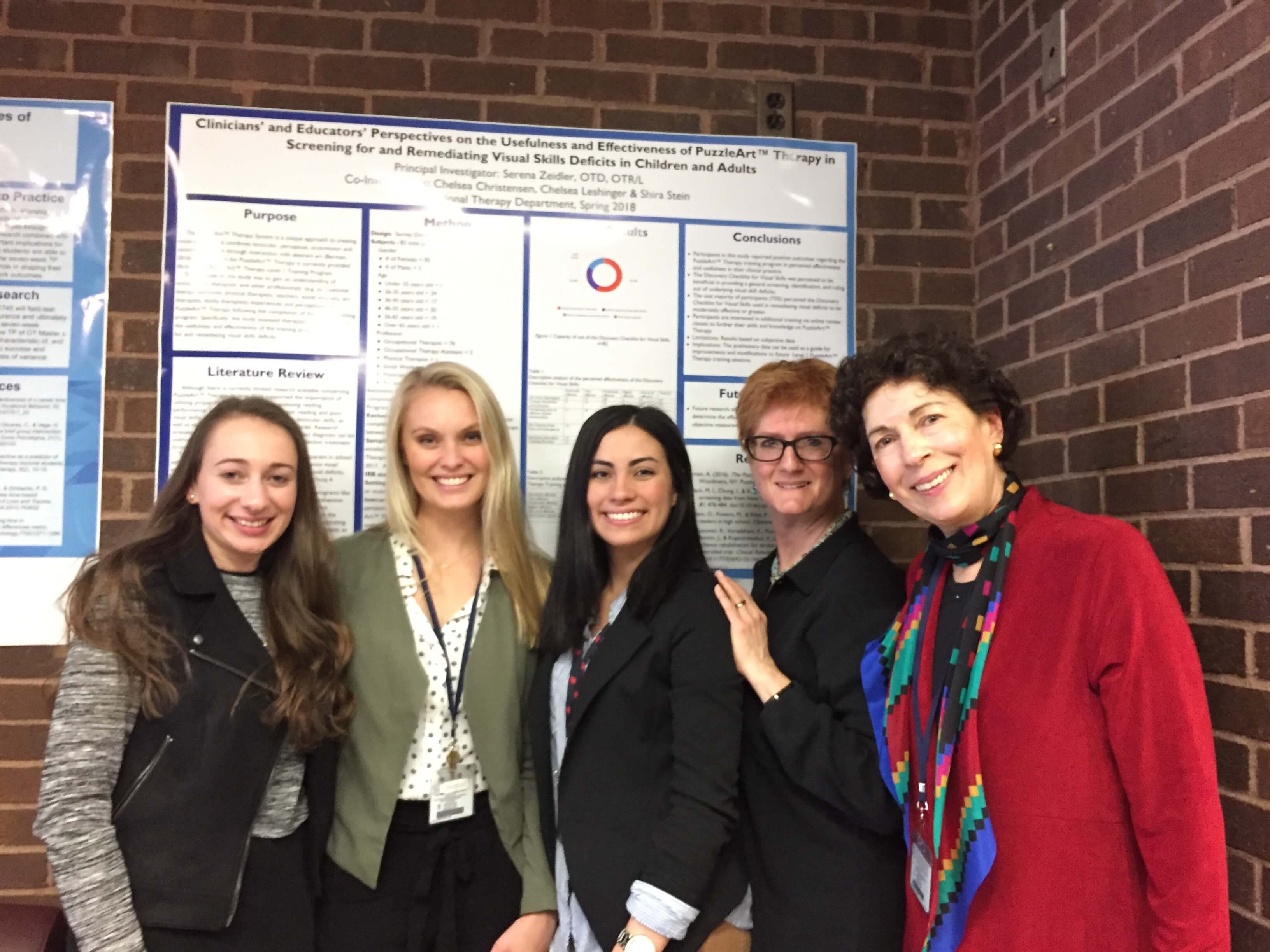 A new therapy tool, PuzzleArt™, claims to build and strengthen 20 perceptual learning, oculomotor, binocular, sensory and creativity skills using three-dimensional, hands-on abstract art, but does it work?
As part of their final research presentations, students at the School of Health Sciences Occupational Therapy program in Bay Shore sought to find out.
"My students and I developed a Qualtrics online survey to gain an understanding of the perceived usefulness and effectiveness of the program," stated SHS OT assistant professor Serena Zeidler, who led the research project. The students sent out 266 surveys to clinicians and educators trained in PuzzleArt™ Therapy and heard back from more than 80.
"Participants reported positive outcomes in perceived usefulness and effectiveness in their clinical practice," she said. "The screening tool was perceived to be beneficial in providing a general screening, identification, and ruling out of underlying visual skill deficits. The vast majority of participants perceived the screening to be moderately effective or greater."
As part of their occupational therapy degree, each student in the SHS OT Program is required to spend two years on a research project guided by SHS faculty members. The seven groups of students presented their findings to their peers in April.
"We're incredibly proud of our students' achievements today," stated Dr. Meira Orentlicher, Professor in the OT program and Associate Director of Research and Scholarship. "Our field is guided by evidence-based practice and our students are adding to that knowledge base with their research."
Other studies examined the utilization of social media in occupational therapy education; time perspectives of occupational therapy students; the effect of push-in occupational therapy treatment in a kindergarten classroom; the benefits of hippotherapy for children with cerebral palsy, autism spectrum disorder, developmental disabilities and mental health disorders; and the self-perception of creativity in OT students ("Can someone be an occupational therapist without being creative?" Quipped Orentlicher during the presentation.) Each presentation finished with the student researchers describing both the limitations of their own project and avenues for future researchers. They then fielded questions from the audience.
"It's very rewarding seeing our work for the last two years come to fruition and sharing it with our classmates," said Olivia Myszkowski.
One group performed a case study in two children in a multisensory intervention. While the children didn't improve noticeably in occupational performance, the students did note something more.
"We documented key words," stated OT student Jessica Rourke who performed the research with three other OT students, "We noticed that the word 'more' kept on appearing. Both parents said that the children were doing more: more motor functions, felt more confident and interacted with their peers more. They were thrilled by it."
"The whole research process was really insightful," said Esther Babekov, who was part of a group that examined the therapeutic benefits of Hippotherapy. "Hippotherapy is an expensive treatment and by doing research and by proving and documenting how effective it is, we can help make the treatment more mainstream."
"The presentation brought together years of work," explained Danielle Losonci. "I learned to enjoy and appreciate the fruits of our efforts. It takes determination to bring a research project to completion."