Making Workplaces Better as an Industrial Organizational Psychologist
Lyndon Llanes Uses Data to Help Companies Find and Nurture Top Talent
May 10, 2021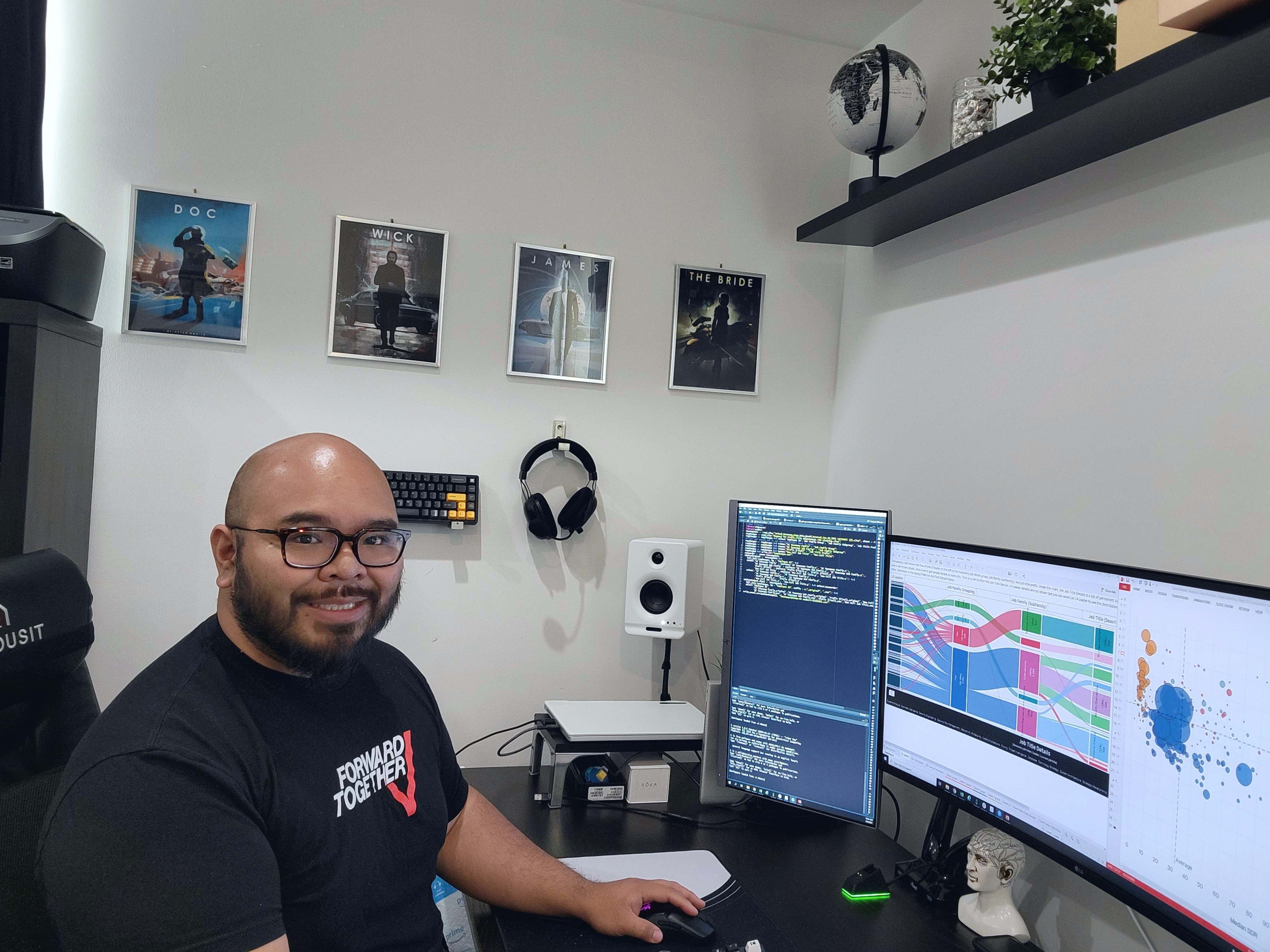 Touro alumnus Lyndon Llanes
A Touro alum talks about his rise at Verizon Wireless and offers essential career advice for new grads or anyone looking to climb the corporate ladder.
Can you talk a bit about your career path?
My career path has taken me to a lot of different places within Human Resources (HR). I've gone from wanting to do Learning and Development (L&D) while at Touro to landing in People Analytics today. I have worked on turnover (who leaves the company and why), talent classification (organizing the workforce into shared characteristics like skills, level of experience and job function), and assessments (who can we predict will perform the job well). One thing that has been consistent throughout each role is the central theme of data and analysis.
The beginning of my career in I-O felt like a completely new chapter in my life. I started with an internship where I focused on helping companies understand turnover and why their employees are leaving. At the time, I was more interested in leadership development. The company didn't have any opportunities in that area, but they did have a need for data analysis. From that internship, I fell in love with data. I loved that at the core of the work is still human behavior and thoughts.
After my internship, I worked in healthcare where I focused on turnover as well as performance management. After a year, I started getting calls for other jobs and one of them was a contract at Verizon on the Selection and Assessment team. It was a fun shift from looking at who was leaving and why, to understanding who should come in and do the work. While at Verizon, my career has rapidly evolved and today I am a leader in Talent Intelligence.
What do you do for Verizon? What is a typical day like?
I lead a team of analysts, data scientists, and HR specialists. My team leverages digital technology, scientific methods, and analytics to gain insight on trends in applicant behaviors, identify talent-labor market trends, enhance workforce planning, build automation, and analyze future skill needs and availability.
Every week I spend time with the team to check in on projects. I lead or attend meetings tied to talent supply, job taxonomy, skills, data architecture, business strategy related to talent, or workforce planning. About twenty five percent of my time is spent on actual research and analysis in R or building tools in Tableau.
What are the challenges involved in your professional role?
There are a few challenges, mostly scope of work, bandwidth, team/project management, and data. Since the work I do spans different functions, the scope of work can sometimes be overwhelming. The work can be very fast-paced and project management can get tough. Managing cross-functional projects and managing a team directly or indirectly to get it done is challenging. There are many moving parts. Data is another challenge. My work revolves around it and it is rarely ever perfect. Data pipelines and engineering do not exist for a lot of my projects so we have to do it ourselves.
What do you love about it?
There are a lot of things that I love about my job! I love that it lets me constantly see interesting things and study how jobs evolve. I love taking that complex problem, designing a process, collecting the data, refining the model, and discovering the insight. I feel that the work is important and impactful. I have projects that have real business impact on where we set up operations, how we hire, and how we conceive talent across the organization. I love that I've managed to build up enough expertise that I've spoken at multiple conferences and internationally about the cool work and experiences I've had.
How did Touro help prepare you for your career?
I had mentors at Touro who gave me great advice and helped me figure out what I wanted to do. I deeply value the guidance I received from them early on in my career. A strong foundation in applied research methods was critical to being able to excel in an analytics and advisory role. My school projects also helped bridge the experience gap early on in my career through applied use cases.
How can a recent graduate stand out while looking for their first job?
Current students, not just graduates, should start to plan out how to have projects and stories that are usable and volunteer or do special projects at work to gain experience. You stand out when your background and experience do. So, make it easier and work on getting this before you graduate. Also, learn to speak about your success and impact in plain speak as well as nerd speak and do so succinctly. Get on LinkedIn and ask for advice from people who you want to be like. Make a list of those people's skills, tasks, and job titles. Use that list to help you figure out how much of a gap you have from where you are to where you want to be.
Do you have any advice for climbing the corporate ladder?
Networking, brand building, and establishing your expertise are all good steps. When working on projects, determine the next step and recommend it to your boss and if appropriate, do it. Don't wait for someone to come tell you what's next. Thinking ahead will make your boss's job easier and prepare you for the next level. Get mentors and advocates. Get more than one. Get one outside of I-O. They will give you advice, guide you, and help sing your praises.
At a certain point, it stops being about skills. Skills get you seen/interviewed but they don't get you hired at the more senior positions, especially as you start to lead people and manage a team. Start thinking more about projects and your portfolio. What are the major initiatives that you've driven and pushed forward? What have you led? That is what you will want to highlight as you move up the ranks.