"Nurses Bring Light and Care to Their Patients"
School of Health Sciences Nursing Program Celebrates Class of 2023 During Pinning Ceremony
June 28, 2023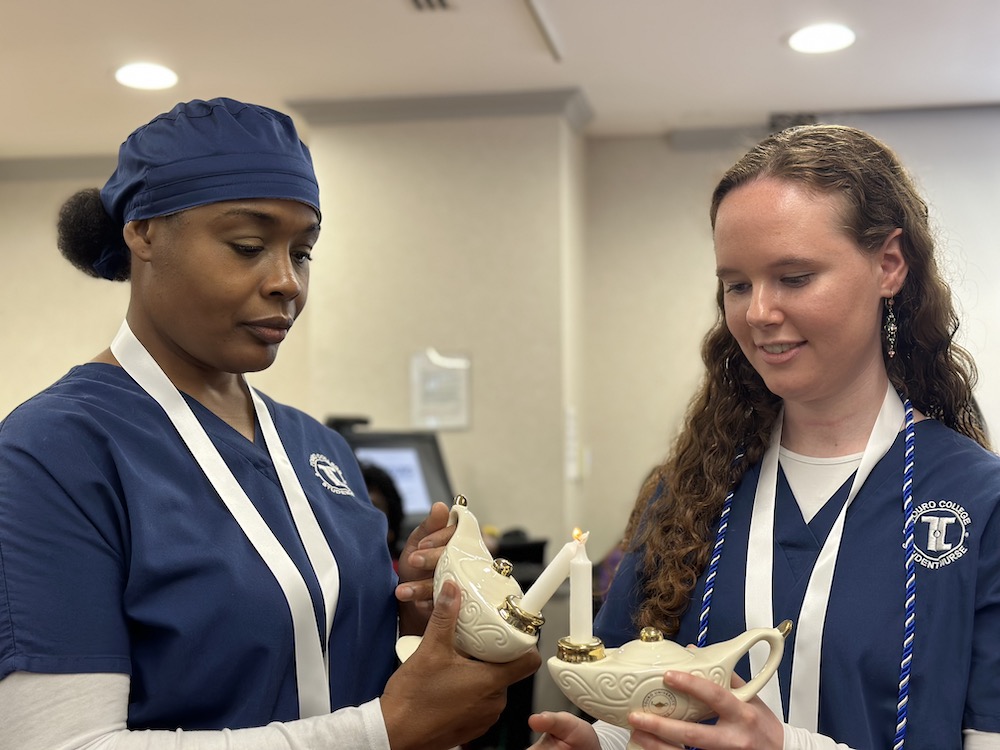 Touro University's School of Health Sciences Nursing Program's Class of 2023 celebrated their commencement with a pinning ceremony on June 22. Above, Aviva Lieberman (right) lit the lamp of her nursing student classmate Charlene Liverpool.
It was a terrifying moment. A baby in a crowded hospital nursery was having difficulty breathing. And then, all it once, he stopped breathing. Fortunately for the infant and his family, an eagle-eyed School of Health Sciences (SHS) nursing student was watching.
"We were there to learn infant care," recalled Janet Hack, a member of the SHS's Nursing Program's class of 2023. "I realized something was off, so I kept on going back to check on him. I just happened to be there at a good time. He's okay, thank God."
Together with a hospital staff member, Hack quickly stabilized the infant and ensured that he experienced no lasting damage. For her lifesaving work, Hack was honored with the 2023 Clinical Excellence Award during the SHS's pinning ceremony on June 22 held on the Lander College of Arts and Sciences campus.
The pinning ceremony itself marked the completion of the clinical and didactical work of the school's nursing program. The pin that the school handed to each of its graduates was a circle with a lamp in the center to mirror the lamp used by Florence Nightingale, the founder of the nursing profession.
"Every evening after the other nurses had retired, Miss Nightingale would make solitary rounds to check on her sickest patients," said SHS professor Mei Kong in her explanation of the pin and the ceremony that almost perfectly encapsulated Hack's story. "She carried a lamp or lantern with a wind shield to prevent the candle within it from being extinguished. The lighted lamp, the flame, came to symbolize a nurse's knowledge and dedication to caring for patients' needs."
"Today marks a significant milestone in your life, as you transition from being a student to a professional nurse," continued SHS Nursing Program Chair Dr. Sandra Russo. "It is a testament to your unwavering commitment, passion, and the countless hours of study, clinical practice, and sacrifices you have made along the way. Your perseverance and determination have led you to this incredible achievement, and we commend you for your accomplishments."
Receiving the pin and the symbolic lighting ceremony that accompanied it was an emotional moment for the 44 members of the class.
"I feel like I made it," laughed Brooklyn resident and new nurse Charlene Liverpool who worked full-time as a clerk in a psychiatric facility while pursuing her degree. (As a piece of advice for other students considering a career in nursing, she joked, "If you can avoid having to hold down a full-time job at the same time, it would be very beneficial for you.")
"I'm proud and excited and ready to get out there and start working," said Aviva Lieberman.
SHS Dean Dr. Steven Lorenzet praised the new nurses. "They are talented, capable, and dedicated nurses and will make a big impact on their patients and the communities they will serve," he said. "We are very happy to call them our graduates."
Graduating from Touro was a family affair for class member Pesel Bernes, who received an award for having the highest-grade point average in the class. Her grandfather Raymond Bernes was a member of the second graduating class of the Touro's Physician Assistant program which began in 1972. Afterwards, he enjoyed a more than 40-year-career in the medical field, before retiring during the Covid-19 pandemic.
"This is quite an honor," Raymond said after the ceremony ended. "For both of us."