Occupational Therapists Partner to Write "Corona Superhero Kids"
New Book Written by Two Touro Alums Helps Explain Global Pandemic to Kids
October 20, 2020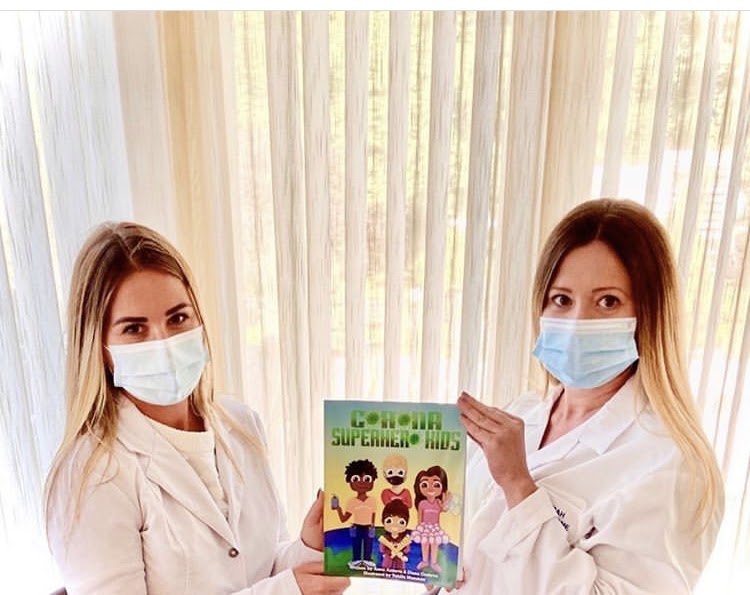 With more than 200,000 people and counting lost to the coronavirus pandemic in the United States alone, it's safe to say that every American has been affected in some way. Children know life is different yet how do we explain a virus that has upended their daily routine in a way that helps them understand what is going on without scaring them? We spoke with occupational therapist practitioners and Touro School of Health Sciences alums Diana Gosteva and Anna Astrova about their new book, Corona Superhero Kids, and how it can help kids adjust during these challenging times.
Congrats on your new children's book! Tell us more about Corona Superhero Kids. What is it about and what critical need were you addressing by creating this book?
Thank you! We wrote the book simply because we saw an immediate need for it. As parents, family members, and other professionals would contact us seeking advice on how to handle talking about the coronavirus with children, it was evident that these kids' overall quality of life had been negatively impacted. We knew that we had to act quickly, so we worked together to create something special that would educate, motivate, and empower children to adapt to this "new normal" and feel safe when doing things like returning to school.
How did your background as an occupational therapist (OT) inform the book? In what way(s) is this book connected to your role as an OT?
As occupational therapist practitioners, we strive to bring awareness and solutions to everyday issues. In this case, the negative impact of COVID-19 on the pediatric population needed to be addressed. We incorporated our clinical knowledge and creativity to enhance children's overall quality of life by discussing various possibilities of play, family time, and academics that follow new safety guidelines through a memorable book experience.
How did the pandemic shape the idea to create a book for kids? Are you using this book as a therapeutic tool with patients and if so, what are the effects you're witnessing?
The book was created to be a go-to tool for parents and all other professionals/educators including ourselves. Our goal in writing it was to keep children safe while ensuring they understand the importance of following key safety precautions such as washing their hands, using hand sanitizers, social distancing, and wearing masks. We have already seen great results including children being able to explain how to prevent spreading germs by associating with one of the superheroes in the book. Additionally, we launched our #coronasuperherokids challenge, which can be found on our corona superhero kids Instagram page, enabling parents to share videos of their children which in turn inspires other families to have open dialogues about the pandemic in child-friendly language.
What are three key takeaways you hope a reader gains after finishing the book?
First and foremost, we hope our readers enjoy the book and are excited to transition into their own powerful corona superhero kid. Second, we hope the book sparks a discussion between the reader and the parent, teacher, occupational therapist, etc. Our intention was to promote active thinking, whereas children associate safety precautions with our superheroes. Lastly, we hope that the four main superhero's actions will be carried over and implemented during the young reader's day (while in school, in the community, etc.).
How did Touro's School of Health Sciences help prepare you for your career as an OT? Why did you choose the OT field?
Touro encouraged us to explore our therapeutic use of self as well as implement these techniques in various ways to reach different populations of individuals on a deeper level. We both chose to become occupational therapist practitioners because we love to work with people, and it allows us to incorporate two very important things-- science and creativity.
Any advice for aspiring authors?
Our advice to aspiring authors is to never second guess yourself and surround yourself with people who believe in you. Also, always go with your gut. Just be sure to do some research first and then take your book to the finish line!