Occupational Therapy Students Deliver Final Research Presentations
Third Year Students Cover Range of Topics
April 26, 2017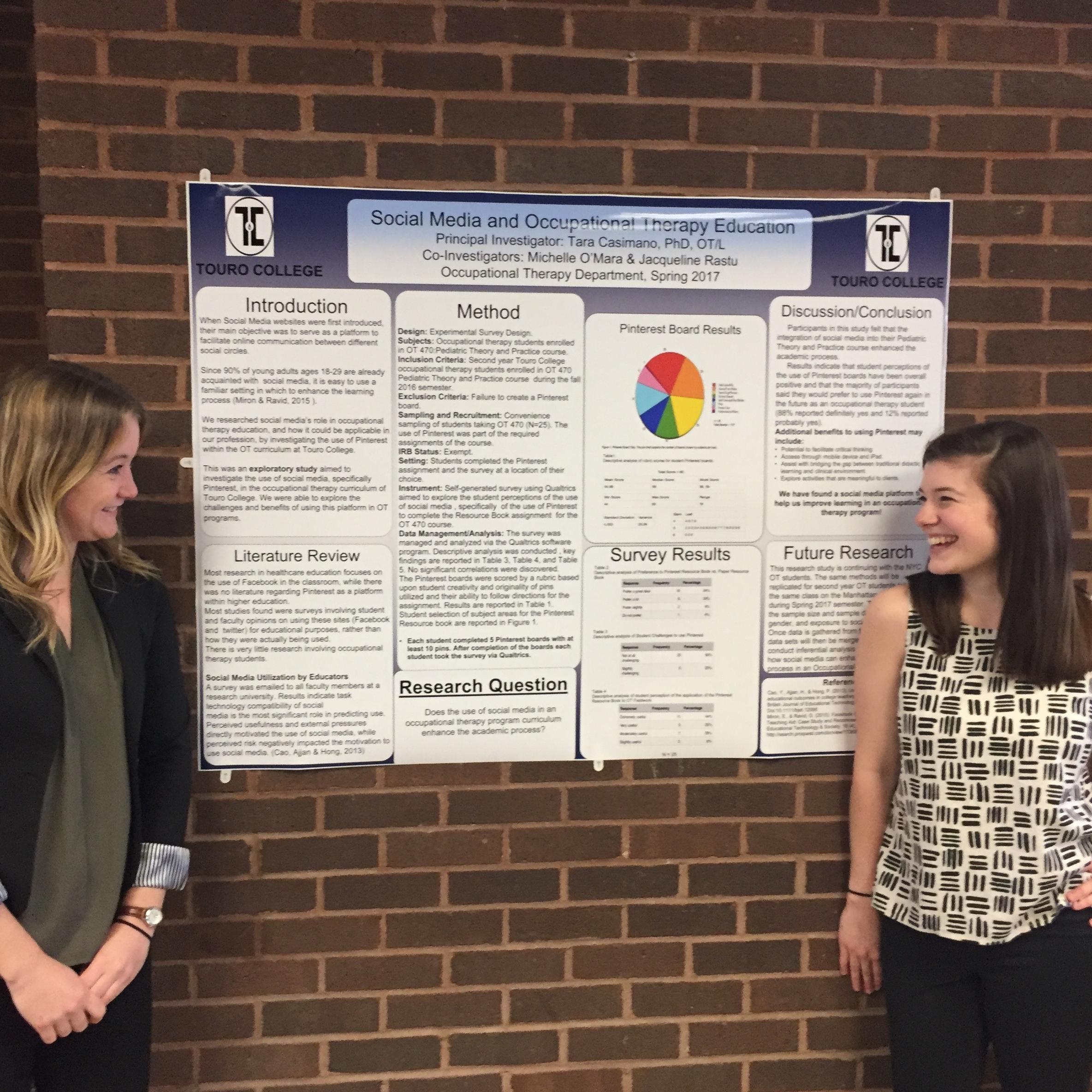 Can Pinterest be an effective teaching tool for occupational therapy students? Does occupational therapy help with late-stage Parkinson's Disease? Do occupational therapists in school environments do enough to combat bullying? How effective is Hippotherapy?
These were some of the questions that third-year occupational therapy students at Touro College School of Health Sciences (SHS) spoke about during their final research presentations. (The answers: Yes. Yes. No. Very.) Delivered on April 4 at the auditorium of the School of Health Sciences Bay Shore campus, the presentations marked the culmination of two years of research that students began in their second year with a SHS faculty member. The presentation was also considered the final test before the students went on their final rotation and were eligible to take their licensing exams.
Studies ranged from single case studies to surveys to qualitative analysis. Framing the presentations as a learning experience, Dr. Tara Casimano, the SHS professor who led the research class, said that while the conclusions the students drew were important, the paramount impetus of the class was to teach students how to evaluate and develop their own research.
"Research is the fuel that drives the train of evidence-based practice," explained Dr. Casimano. "Without evidence we wouldn't have the knowledge to help our patients."
Dr. Stephanie Wong, chair of the SHS OT said she was proud of the students.
"It's the culmination of two years of work," said Dr. Wong, adding that she was especially pleased with how the studies involved helping out members of the local community.
"Part of Touro's mission is to reach out and help the underserved. We have an incredibly talented faculty and student body and we can have an indelible impact on the community around us."
Student Bita Adabi, worked with several other students on Dr. Susan Taddonio's hippotherapy research. Hippotherapy or equine therapy is a form of therapy that utilizes horse movement to affect change in a wide variety of behaviors.
"We found that hippotherapy treatment has positive benefits in children with developmental disorders," Adabi said. Though she added that during their research they had found frequent complaints about the cost of the therapy that wasn't always covered by insurance.
Kara Koch and Esther Eisig researched the effects of occupational therapy on individuals suffering from Huntington's disease.
"Our conclusion was that OT is really appropriate for this population," said Koch. "It can allow them to have meaningful lives."
Other studies were based around a single case study, like the one performed by students Ambryel Amira, Nora Mohamed and Jessica Ferrier who studied the long-term effects of Professor Alex Lopez's Inclusive Sports Fitness on a single child with impaired cognitive abilities. Their research, conducted through interviews with the child's parents, found that the child had made striking progress in multiple areas.
"When he started the program, the question was whether he'd need supportive housing," said Amira. "At the end of the program his goals include having a job and a girlfriend. You can't capture everything about someone through tests and numbers."
Some projects also built on research conducted by previous OT students.
Leeba Weiser and three other OT students helped analyze the results of a survey of 1000 working occupational therapists about bullying in school. The survey was done by previous OT students working with SHS professor Tara Collins.
"There is a need for occupational therapists to create a better environment for students," said Weiser about their conclusions.
In one project, Touro students were the research subject. In an innovative study, Michelle O'Mara and Jacqueline Rastu asked second-year Touro occupational therapy students to use the Pinterest website instead of a standard notebook for their occupational therapy plans. The response was overwhelmingly positive with students preferring using the social media site by more than 80 percent.
After two years of work, the new researchers said that they were happy their presentation day arrived. Though, mainly a celebratory event, students were asked to focus on the limitations of their own studies and to find ways they could be further augmented. After each presentation, students also faced the occasional grilling from the audience.
The presentation did begin on a sad note though. Under the guidance of Dr. Blanche Leeman, students Elina Babayeva, Hannanh Fink, Sharon Layliev and Rachel Yunatanov discussed their case study of an 76-year-old individual with Parkinson's Disease and his wife who was his primary caregiver. They dedicated their presentation to him as he had died the previous week.
During their talk, they spoke of how through their case study, they had seen him change his beliefs, from a positive outlook to a negative one.
"One day, he collapsed on a beach," said Layliev. "That's when he knew he wasn't going to get better."