On the Frontlines: Physician Assistant Highlights What the COVID-19 Pandemic Really Looks Like
Touro Alumnus, Navy Vet and Physician Assistant Tracy Earl on Treating Patients During a Global Crisis
October 14, 2020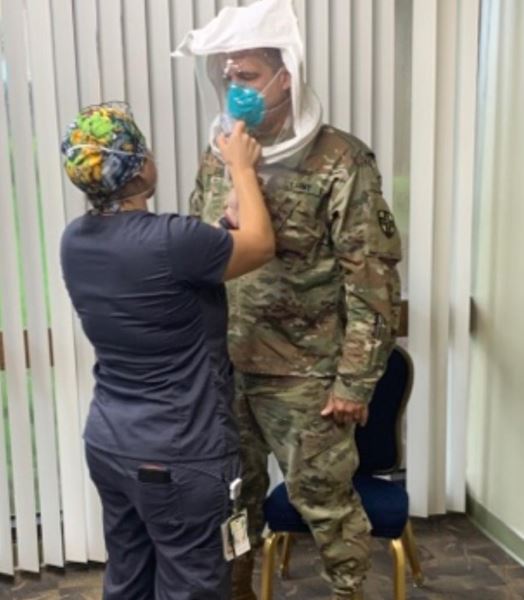 After three decades working in the medical field, physician assistant (PA) Tracy Earl, who is also a Navy veteran and an Army Reserve Captain, was ready to take on the challenge of helping care for patients exhibiting symptoms of the novel coronavirus. Earl learned a lot while providing on-the-ground support in a federal mission as the world reeled from this devastating disease.
He began his medical career as an EMT, yet Earl's love of country propelled him to enlist in the Navy. Serving as a Hospital Corpsman, he was assigned to units with the Marine Corps, where he was responsible for helping patients. Earl said, "It was during this period that I first witnessed what a physician assistant (PA) can do. I liked the independent aspect of being a PA as well as the flexibility the job offers, so I knew this would be the next step in my career."
When he left the Navy, he enrolled in Touro College's School of Health Sciences (SHS) while working at various medical facilities, including the Orthopedic Clinic at the VA Medical Center in Northport, Long Island, to enhance his PA skillset. "The medical field allows me to make a difference in people's lives that I can see and feel. This is what I was born to do," Earl says.
At the same time, he remained committed to serving his country, joining the Army Reserves while finishing his master's degree.
Coronavirus changes everything
Once he graduated from the PA Bay Shore program at Touro SHS, Earl worked at an urgent care facility in North Carolina, focusing primarily on occupational medicine and helping patients with Workman's Compensation injuries. He credits Touro for the vital clinical skills he learned, including patient interview techniques that have proved invaluable in his role. However, when the pandemic hit, the Urban Augmentation Medical Task Forces (UAMTF) was created to help communities hard hit by the crisis and Earl was mobilized to the Javits Center in New York City to join a second federal response mission in April 2020. Each 85-person UAMTF was comprised of doctors, nurses, combat medics, respiratory therapists, and ancillary personnel to provide care to patients.
"Being deployed to the Javits Center marked the first time in the history of the military that the medical department was on the frontline of a virus. In seventy-two hours, the Army Corps of Engineers were able to start helping those in need and we had a fully functional medical treatment facility up and running within a week. We treated 1,095 patients in only six weeks and members of the Navy, Army, Air Force, FEMA, U.S. Health Department, and civilian providers worked together to battle this virus. Seeing everyone come together with different abilities but with the same goal to help was powerful," Earl said.
A major challenge he encountered during this experience was learning about the complexities surrounding this virus while simultaneously working hard to treat those affected. "There were no standards of care, and what standards we did have changed frequently. Today, we have learned a lot about this virus, yet we're just beginning to understand how different treatments work for patients with various underlying conditions and how we need to adjust them to see the best results," Earl said.
Another lifesaving mission
Fast forward to today and Earl is again serving on a critical mission, this time at Valley Baptist Hospital in Harlingen, Texas, where he's been stationed since July.
"This deployment has been quite a bit different from the one in New York as the patients we were seeing initially here were much more acute. We started out as an intensive care/step down COVID unit as the hospitals here were severely overloaded with COVID patients. Medical providers in this location had been working nonstop for weeks. With my team able to provide some much-needed relief, we've been able to get things under better control and have closed some of the units as the patient census has improved," he added.
Working alongside four doctors, three nurse practitioners and another PA, the team has been providing direct care for patients that have tested positive for COVID. They were assigned to the endoscopy unit that had been turned into a temporary ICU, where they treated patients needing ventilators, masks and nasal cannulas.
"One of the biggest rewards is when you can help a patient get well enough to go home. As we treat the patients and speak with the families, we've gotten to know them well. Everyone here, including staff and the families of those we're treating, have been very appreciative of our assistance and it feels good to know we're making an impact," Earl said.
Balancing family responsibilities while caring for patients
While helping Texans hard-hit by this pandemic, FaceTime has helped make it easier for Earl to keep in close contact with his family. Despite being separated by their location, "being able to see my children and wife and know that they are doing ok helps me to work better here. I could not do this without their support, and they understand why I'm here and the importance of helping people get well," Earl said.
Healthcare providers are currently setting the standard for this pandemic as these deployments and mobilizations will be used as blueprints for medical crises of the future. "I'm just glad to play a role in this incredible and never-before-seen scenario, and none of this would be possible without what I learned at Touro," Earl said.