PA Professor Receives Special Thank-You
Students Show Appreciation for Professor Michael Kossove
January 18, 2021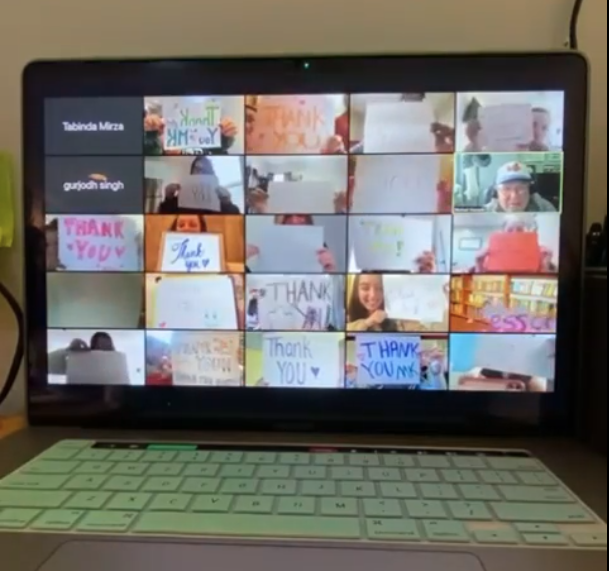 Students at the SHS PA-Bayshore delivered a heartfelt thank-you over Zoom to Professor Michael Kossove.
A professor in the School of Health Sciences' Bayshore campus Physician Assistant Program received a special thank-you from his students of the class of 2023 at the end of a particularly challenging year.
During the last session of microbiology class in December, as Professor Michael Kossove answered questions before the class final, he noticed that all the students had their cameras off. "Where is everyone?" he asked. "I see all the names, but no pictures." Seconds later, as student Sophia Karmon told him the class had wanted to do something special for him, each student turned on their camera to reveal a hand-written thank you note.
"Thank you for everything you've done for us," Karmon told Dr. Kossove who brought his wife in to see the notes.
Dr. Kossove said he was in tears after the video. "It's what charges the battery and makes me continue," said Professor Kossove. "It was the BEST Hanukkah present I could have had."
PA-student Demi Katehis (and self-described #1 Kossove Fan) said she was eager to show her gratitude towards him. "Professor Kossove is the type of teacher who leaves an everlasting impression on all his students," she wrote via email. "His enthusiasm radiates through our computer screens and his energy is always contagious… There is a lot to be said about someone who has such an impact on your learning, and there are certain words I will forever hear in Professor Kossove's voice (with his witty undertone, of course). The value of being able to recall and apply the material throughout many other courses is what sets Professor Kossove's teaching style apart. I am not only speaking for myself when I say that Professor Kossove is a special person who you simply cannot, and surely will not want to forget."
Because of the covid-19 pandemic, the majority of the microbiology classes have been held virtually. Students said that despite that, they felt close with their professor.
"Our relationship didn't fade," said Karmin. "It was our first semester in PA school and it's a struggle, but Professor Kossove was always there for us. He really cares for his students and he's always putting in his best efforts. He wants us to not only understand the material but be the best possible PAs we can be. We weren't able to see him in person before the semester ended, but this was a small way to say thank-you to one of our best teachers."