Practicing as Part of a Team
Touro Graduate Students Work as Interprofessional Healthcare Team During 5th Annual Interprofessional Education Symposium
March 28, 2018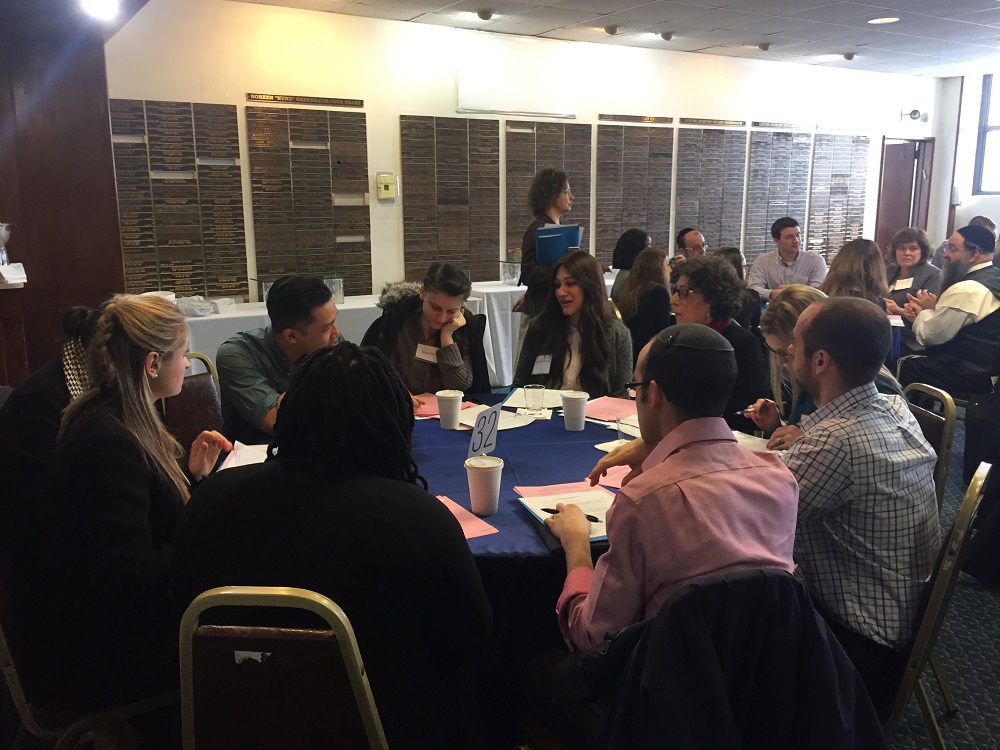 A Nor'easter storm was no match for the hundreds of students who joined in Touro College School of Health Sciences 5th Annual Interprofessional Education Symposium on March 13.
The full-day event, which took place on Long Island, brought together students from almost all of Touro's graduate and professional schools to learn how to function as part of an interdisciplinary healthcare team.
"When medicine and healthcare are practiced, they are practiced as part of a team," stated School of Health Sciences (SHS) Dean Dr. Louis Primavera. "This symposium is intended to give our students an experience that will model what they will encounter on the outside."
Dr. Primavera added that SHS is planning more frequent small-scale collaborative events.
"Interprofessional education is necessary to acculturate the panoply of medical professionals to the reality that 'the whole is greater than the sum of the parts,'" stated New York School of Career and Applied Studies (NYSCAS) Interim Dean and Touro Vice President of Collaborative Medical Education Dr. Judah Weinberger. "Under the leadership of Dean Lou Primavera, Jill Horbacewicz, and Rivka Molinsky, the IPE Symposium at the SHS I attended was carefully planned, thoughtfully executed, highly enlightening experience for the hundreds of RN, PT, SLP, and PA students who attended. Groups of students from all professions learned, by analysis of a carefully designed patient report, the value that each brings to optimizing the management of hospitalized patients transitioning to an outpatient environment."
Attendees included students and faculty members from Touro College's nursing, occupational therapy, physician assistant, physical therapy, speech-language pathology, behavioral science, social work and pharmacy programs. As part of the symposium, students from these different schools were grouped together in teams and assigned to develop a treatment plan for a fictional patient case of a middle-aged man five days after a stroke with a history of heart trouble and substance abuse. Each table was also assigned a faculty facilitator.
"One of the great things about the School of Health Sciences and healthcare in general is being provided these opportunities to work together for the goal of providing the best possible healthcare to your patient," explained Sondra Middleton, associate program director of the SHS PA-Manhattan program.
"All the research shows that interprofessional collaboration leads to better healthcare outcomes," stated Dr. Jill Horbacewicz, director of SHS Doctor of Physical Therapy program and co-chair of the SHS IPE committee and coordinator of the event. "Every student from every healthcare program chose their profession because they want to help people. Students learned the value of working as part of a multidisciplinary team."
While the case was fictional, participants learned about the consequences of a stroke first-hand from speaker Mrs. Miriam Babad, mother of SHS Associate Dean of Students and Innovation Dr. Rivka Molinsky, who discussed the stroke she experienced several years ago.
"My head exploded," Mrs. Babad stated as she recalled driving to visit her children on visiting day during a summer vacation. In the evening, Dr. Molinsky recognized the cause of her mother's slurred speech and took her to the emergency room.
"I was really fine until my daughter decided I needed to go to the hospital," Mrs. Babad joked before speaking about the team of doctors and specialists that worked with her through her recovery.
Shortly afterwards, at a table facilitated by SHS speech language pathology professor Dr. Irina Vaynshteyn, students from SHS's DPT program discussed measures to ensure that the fictional patient could ambulate; speech language pathology students advised a communication board to ease the patient's anxiety about being unable to speak. A nursing student who reviewed the patient's lab results opined that if the patient didn't have diabetes yet, he was at an extremely high-risk for it given his lack of mobility and previous substance abuse issues. A student from SHS's clinical mental health counseling program brought up the family's history of similar medical conditions. Nearby, facilitator Menachem Kiwak of the clinical mental health counseling program encouraged the students at his table to be vocal in their treatment recommendations.
This year also marked the first time that students at Touro's Graduate School of Social Work (GSSW) participated in the symposium.
GSSW's Susan Brot, associate director of field education, and Allison Bobick, director of student advancement, spoke about the importance of training social workers to work as part of a team. "The other disciplines focus on medical aspects of the patient, social work students in our discipline take a more holistic approach and focus on the bio-psycho social aspect of the client: where the client is at in terms of their illness and their recovery," said Brot. "You really can't do a quality discharge without social work involvement," added Bobick. "The patient needs to be motivated and engaged and on par with the treatment plan to make it successful. Social workers do work in hospital settings, rehab settings, in-patient and out-patient setting. Teaching our students how to interact with other disciplines is essential."
Many students were pleased to be given the opportunity to explain the role of their profession in patient care as well as to learn what the other professions do.
SHS nursing students Jessica Dell'Alba and Zachary Costello said they were happy to attend the event despite the inclement weather.
"I find this really educational and enriching," said Dell'Alba. "As nurses we'll have to work in collaboration with other medical professionals. This is good practice."
SHS DPT students Rosanne Chi and Nicole Mayer both enjoyed working as an interprofessional team at the symposium.
"Events like this are really important because they stress patient-centered care and the way to provide patient-centered care is by getting the entire medical team involved," said Chi.