SHS Students Bring OT to Kentucky
This Summer, Several Occupational Therapy (OT) Students Brought Their Skills to Western Kentucky's Appalachian Mountains.
September 22, 2016
Third-year students Bari Diamond, Diana Lashinsky, Olivia Tierno, Gabriela Masotti, Leanna Benenati, supervised by Prof. Crippen and Dr. Chiariello, saw patients at the Eula Hall Health Clinic and Shelby Valley Medical Clinic (both of which are located in Pikeville, Kentucky, and managed by Big Sandy Health Care).
Western Kentucky's Appalachian Mountains contain some of the poorest populations in the nation, making health care especially problematic. Its severe lack of resources "made it worthwhile to send our OT students there," said OT Academic Fieldwork Coordinator Virginia Crippen. Pikeville, particularly, is located in a very remote, mountainous area, "so many residents don't have the means to commute to places, and there's minimal transportation," explains OT student Bari Diamond. From research she and her classmates conducted before their visit to Kentucky, it was found that a belief in fatalism also contributed to the residents' low standard of health. "A lot of them believe that whatever happens, happens. If they die, they die; if they live, they live."
The OT students received clients with diagnoses that included cardiovascular disease, tobacco dependency, diabetes, chronic obstructive pulmonary disorder (COPD), cerebral palsy, obesity with neuropathy, and more. Other clients had mental health issues, such as substance abuse, anxiety, and depression. Comorbidities of mental health and physical diagnoses were common.
Every treatment plan included a quick 30-minute evaluation and then a 30-minute treatment session. OT treatments were provided on an as-needed, walk-in basis, so it varied daily. "Since many Pikeville residents work in the coal mining industry, they're breathing in a lot of dust, dirt and pollution, making it harder to breathe," said Diamond, who volunteered at the Eula Hall clinic with Diana Lashinsky and Olivia Tierno. "We educated our clients on energy conservation, like breathing techniques so they can pace their breaths, and we gave them tips on modifying their lifestyle so they don't always run out of breath or feel fatigued."
In another case, a middle-aged gentleman had swelling of both hands, so one of the students administered what's known as a retrograde massage. "He had bilateral hand pain and he tested positive for Tinel, so we tried to return that fluid from the hands to the rest of the body, to reduce swelling in the hands that limited his function," said Leanna Benenati.
At Shelby Valley, she and Gabriela Masotti co-treated a patient who presented with severe rheumatoid arthritis. "Her affected areas were bilateral hands and wrists. We saw her a day after her cortisone shot, so she reported some pain relief. We did some strengthening exercises with her using thera-putty, and also gave her some home- program stretches she could do with her wrist when she's in pain," said Benenati.
At their respective clinics, the students used ingenuity and creativity to fashion homemade supplies and modify existing ones. For their client with arthritis, Masotti created two custom resting hand splints "to prevent deformities." Using some splinting scraps and foam material, Benenati built up the handles of her toothbrush and hairbrush, which were difficult for her to grasp because of pain. "She has a hard time forming a fist, so we modified those commonly used items so she doesn't have to flex her fingers so much. We also gave her extra foam material and duct tape so she can build up her steering wheel herself when she got home."
"A big part of our visit was patient education. If we just perform exercises on them, it helps, but just once," explained Benenati. "If we can teach them how to do it themselves, they can continue it themselves over their lifespan, even if they never see an OT again."
While there, the OT students educated their clientele about mental health and nutrition, handing out homemade worksheets they'd created before their trip and leaving behind reference materials for the staff. "Because we only had the chance to see our clients for a short time, we wanted to give them something tangible for them to take home to reinforce the one-time meeting we had."
The residents of Pikeville and the surrounding areas "have never had occupational therapy services at these clinics," explained Prof. Crippen. "This is a first for us, and I am truly expecting this to be a successful and continuous venture which will branch out to other programs within Touro College's School of Health Sciences," said Crippen.
Before their departure, the five students even arranged for a food and clothing drive in affiliation with Touro's Student Occupational Therapy Association (SOTA) to provide goods to the residents of the area.
"The experience really showed us how OT can make a difference in people's lives. Even though it was difficult because there was no set protocol for us, we had to do everything from scratch, in the end I was so happy I did it. It was a lot of thinking on our feet, being flexible, and communicating well with the staff," said Benenati.
Masotti echoed her thoughts. "The trip was very fast-paced and stressful at times, but rich in experience and memories," she said. "One of the most memorable experiences I had with a patient was after her follow-up appointment with me, she gave me a hug and said she loved me. To have been able to make an impact on a patient like that in such little time was truly rewarding."
The students' week-long service earned them credit for their Level I Specialty fieldwork, a requirement in conjunction with Dr. Patricia Precin's "Population-Based Occupational Therapy" course. In this specialty course, students identify an underserved population, develop more specific "Needs Assessments", and carry out associated treatment plans and protocols. Chiariello points out that the students' initiative, dedication, and performance went beyond earning credit. "This course and the trip really challenged the students to act outside of their comfort zones, and they succeeded beyond our expectations."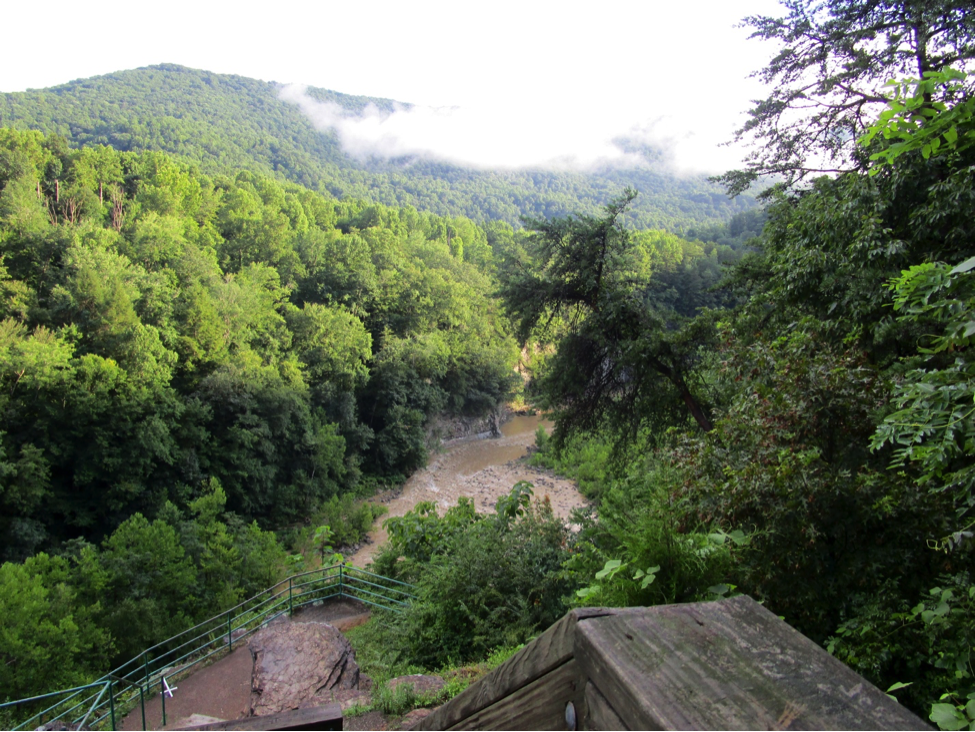 Western Kentucky's Appalachian Mountains contain some of the poorest populations in the nation, making health care especially problematic.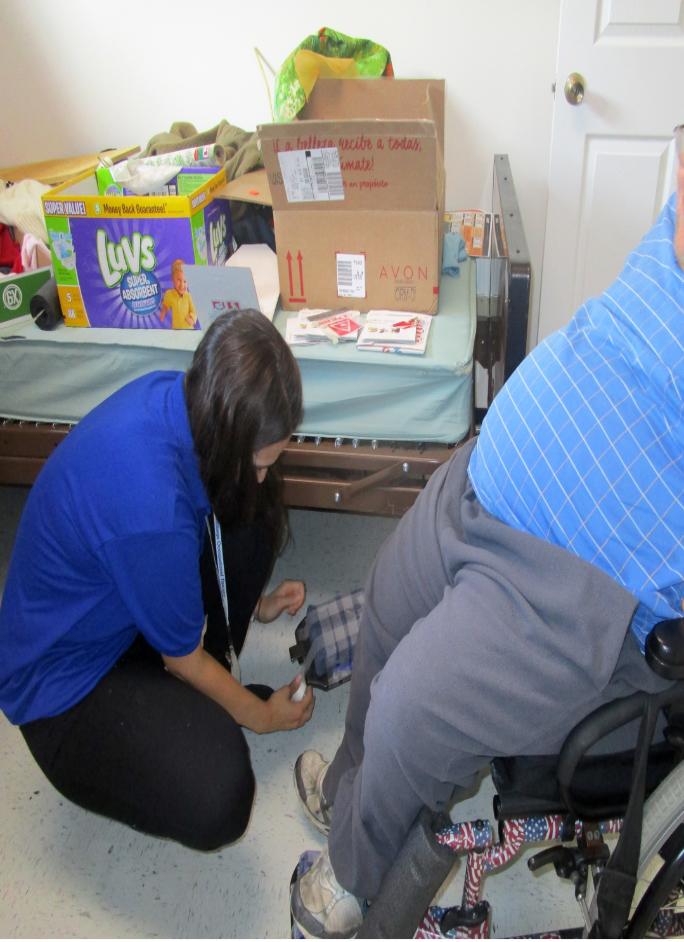 Bari Diamond, Diana Lashinsky, and Olivia Tierno helped fix a client's ill-fitting wheelchair using materials they found in the clinic's supply closet. "He was slouched all the time, so we placed padding all around the back and legs. Our modification helped him sit in a more comfortable, upright, and neutral position so as not to damage his joint muscles. Throughout it all, we made sure we maintained the integrity of his skin."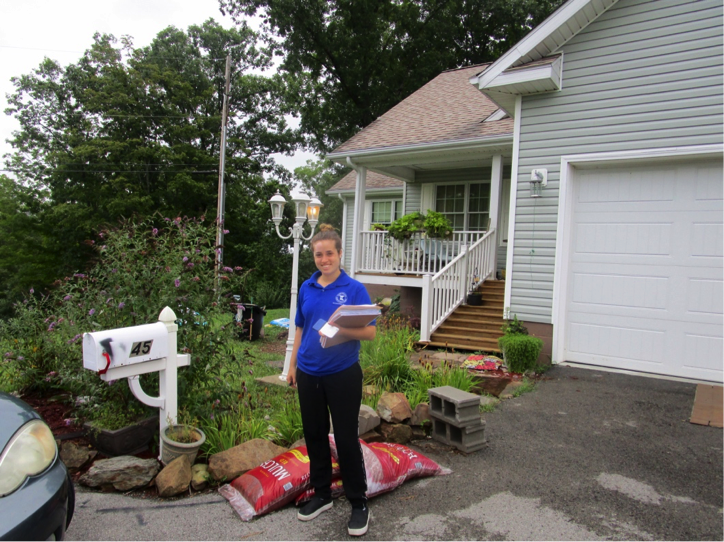 At Eula Hall, the trio also performed ADL home safety assessments for some of their elderly clients. "We went around from room to room and searched for barriers to their safety, whether it was using a stepstool that wasn't steady, too high shelves, or seating that wasn't safe," described Diamond. "We taught one of my clients about bed mobility and transfer techniques."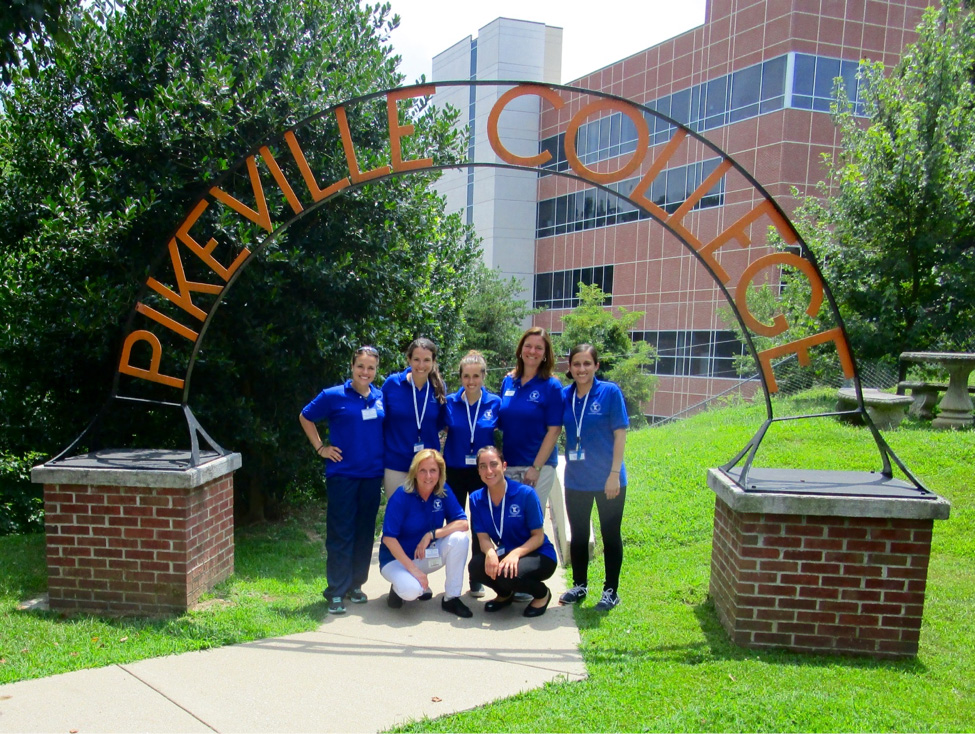 The students' accommodations were at University at Pikeville. "This was a once-in-a-lifetime experience," says Diamond. "Since this was a pilot, there was lots to do before the trip, and we had many responsibilities. I was initially nervous about going. However, once we got to Kentucky, my perception of the experience reached an all-time high and it ended up being a rewarding week that I will really take with me to my future career. It opened my eyes to an area of the world that I'd never been to before. It was so rewarding to help people who really had no knowledge of OT."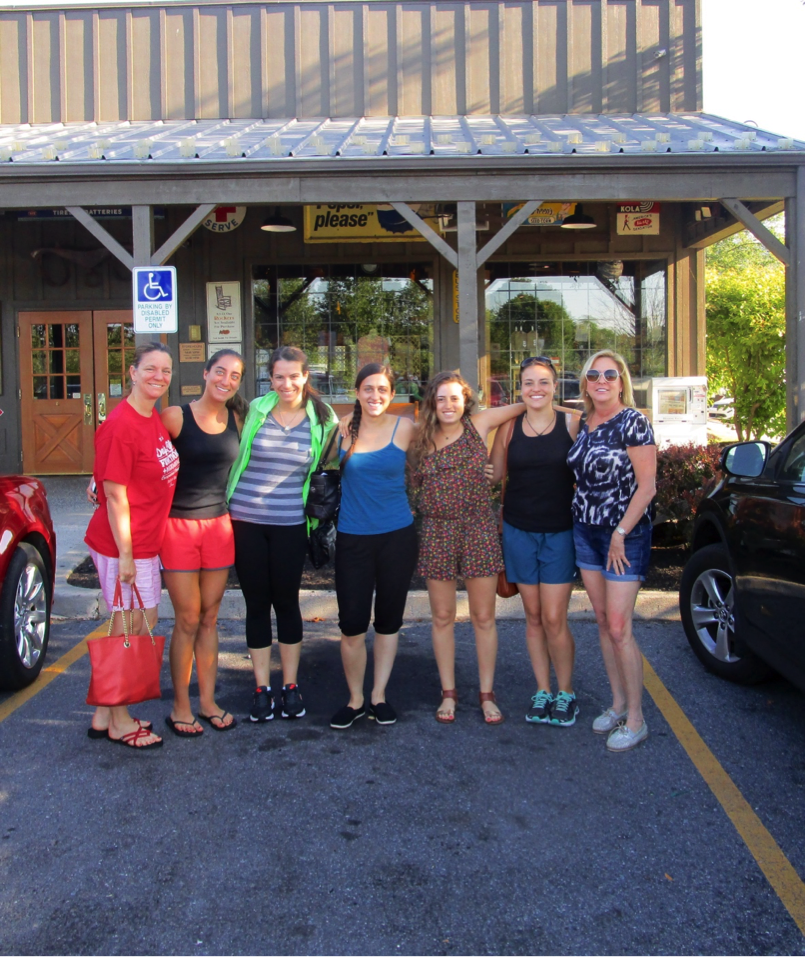 Work hard, play hard. The group visited a state park in Kentucky, went on a zip-lining outing, and often had dinner together. "Even though we worked very long days, we made sure to make time for some fun too. The whole trip brought us all closer together," said Diamond.