"Sometimes Your Hypothesis is Correct, Sometimes It Isn't."
SHS OT Students Deliver Final Research Presentations
October 03, 2017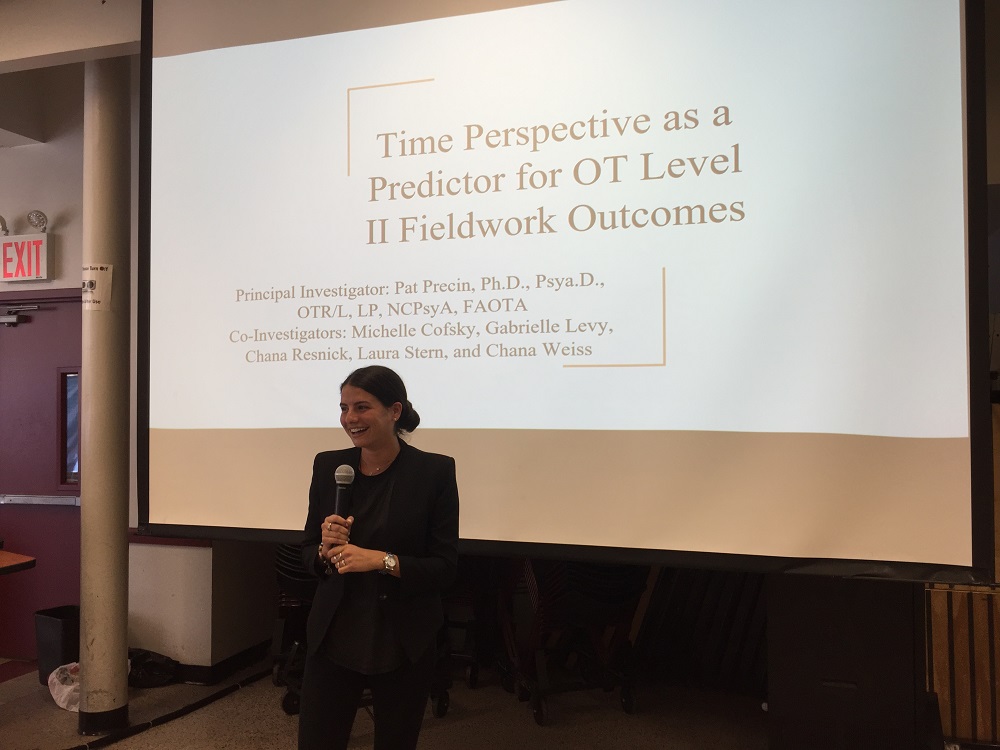 Sometimes getting it wrong is just as important as getting it right.
That was the takeaway from Laura Stern, a third-year occupational therapy student at Touro College's School of Health Sciences in NYC. For her final research presentation, Stern, together with several of her peers and led by SHS professor Dr. Patricia Precin, examined whether a positive perspective on time affects the performance of occupational therapy students during their fieldwork. They hypothesized, based on earlier research on students in medical school, that it would have a pronounced positive effect.
That wasn't the case. Instead, they discovered that strongest predictors of performance were the age and gender of the occupational therapy student. (Young male occupational therapy students had the strongest performance in their fieldwork, according to the group's research.)
"It's always a little upsetting, but we did get good results," Stern explained. "This is what research is. Sometimes your hypothesis is correct, sometimes it isn't."
Stern's group, along with six other groups from the School of Health Sciences Occupational Therapy program, delivered their final research presentations on September 7 in Touro's Manhattan campus. The mood was celebratory, if not tense, as the presentations are considered the final exams before students embark on their last rotation and are eligible to sit for their OT licensing exams.
The goal of the research projects is two-fold, explained Dr. Meira Orentlicher, coordinator of research and development for the OT program.
"Students work with faculty members to build and elaborate on previous research and help develop a corpus of knowledge for the OT profession," said Dr. Orentlicher. "The second goal is to ensure that our students are trained in the art and discipline of conducting, understanding, and critiquing research."
"Occupational therapists must be evidence-based practitioners who make clinical decisions based on established research," she continued.
The 15-minute research presentations covered a vast array of OT topics. One group, led by Dr. Rivka Molinsky, updated and digitalized a survey questionnaire about the behavioral risk factors of diabetes in the Orthodox Jewish community. Another group examined the journey of several occupational therapists as they transitioned from a clinical role to an academic one. A third group examined the use of social media as a teaching tool in OT school.
After each presentation, students took questions from the audience, composed of their fellow OT students and SHS professors.
Nearly all the research projects were extensive, multi-year studies that built upon previous research from SHS OT students. The group led by Dr. Molinsky evaluated the veracity and responses to a survey questionnaire. Their findings included the fact that responders mixed up the words "county" and "country;" a small detail that could have an oversized impact on survey responses.
"It makes you appreciate research so much more," said group-member Miriam Salamon. "We spent two years just working on a tiny part of one study."
Students Rena Fazilov, Talya Rand and Nicole Taubman interviewed several successful professionals who work with individuals with disabilities in Philadelphia. The goal of the research was to understand the qualities that help successful direct-care workers. The three students also attended the American Occupational Therapy Association annual conference where they witnessed Touro graduates and research participants present on an earlier version of the same topic.
"It was really cool," said Rand. "We were able to see our work in real time."
The research also had personal dimensions for some of the OT students. Ariella Aghalarian, part of a group that spoke with clinicians about their transition to full professors, said she was rethinking her future based on what she discovered.
"I always thought I wanted to eventually become a full professor," explained Aghalarian. "But after seeing the difficulties these clinicians faced I think becoming an adjunct professor might be a better choice for me."
While the conclusion of the research was important, Dr. Orentlicher stressed the importance of developing the ability of the students to be able to conduct their own research. This was certainly the case for student Judith Seliger.
"It made me a more educated consumer," said Seliger, who participated in the project examining academics. "When I want to know something, I log in to Touro Library instead of just googling it."