Taking Care of Your Teeth
SHS PA-Manhattan Students Run Oral Health Fair in NYC
May 14, 2018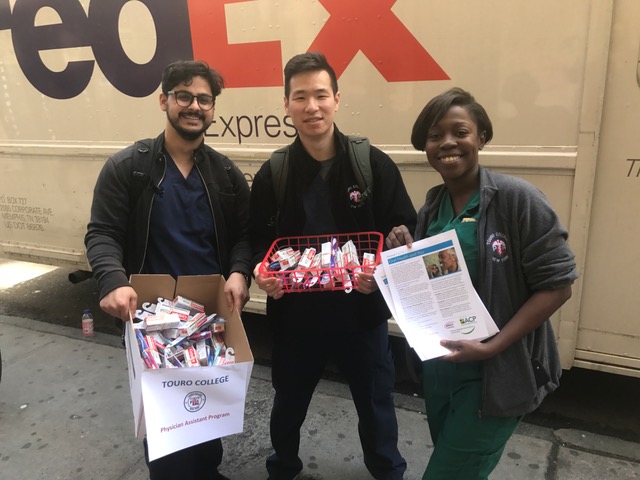 More than 150 busy New Yorkers received a free oral health lesson courtesy of students at the Touro College School of Health Sciences (SHS)-Manhattan Physician Assistant program on April 26.
Members of the class of 2018 and 2020 stood outside the SHS PA building on 40th street to discuss proper oral health care while distributing complimentary toothbrushes, floss and tubes of toothpaste.
The Touro College Manhattan PA Program received a grant from the NCCPA (National Commission on Certification of Physician Assistants) Health Foundation as a part of the Physician Assistant Leadership Initiative in Oral Health. The goal of the "Spread the Smiles Initiative'" is to expand the oral health component within the curriculum and promote oral health awareness in the community. As part of the program, students received advanced oral health training, including a skills lab where they learned how to apply fluoride varnish.
"By training PAs in oral health, we increase access to dental services in primary care and this helps to promote disease prevention and education," stated SHS PA Academic Coordinator Ariana Murphy.
"People underestimate how important oral health is," said PA student Fina Vitale, who added that the fair reminded her to set up her own dental appointment. "It's important to every vital organ. Poor oral health can lead to cancer and endocarditis. A person can think they have a small ulcer in their mouth, but it can get infected and become life-threatening."
"I think just the act of giving out resources to the community makes a difference," pointed out PA student Leah De Jesus. "It plants a seed in the person's mind that this is something they should be thinking about. I wouldn't be surprised if, from that fair, we managed to make a few people think, 'Oh, free toothbrush and toothpaste. Hey, that reminds me, I've been meaning to make a trip to my dentist.' That's a huge accomplishment."