Teaching the Leaders of Tomorrow
School of Health Sciences OT Student Rebecca Bari Leads a Youth Mission to SC
May 05, 2017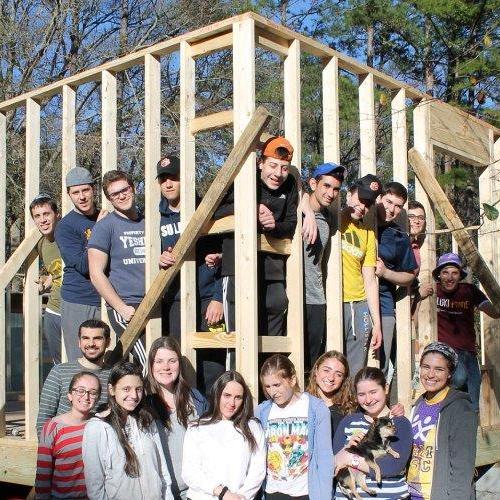 School of Health Sciences (SHS) occupational therapy student Rebecca Bari used her required volunteering hours to lead a youth leadership mission to South Carolina.
Bari's husband, Ari Zucker, is the director of the East Brunswick chapter of NCSY, a Jewish outreach organization. He runs three volunteer missions for high school students during the school year. When he asked Bari if she'd like to join him, she reached out to the SHS administration and was told that the mission could count towards the volunteering hours each student at SHS maintains.
"The School of Health Sciences educates professionals dedicated to providing the highest quality healthcare to the public," stated SHS Dean Louis H. Primavera. "We put a great emphasis on service in all our programs and encourage our students to give back to their communities in any way they can."
As part of the volunteer mission, 14 teenagers from a local Jewish high school in New Jersey traveled to South Carolina to build a home with Habitat for Humanity, a non-profit that builds houses for the homeless. The group then spent another day helping out a food bank and the weekend providing inspiration to a small local Jewish synagogue.
"It gives high school students an opportunity to take themselves away from the school environment," said Bari. "It teaches them to essentially become leaders when they return to their hometown after seeing what a tremendous effect they can have on the world."
The group arrived late Wednesday night and rushed to Walmart to pick up kosher food for the teenagers. On Thursday, the group rose at five a.m. and helped Habitat for Humanity build a house for a family in need. As part of Habitat for Humanity's mission, the family helped build the house alongside the teenagers.
"It was really nice," said Bari. "Students felt empowered. They saw who they were building the house for."
The group worked from 7:30 in the morning until four in the afternoon, managing to finish part of the house's wooden frame. Bari said that a statement made by a Habitat for Humanity professional resonated with her and the teens during the day.
"He said this was a 'hand-up' not a 'hand out,'" recalled Bari. "We're helping people just like us."
On Friday, the teenagers, sore from hammering nails for an entire day, helped organize food at a large food pantry. Afterwards, they spent Friday evening and Saturday with the local Jewish community and helped deliver presentations on Jewish topics to some of those that attended synagogue.
"When you go on a health retreat, you don't become healthy in a week; you're given the tools to live a healthy lifestyle," said trip participant Eliana Benhamu. "This trip hasn't made us into the leaders of tomorrow, but it's given us to the tools to become those leaders."
Bari said that helping others is the reason she chose the field of occupational therapy, a profession she discovered while working as a counselor at a camp for children with special needs. "I was supposed to take a break while the occupational therapists worked with my campers, but instead I watched," said Bari. "I saw what a difference occupational therapy can make and knew it was for me."
Bari said she was grateful that SHS has the volunteering requirement.
"It gives us a chance to look around and see who needs us," she said. "People everywhere can use a hand."