The School of Health Sciences Presents Six Outstanding Students with Maimonides Awards at In-Person Commencement Ceremony
Students from California, New Jersey and New York Recognized for Demonstrating the Highest Level of Professional Ideals as Practitioners-in-Training Amidst a Global Health Crisis
September 30, 2021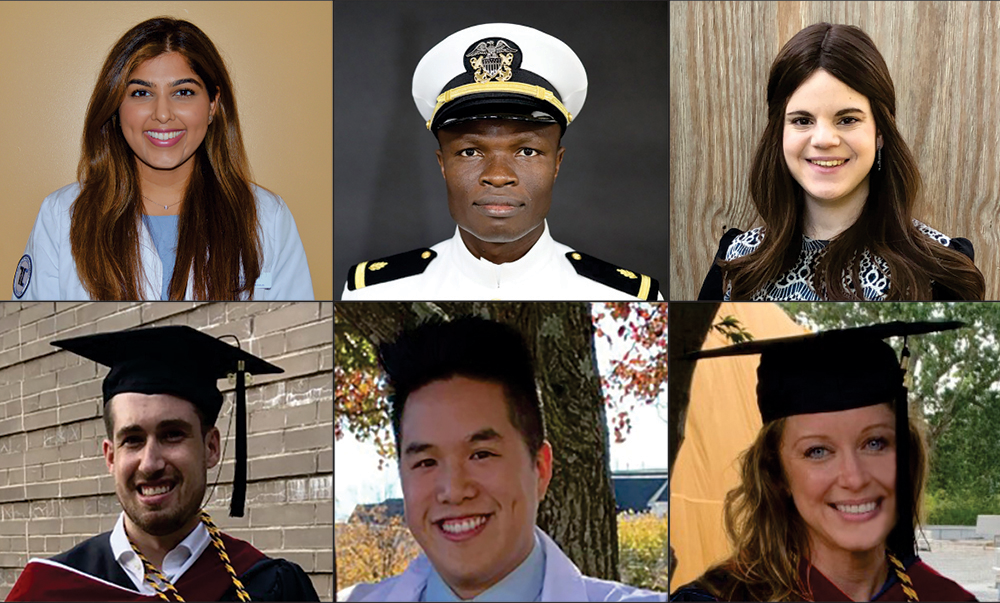 SHS Maimonides Award winners include (l-r) Bhoomi Patel, Nakpane Nbohn, Leah Rosenman, Daniel Paterson, William Ng, and Cailin Petersen.
Students representing four health sciences programs were presented with the prestigious Maimonides Awards during the annual commencement ceremony for The School of Health Sciences of Touro College, held recently at the Tilles Center for the Performing Arts in Brookville, New York. A student of high standing from each professional program was selected for showcasing the highest professional ideals of a practitioner of the health sciences. The professional programs include physician assistant, physical therapy, occupational therapy, speech language pathology, and nursing.
"The global Covid pandemic has shined a spotlight on the vital and increasing need for skilled health workers to treat people who require urgent and empathetic high-quality care. The School of Health Sciences of Touro College congratulates our graduates, who continued to excel while overcoming many unforeseen challenges caused by this crisis and will now join the ranks of fellow healthcare heroes. We celebrate their notable achievements and are proud to have helped them to enhance the important skills needed to make a positive impact on society," said Louis Primavera, Dean of The School of Health Sciences at Touro College.
Nakpane Nbohn, the Maimonides Award winner representing the Nursing program, received this award for excellence in clinical skills and for continuously provided nurturing patient care. "My passion for nursing started when my younger brother got very ill and then unfortunately passed away. I was responsible for all his care at home, and it was through this life-changing experience that I was exposed to different types of healthcare professionals. Nurses specifically captivated my attention because they play a crucial role in every patient's recovery process. After deciding to enlist in the U.S. Navy for educational opportunities and to give back to this country for the many opportunities I have, I was deployed with the USN Mercy ship to a humanitarian mission in the Pacific, where I worked alongside nurses. They inspired me with their work ethic and their professionalism. It was then that I decided to become a nurse without any doubt in my mind and this Maimonides Award serves as a reminder of why I'm excited to move forward in this field. My dream career is to become a research nurse so I can contribute to effective best practices and improve patient care. Currently, I'm an Ensign (O-1) in the Navy and just started my nursing residency program at the Naval Medical Center in San Diego, California," Nbohn said.
The other award recipients include Cailin Petersen of the occupational therapy (OT) program, who was recognized for her excellent interpersonal communication and leadership skills. Petersen also served in student government and was president of both the Student OT Association and Alpha Pi, the OT Honor Society.
Daniel Paterson, also representing the OT program, received this award for consistently demonstrating compassion, curiosity, integrity and resilience. He held formal student leadership positions while at Touro, and volunteers regularly for additional service and activities as well.
Bhoomi Patel of the physical therapy program was selected for continuously seeking ongoing learning opportunities and serving as an engaged presence in classroom discussions. She was noted for placing patients' needs above self-interest and for striving to learn and grow as a professional.
William Ng, also representing the physical therapy program, was recognized for outstanding academic and clinical performance and for his passion for advocacy for the physical therapy profession.
Leah Rosenman, of the speech language pathology program, received the Maimonides award for maintaining a 4.0 GPA in all academic and clinical areas within the program. Her dedication to excellence was exemplary and after completing her practicum requirements, she requested an additional clinical placement to further expand her skill set as she enters the field.