Touro College Physician Assistant Program Donates Much Needed Medical Supplies
Schools Donate New PPE Gear to Help Meet Shortage During COVID-19
April 01, 2020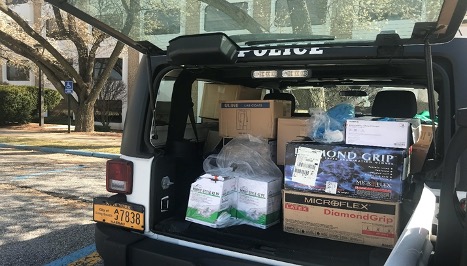 Matthew Tommasino, PA-C, MS, Director of the PA Bay Shore program at Touro's School of Health Sciences shares how his PA program at the School of Health Sciences is finding ways to contribute.
Amid the Corona chaos, while many people stock their pantries with canned goods, water and toilet paper, the PA Bay Shore program brainstormed ways to help alleviate some of the burden on the healthcare system. The COVID-19 virus has created a tremendous strain on the healthcare system, particularly in NY. As the number of patients succumbing to this illness increases, the need for healthcare providers grows exponentially each day and with that demand, medical supplies are a concern. Consequently, personal protective equipment (PPE) is becoming increasingly scarce as the virus spreads rapidly across the country leaving valuable healthcare providers vulnerable.
As our government continues to work hard to increase the amount of medical supplies and other forms of aid to ensure the safety and wellbeing of the community, the Touro PA program is taking action to contribute. The PA Program leadership and faculty met last week to find ways to provide support to the community and local healthcare systems. We all agreed that we needed to get involved, I suggested that we donate any PPE we have and the proposal was quickly supported by Touro College President Dr. Alan Kadish and Provost Patricia Salkin. After all of the PPE was inventoried and packaged, Joseph F. Tommasino, Chair and Vice President of PA Operations at Touro College, and Dennis Verzi, Executive Vice President and COO of Catholic Health Services, worked together to ensure the supplies were delivered to our vital healthcare providers as quickly as possible.
On the morning of March 29, I asked for some volunteers to assist me with loading and unloading the supplies along with Dr. Verzi. Without hesitation, Associate Program Director Patricia Roehrig and administrative assists Karen and Deirdre Magee offered to help. Dr. Verzi and the PA program faculty handled the packaging and transportation of the PPE and medical supplies. Dr. Verzi and I spoke after all the supplies were secured. He expressed sincere gratitude and appreciation, from six feet away, to the Touro community and PA program on behalf of the Catholic Health Service Home Care and Hospice staff who will be receiving the equipment. The undergraduate department at Bay Shore also offered to donate additional medical supplies. A special thank you to Dean of the School of Health Science Louis Primavera and Christin Paglen who coordinated that effort with the PA program. Additionally, Touro PA Director of Clinical Operations Joseph Daleo has worked closely with the CHS system to recruit volunteers to assist the fatigued healthcare workers. There have been about twenty-eight student and several faculty volunteers that have offered to lend a hand in various areas within the CHS system and the Independent Physician Association of NY who will utilize them to conduct and coordinate telemedicine visits. When asked about the situation, Joseph Daleo stated "We're all in this together and be assured we will come out the other side of this much smarter and stronger—Touro Strong—when the smoke clears."
Although the inventory will not last long in this environment, it will provide valuable protective barriers for many healthcare providers which will likely include some of the PA program faculty who are at the frontlines of the battle against COVID-19. The Touro PA program speaks for the entire TCUS community when they say that any support—no matter how small—is meaningful and will make a difference. I hope that this small initiative inspires our other programs in the Touro community and other schools to do the same thing as every little bit counts and will help save lives.
A special thanks to the Touro PA faculty and staff, President Alan Kadish, EVP Rabbi Moshe Krupka, Provost Patricia Salkin, Dr. Joseph Tommasino, SHS Dean Louis Primavera, Christin Paglen, Connie Nicolia, Karen and Dierdre Magee, Patricia Roehrig, Joseph Daleo and Dennis Verzi, for their support and efforts.