Touro Physician Assistant Students Peddle with Passion in Cycle for Survival Event
Fundraiser Led by Cancer Survivor, Student Raises Over $7,000 in Donations for Cancer Patients
March 25, 2019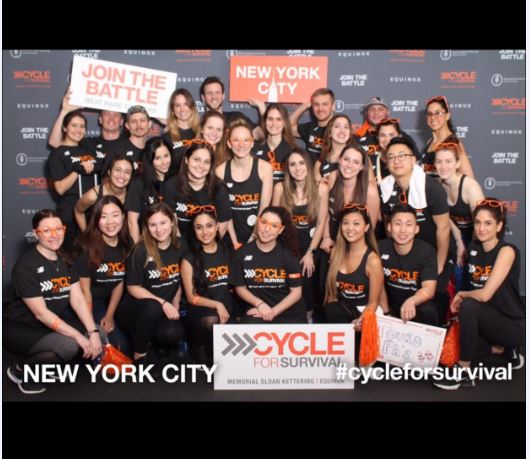 After being diagnosed with Stage 4S Neuroblastoma at just two months old, Touro Physician Assistant (PA) Manhattan campus student Blake Bohlig successfully won the fight for her life.
"The cancer was in my adrenal gland and had metastasized to my liver in seven different spots. Thankfully, once they removed the main tumor, the metastases dissipated on their own. As too many people know, this is rare in the world of cancer since more often than not as a diagnosis of cancer of this kind is accompanied by chemo and radiation," said Blake Bohlig.
Cancer research was a major interest of Blake's and after graduating from Duke University in 2015, she moved to New York City to work at Memorial Sloan Kettering Cancer Center (MSKCC) as a Clinical Trial Research Assistant. It was there that she got involved in Cycle for Survival, a rapidly-growing indoor team cycling event created to raise funds for rare cancer research.
When she started at Touro College's School of Health Sciences, Blake knew she needed to start her own team at the PA School in 2018. Her goal was simple-help give back to those in need while also making a positive impact on the community-which closely aligns with Touro's mission. After completing her fourth race on Sunday, March 11th, she and the team raised over $7,000. These funds will be used to research additional treatment options, new immunotherapies and to gain a better understanding of cancerous mutations. This is Team Touro's 2nd year participating in Cycle for Survival.
So, why do Touro PA students ride in Cycle for Survival?
"I rode during this event to make the future of medicine that much brighter and for patients to get the proper treatment critical to living a long and healthy life," said PA student Deniz Asiker, Class of 2021. Fellow student Julianna Stadtmauer, Class of 2020, added, "I rode because everyone from everywhere deserves a chance to survive and thrive, especially those with rare forms of cancer."
Even though the race is over, the Touro PA Cycle for Survival team is still actively accepting donations for rare cancer research.