Touro University Celebrates Six Maimonides Award Winners
Commencement Ceremony of School of Health Sciences Highlights Exceptional Class of 2022 Graduates with High Professional Ideals
September 19, 2022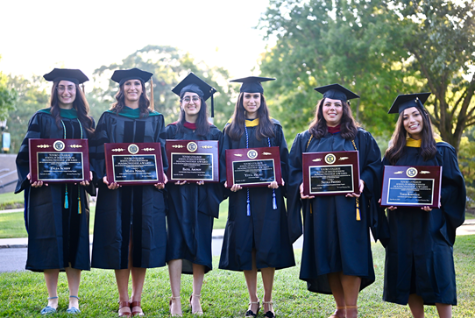 Touro University School of Health Sciences 2022 Maimonides Award winners
This week, six students representing four health sciences programs within Touro University's School of Health Sciences were presented with distinguished Maimonides Awards during the school's annual commencement ceremony. Held at the Tilles Center for the Performing Arts in Brookville, New York on September 13th, these standout students were spotlighted for demonstrating the highest professional ideals of a practitioner of the health sciences.
"Receiving a Maimonides Award is a significant honor, especially when you consider that Touro University's School of Health Sciences is comprised of some of the best and brightest students. To be able to stand out among such a collection of talent is quite an accomplishment. This recognition is particularly poignant as these stellar students faced unprecedented challenges prompted by the Covid pandemic, yet they rose to the occasion and still achieved great success throughout their educational journey. We're very proud of our award recipients and are eager to see the positive contributions they will make to the health sciences field, their patients, and society in the near future," said Steven Lorenzet, Dean of the School of Health Sciences.
Brooklyn's Yitty Blau recently graduated from the Nursing program and has just completed several interviews in search of her first nursing job, where she hopes to gain more on-the-ground experience with a diverse set of patients. Her dream career is to become an Advanced Practice Provider who performs medical activities typically performed by a physician.
"My husband passed away from brain cancer when I was just 30 years old. In the years leading up to this death, I was his primary caregiver and especially at the end of his life, I learned firsthand what the vital responsibilities of a nurse entail including being a patient's advocate, empathic caregiver, and their skilled provider. Due to this life-changing experience and while caring for my three young children, I realized that I was truly passionate about pursuing my nursing degree to help others in need," said Blau.
The other award recipients include: the Occupational Therapy program's Nicole Frendo and Bat-El Aronov, the Physical Therapy Program's Maya Nisani and Talia Schiff, and the Speech and Language Pathology Program's Tamar Blinder.