Touro Welcomes First PsyD Cohort to School of Health Sciences
15 Member Cohort Will be Focused on Blending Psychology Into an Integrative Healthcare Model
September 13, 2022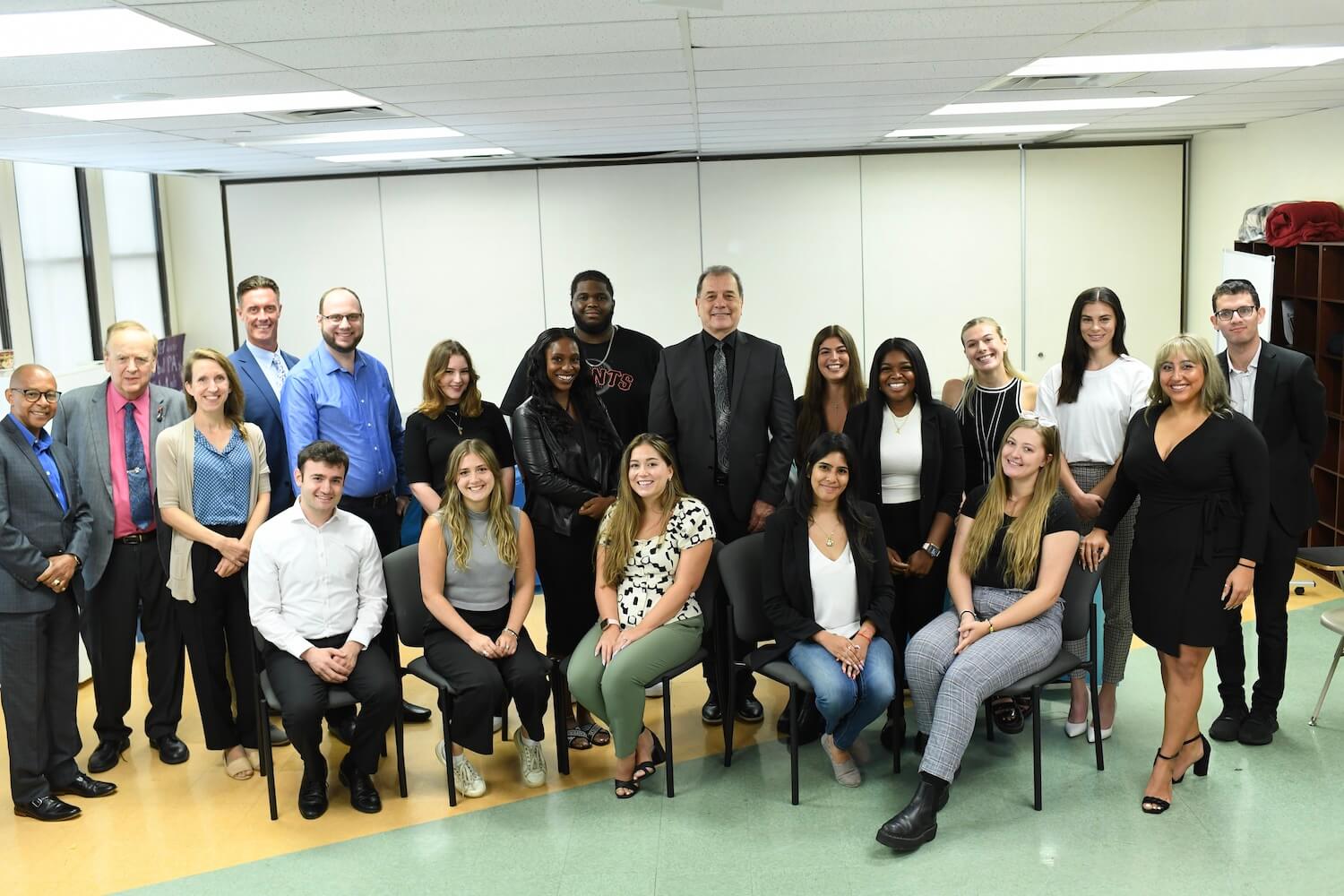 Touro University's School of Health Sciences welcomed members of the inaugural Doctor of Psychology (PsyD) in Clinical Psychology with an orientation on August 24.
Touro's School of Health Sciences (SHS) welcomed its first cohort of 15 candidates in the school's inaugural Doctor of Psychology (PsyD) in Clinical Psychology with an orientation on August 24 in the school's 40th street campus.
"We have an interesting, interpersonally effective, incredibly smart, motivated, and diverse inaugural cohort," said Frank Gardner, PhD, ABPP, Executive Director of the PsyD Program. "I look forward to calling them doctors as they take the stage at graduation in five years. The entire Touro community should be very proud of this program and where it is going."
Dr. Nadja Graff, Touro's former Vice President of the Division of Graduate Studies, welcomed the group. "You are going to be the beneficiary of an incredible journey and experience," said Dr. Graff. "This innovative program offers a healthcare focus for a Psy.D. putting you on the forefront of a new integrative medicine."
"You will be trained by some incredibly talented and accomplished faculty members," said Steven Lorenzet, Dean of SHS, "Our program is designed to be rigorous—the work that you are doing and that you will ultimately do when you graduate is ultimately too important for us not to put you through a very challenging program."
The students chosen for the highly selective program come from across the United States and from a wide range of backgrounds. During the orientation students learned about the details of the program and the schedule for the five-year track. Members of the cohort spoke of how they were attracted to the program because of its small size as well as the program's focus on integrating psychological health into the larger healthcare system.
McKenzie Gelvin is one of three students in the first cohort of Touro's PsyD program who is simultaneously pursuing a Master's in Public Health with Touro's New York Medical College (NYMC). While she was a student in Temple University in Philadelphia, Gelvin witnessed health disparities first-hand when she worked in the university's affiliated hospital. "Growing up, I never had to worry about insurance or adequate medical care, but that's not the case for most people," said Gelvin. "Working in Temple Hospital and the hospital's psych ward was eye-opening and made me want to combat the health disparities that exist. I believe that the joint degree will give me a deeper understanding of the public mental health challenges that we face as a nation."
"The health emphasis track drew me here," said student Aida Aminpour. "The opportunity we have here, and the small cohort size isn't comparable to any other program."
"Touro felt like home," added student Vanessa Visquerra who joined the program after receiving a master's degree in mental health counseling from St. John's University. "It seemed like a place where my voice will matter. Touro felt like a place where people would care about me and help me in my goal to become a clinical voice for those who are voiceless."
Several alumni from Touro schools are members of the first class.
Michael Ledereich, a 2020 graduate of Lander College for Men (LCM), was initially a pre-med student, but switched to a psychology major after taking an intro class in the field. He said his interest in health led him to Touro's PsyD program. Ledereich plans to focus on the effects of chronic health issues on mental well-being. This stems from his own experiences. "I was diagnosed with Type 1 diabetes as a child and there are so many different ways that it affects you," he said. "Research has shown that people with chronic illnesses are more likely to suffer from depression and anxiety. I believe that my own experience dealing with this will be an asset when I become a practitioner."
After a wonderful experience in NYSCAS, Aneshia Grey applied to Touro's inaugural Doctor of Psychology (PsyD) in Clinical Psychology program at the School of Health Sciences. "The faculty and administration were excellent at NYSCAS, and I knew that continuing my studies at Touro's PsyD program would be a perfect fit for me," said Grey. Grey's motivation for entering the mental health field stemmed from her own experiences as a teenager suffering from depression and the help that she received from a mental health professional. "I want to be a voice of guidance to those suffering from mental health issues," said Grey. She hopes to open up a private practice and combat the stigma associated with seeking mental health in her Caribbean community.
Student Sophia Rico enjoyed the orientation and was looking forward to starting.
"I was nervous and excited to start the program but meeting my classmates and seeing how excited and nervous they were as well made me feel ready," she said.