Touro Welcomes Second Cohort to PSYD Program
Seventeen Students Join Doctorate Program in Clinical Psychology with Health Emphasis
September 04, 2023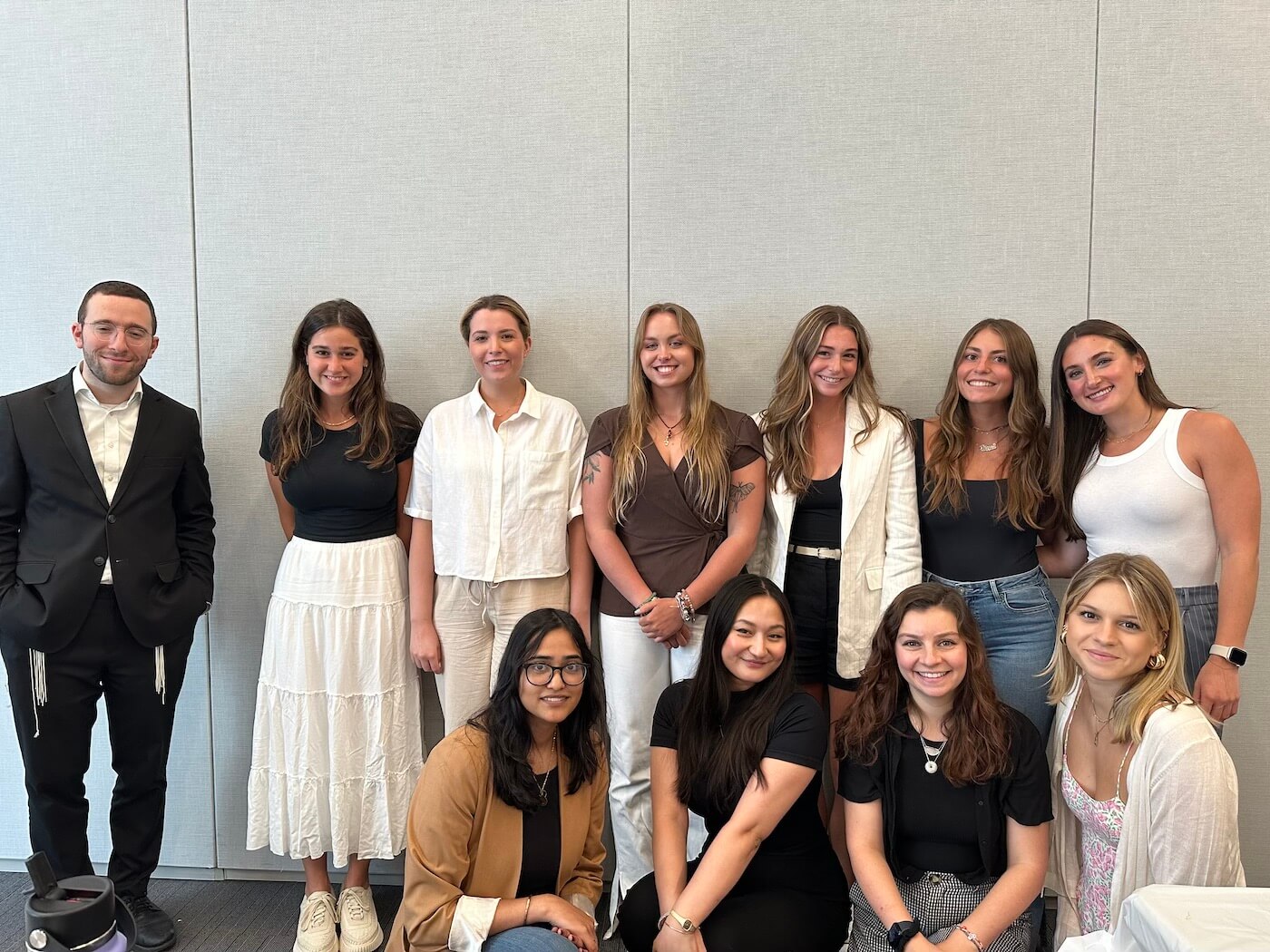 Members of Touro University's School of Health Sciences (SHS) second cohort in the school's PsyD program during their orientation on August 23.
Touro University's School of Health Sciences (SHS) welcomed its second cohort to the school's Doctor of Psychology (PsyD) in Clinical Psychology with Health Emphasis program. During orientation week, the 17 students who compose the cohort learned about the details of the program as well as the worldwide scope of Touro University.
"We welcome you to the Touro family," said SHS Associate Dean Dr. Rivka Molinsky. "You are now part of a large institution that serves over 19,000 students and remains committed to the success of each one."
"These students are beginning their career journey with us," said Dr. Frank Gardner, executive director of the PsyD program. "We take that responsibility very seriously. Our job is to educate and train them to be elite psychologists, while providing the support and encouragement needed to traverse through, and succeed in, our necessarily challenging curriculum.
Several students spoke about how they were attracted to the PsyD program because of Touro's mission of serving the underserved and the PsyD's focus on health. "I want to help people suffering from mental illness," said New Jersey resident Rebecca Horowitz, an alumna of Cornell University. "The health emphasis appealed to me and working in a hospital is something that interests me."
Chloe Guidi, a former professional ballet dancer and alumna of New York University, said she was drawn to the program because of her own experience with an injury that sidelined her career. "There's a lack of resources for performing artists, specifically ballet dancers," said Guidi, who originally hails from DC and danced with the Boston Ballet. "When you leave any sport that you're dedicated to, there's a lot of grief and bereavement. And while there is a lot of sports psychology, that tends to be more focused on excelling in the sport, not providing resources when you transition from it." She is especially looking forward to the school's sports performance clinic that is scheduled to open later this year.
Class member Tasnova Ahmed discovered the PsyD program while a student in a master's program in St. John's. "I was researching how self-anger affects people and my mentor in the school, Dr. Raymond DiGiuseppe, was one of the few researchers who studies it. He connected me with the research [Program Director] Dr. Gardner did on the subject and Touro felt like a natural choice for graduate school." One of Ahmed's goals for her degree, aside from a focus on research, is to change the way her South Asian community views mental health. "I want to normalize mental health and seeking treatment," she said.
Cohort members also described the winding path that led them to psychology. Sydney Harfenist initially planned on becoming a physician assistant until she began studying psychology. "I realized I liked this sector of health and as a psychologist, you're able to see the long-term effects that you have on your patients." Cayley Gersh worked as a crisis counselor for teenagers in a group home. "I didn't plan to go into psychology," Gersh said. "It took that job and being that person I wish I had at that age to make me consider psychology."
Lander College for Women alumna Elisheva Hoffman chose Touro's PsyD program after having a positive experience as an undergraduate in the Touro system. "Our small class sizes were extremely beneficial because we were able to have close relationships with both our professors and classmates," said Hoffman. "Touro is very supportive of its students."
Other students spoke of the general outlook they hoped to gain from the program.
"I want to understand the world we can't see and the world inside us," said Yosef Krupka, a 2018 graduate of Lander College for Men. "I've always been interested in psychology and understanding myself and others. I love the idea of psychology and the idea we can take control of our lives."