When a Passion for Medicine Helps Save a Life
Touro Physician Assistant Student Rebecca Moers Sprang into Action to Perform CPR During a Crisis
February 26, 2019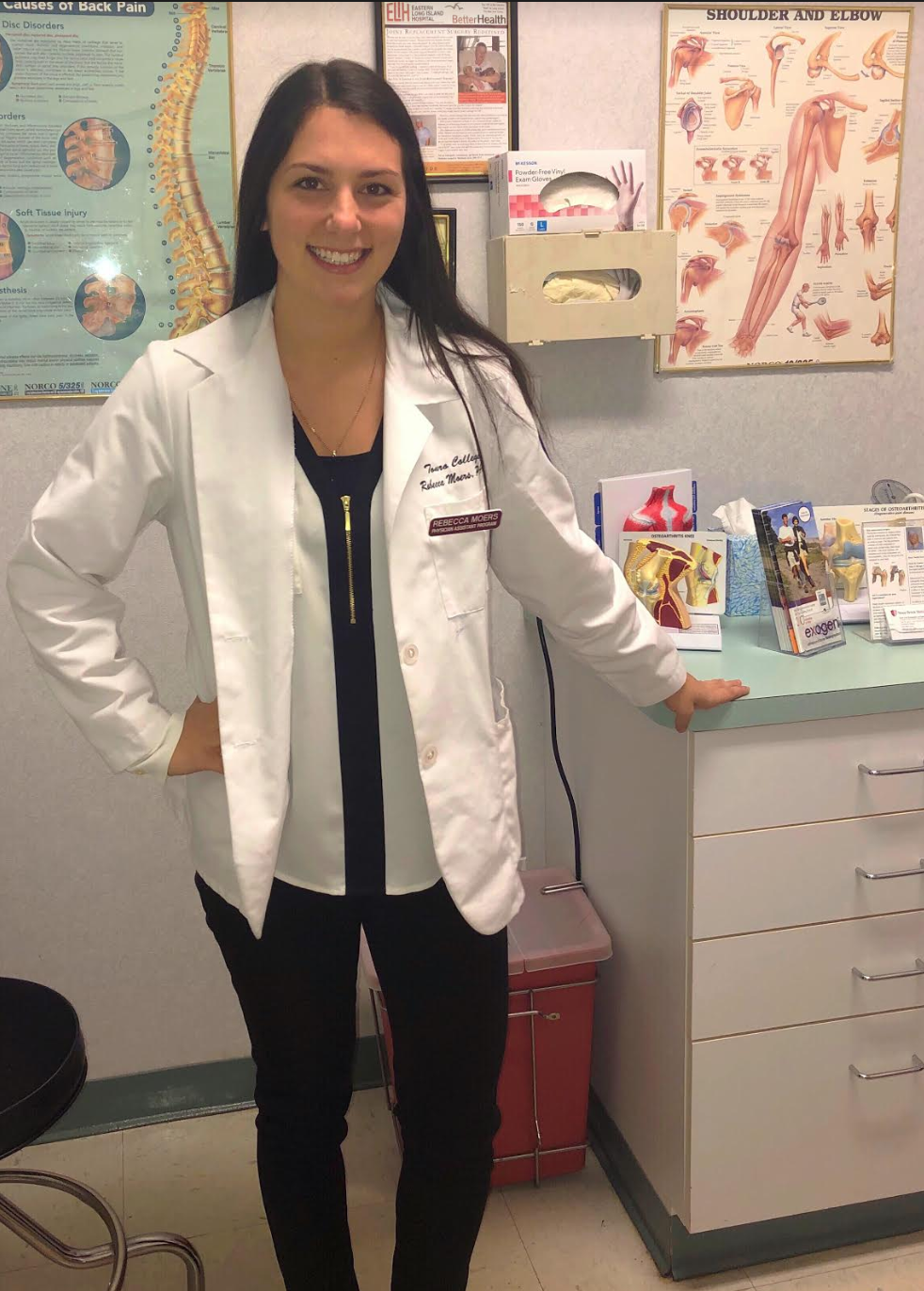 Usually when you head to the gym, it's to burn off some much needed steam and sweat out your stress through some cardio and/or weight lifting. In early December, Touro College School of Health Sciences physician assistant (PA) student Rebecca Moers headed to her Long Island-based Planet Fitness for what she thought would be a quick workout and ended up leaving a lifesaver.
"I was at the gym doing my usual routine when I heard screaming. I looked over and there was a man on the floor and a panicked woman standing above him. I checked for a pulse and discovered he was in cardiac arrest. CPR was immediately started and I assisted with compressions as other bystanders called the police and obtained an automated external defibrillator (AED)," said Moers.
After bringing the man back to life twice, his pulse only lasted a few seconds before CPR, with Rebecca's assistance, needed to be restarted. One shock from the AED was administered before EMS arrived to transport him to a nearby hospital.
"The next day when I entered the gym, I was informed he had suffered from a myocardial infarction (heart attack) and survived. Hearing this news was extremely rewarding," said Moers.
If it hadn't been for the School of Health Science's CPR certification taught by Professor Phil Lowenstein, Rebecca likely would have been unable to help during this extremely time sensitive and scary situation.
"Professor Lowenstein stressed the importance of good compressions to keep blood circulating and the lifesaving abilities of an AED. He often focused on little things like proper hand placement, compression depth and rate and I could not be more thankful for his attention to detail and constructive criticism. Moreover, our Program Director John Rongo once told my class that being a healthcare provider does not end when you leave the office and instead, it is a commitment and responsibility we take upon entering this field to help others at any point in time. Studying at Touro has given me the confidence to step up and be that person in a time of emergency to help alleviate the situation at hand," said Moers.
Feeling as if medicine has always been her calling, Rebecca was drawn to the School of Health Sciences because of its small class sizes and great reputation. Having teachers who care enough to learn your name, take time to answer questions and provide extra help when needed are important to Rebecca, yet PA school still has many challenges she has had to overcome including time management.
"I often felt like there weren't enough hours in the day to study the necessary material, so prioritizing and staying focused are key. My favorite parts of school include learning hands-on procedures such as injections, IVs, suturing and casting," said Moers. While these procedures were initially taught in her first year of PA school, becoming comfortable performing these actions came later during her clinical rotations at Brookhaven Hospital in the emergency department and North Fork Orthopedic and Sports Medicine.
Practitioners hold the ability to alter lives, to relieve suffering and provide answers, whether it be with a mere positive attitude or new treatment regimen. They create plans, strategically work in teams and monitor progress to obtain desired results. So, what would Rebecca tell fellow PA students if they were to encounter a similar crisis? "Trust your instincts. Although we are just students, we have been well trained to make good judgment calls and act accordingly. You can never assume there are others more qualified around you and time is often of the essence to act," she said.